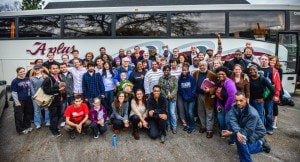 27 years ago, when Tameeka answered a knock at her door here in Walltown, she couldn't have imagined the full weight of the words she heard from the officer who was standing there. Sure, she knew she was in trouble. That's why she went to the law library at Duke and did research for herself. But her lawyer said she'd never beat the charge—said her best bet was to take the plea deal the DA was offering. That way she wouldn't have to spend three years in prison. But, as Tameeka says, it also meant she was sentenced to "life on the streets."
"I just couldn't believe I'd done something that would hang over my head for the rest of my life," Tameeka says. For 27 years, it did. Every job application, every denial of federal assistance, every professional review board rejection was a reminder to Tameeka that she had a record she couldn't shake. Sure, God forgave her. But society hadn't.
Then, just a few weeks ago, Rev. Daniels and I got to go with Tameeka to her lawyer's office for the final signing ceremony of her expungement process. After 27 years, her record was wiped clean.
We laughed. We cried. We did a little dance. But after it was over, I thought about how Tameeka and her son, Rashon, are a little picture of why we do what we do here at SFC. We invite people into prisons to learn because there is a whole caste of people like Tameeka who live and move and have their being on the other side of the prison line. We work to build community and extended family with kids like Rashon because, as much as Tameeka loves him, she'll also tell you that raising a son while trying to survive with a criminal record hasn't been easy. It wouldn't have been possible without a community.
But that community isn't just something that Tameeka and Rashon need. It's what each of us was made for. Which is why, about this time of year, we invite folks to get on a bus together and remember the beloved community that many have been working for in the South since the 1960s.
We call it our 21st Century Freedom Ride. This year, thanks to a grant from the National Endowment for the Humanities, we have public events scheduled in Durham, NC and Nashville, TN. Would love for you to come and and meet this incredible group of riders (including some who rode for freedom back in 1961… and many who are building up beloved community today).
Wherever you are, I pray you'll experience a little bit of beloved community coming into our world this Advent season. May you know the joy that Tameeka, Rashon, Rev. Daniels and I felt. "This is a day that's been coming since Creation," Tameeka said. "And it's finally here." Indeed, the day of jubilee is here for each of us as we join hands and work together for the new world that is coming and has now come.