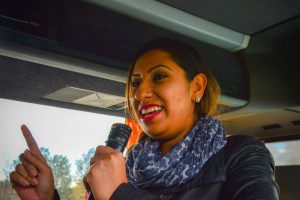 For much of the past decade, while national organizations lobbied for "immigration reform," undocumented people who are most directly affected by our country's broken immigration stayed in the shadows. Then the Dream Act came along, and thousands of "Dreamers" came out to say that, though the did not have papers, they belonged here.
But Congress failed to pass the Dream Act.
Some said all hope was lost. But many of these undocumented youth started to say that they are "Undocumented and unafraid." They started organizing communities to request that ICE release their parents, cousins, and friends from detention. They found that, when a community spoke out, ICE listened.
So they organized some more.
Then, just a couple of years ago, some of these young people decided it would be easier to organize inside the detention centers. So they got themselves picked up and started documenting the stories of the 40,000 people detained each day in America.
Claudia Munoz, a
21st Century Freedom Rider
this year, recorded this video when she before and during a campaign earlier this year in Michigan.
Meet the 21st Century Freedom Riders at either of these two public events over the next week.