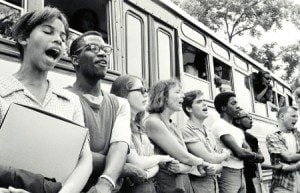 50 years ago, in the summer of 1964, the Freedom Movement in America focused its energies on Mississippi. National civil rights organizations partnered on a Freedom Summer Project, working with local leadership to set up Freedom Schools and the Mississippi Freedom Democratic Party. Many of the leaders of that Freedom Summer were baptized in the Movement through the Freedom Rides of 1961. Coming out of Mississippi's Parchman Prison, they knew that if America was to be born again, change would have to begin in Mississippi.
50 years later, the Foreward Together Moral Movement in North Carolina has declared another Freedom Summer Project for 2014. I'm delighted that School for Conversion has the chance to kick the summer off by hosting a 21st-Century Freedom Ride into the heart of Southern Freedom Movement history.
Elders for this year's ride include:
Bob Zellner, field secretary for the Student Nonviolent Coordinating Committee, original Freedom Rider, and co-founder of GROW (Grassroots Organizing Work).
Charles and Shirley Sherrod,veterans of SNCC and the Albany Movement, helped found the community land trust movement in North America.
Hollis Watkins, native of Mississippi who worked with SNCC before and during Freedom Summer, staying on to work for justice in Mississippi for the rest of his life.
Flonzie Brown Wright, native of Canton, Mississippi who worked with Annie Devine on Freedom Summer Project and became first African-American woman in Mississippi to be elected to public office.
John Perkins, veteran of the Mississippi Movement and founder of the Christian Community Development Association.
Rev. Ed King, former chaplain of Tougaloo College and organizer in Freedom Summer 1964.
If you'd like to ride with us, registration for the ride is open until next Wednesday, April 30th. Learn more here.
We're excited that, like 50 years ago, hundreds of young people are eager to participate in this Freedom Summer. But one of the things SNCC learned in Mississippi was that, if only those who can afford to pay their way come, a Movement doesn't represent the beloved community it longs for. For $250, you can sponsor a directly affected young person to join us on this ride and learn from the great tradition of those who've worked for their own liberation, hand in hand across the dividing lines of our society.
Stay tuned here for updates from the road, May 12-16.