Wow, it's been a while since I've done a Monday Musing post. #Oops
In case you're wondering, "What's Monday Musings?" – I started it as a time each Monday where I could share random thoughts, things that were making me smile, songs I like, etc. Basically, whatever was on my mind that Monday. Which, knowing my mind, could be absolutely anything! 😉
First of all…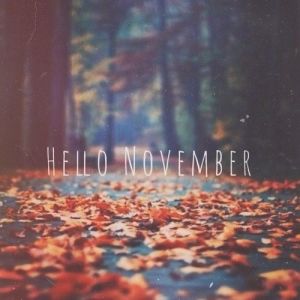 November made a grand arrival with chilly temperatures in D.C. I am not a fan of the cold and bundled up this weekend as the temperature dropped below what I enjoy. Seasons come and go, and while I would love an endless summer, I really do love the differences of all the seasons. Autumn in D.C. is spectacular, and even though my body doesn't like the cold, the next few months are some of my favorite. The excitement of the upcoming holidays make my heart giddy. I adore absolutely everything about the holidays, the music, the festivities, the decorations, spending time with friends and family, etc. It's simply the best!
2) Christmas is coming!
I'm definitely one of those people that breaks out the Christmas music on November! Thanks Michael Buble for serenading my ears today! 🙂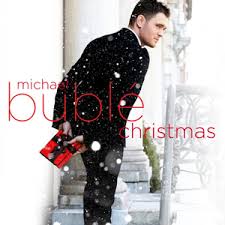 This bad boy arrived in my inbox! Awhile ago, I had entered into the lottery to attend the National Christmas Tree Lighting at the White House, and I was selected to receive five tickets! Waaa hooo!!! This is definitely something on my D.C. bucket list, and something I'm really looking forward to!
Now accepting bribes for the other four tickets 😉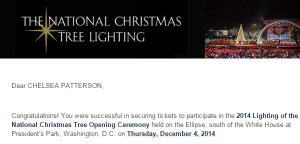 Also, here is your countdown to Christmas!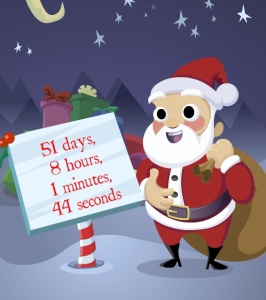 3) Midterm Elections
Allow me a moment to be a local politico, but the midterm elections are tomorrow! This will be my first election season in D.C., and I'm excited to be right in the middle of all the action tomorrow. Our office is doing a "War Room" tomorrow evening to do media coverage of the election. We'll all be armed with plenty of coffee, our laptops and eager anticipation to see if we take back the Senate.
GO VOTE!
4) Brady Troop's Music
I stumbled upon Brady Troop's music recently and I really like his voice. This video is a living room session of him singing one of his song's "By The River"
Click here to listen to more of his music.
5) November is National Adoption Month
I plan to do a lot of writing on the topic of adoption this month (stay tuned), but for now, I thought I would share a video. This past Sunday was Orphan Sunday, and this video was made by the Christian Alliance for Orphans. This topic is one so near and dear to my heart, and I hope this video encourages you!
"I was an orphan, but I was found. I was an orphan, so I help orphans!"
Hope you have a wonderful week!