This past Sunday, I celebrated my one year anniversary of being a member at Capitol Hill Baptist Church in Washington D.C.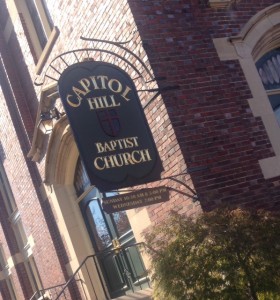 Capitol Hill Baptist Church  is unlike any I've ever been a part of, and as I've spent time reflecting upon this past year at the church, the only word I can think of is "thankful". Thankful to be a member at a healthy and dynamic church, thankful to be surrounded with such a sweet community, thankful to sit under solid preaching week after week, and many other blessings that come along with being a member at this church.

I thought it would be appropriate to share 9 reflections of being a member at Capitol Hill Baptist church. 
* I chose 9 reflections as a play on Mark Dever's book and ministry 

9 Marks of a Healthy Church *
1. The preaching
The preaching at Capitol Hill Baptist Church is Gospel-centered, deeply rooted and saturated in Scripture. I fear that many churches in America focus so heavily on entertainment, humor, and stories that they fail to soak their sermons in the Gospel and in Scripture. Every sermon preached from the pulpit of CHBC includes a clear presentation of the Gospel. The Pastoral staff effectively ensures that the congregation is weekly fed with the word of God. Most sermons last an hour. Before coming to CHBC, I wasn't used to a sermon lasting more than half an hour, so I was surprised at the long sermon, but my soul quickly came to love the weekly time having my soul refreshed and instructed.

2. The Church Body
The community at CHBC truly seeks to love and care for one another like the Bible commands. Take a peek at a portion our church covenant, which we regularly read to one another to remind ourselves of the covenant we have made together as a local body of Christ.
"We will walk together in brotherly love, as becomes the members of a Christian Church; exercise an affectionate care and watchfulness over each other and faithfully admonish and entreat one another as occasion may require."
"We will rejoice at each other's happiness and endeavor with tenderness and sympathy to bear each other's burdens and sorrows."
I'm not used to people caring about me before they know me, however when I joined the church, I was welcomed me with open arms, dinner invitations, regularly praying for me, asking me how I was doing, and truly caring about an honest response. A lot of the churches I attended during college (regrettably, I never joined a church during my college years) were more like a country club – everyone put on their best dress, pasted on their best smiles, and was doing "okay" most of the time. It's been refreshing to see a local body rally around one another and show true love and spur one another onto loving Christ more.
3. Hymns
Yep, you read that right! We sing hymns every week! I absolutely adore it. My first Sunday there, I had no clue what to expect and was stunned when we began singing all five verses from a hymn dating back over 100 years.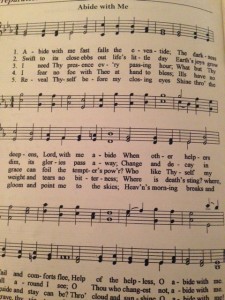 The richness and depth contained in the hymns is unmatchable, and I've quickly fallen in love with them. Another distinguishing thing about the "worship time" at CHBC is the volume we sing at. One of my favorite things to do is to pause in my singing, and listen to the words being belted out by the congregations Words cannot accurately describe it fully, but everyone sings with such fervor that I get goosebumps all the time while we're signing to our King.
4. Prayer
There is a huge emphasis and value placed upon prayer at the church. Each Sunday morning, we have specific prayers of praise, confession, requests, etc. On Sunday evenings, we spend an extended time in prayer over various needs in the congregation, with members of the church lifting one another up!
5. The Transparency of the Congregation
One of the things regularly encouraged from the pulpit is to have awkward conversations with one another. Meaning, ask one another difficult questions, push past surface-level relationships and truly get to know one another; the good, bad and ugly. We're encouraged to hold one another accountable, be honest in our relationships, and spur each other on to love Christ more and grow in sanctification.
6. The Elders
Truth be told, I hardly knew what an elder was or did before coming to CHBC. Sure, I knew they helped make sure the church ran smoothly, but past that, I was clueless. The elders at CHBC are first and foremost servants. It's such a sweet thing to see Godly men pour out their lives for the benefit and growth of the local body. Several times, I've sat down to chat over some difficult situations with an elder from the church. Each time I've sought wisdom from an elder, I've left better equipped and ready to face life's challenges and difficulties. 
7. The Importance of Church Membership
Pastor Mark Dever has an entire ministry (9 Marks) focused on healthy churches, and one of the "marks" of a healthy church, is church membership. Before I became a member, I attended 6 hours of membership classes, had an interview with two of the elders of the church where they heard how the Lord had saved me, and was voted on by the congregation. Church membership is highly emphasized and valued because it demonstrates a strong commitment to the local body, where Christ is our common denominator! As members of Capitol Hill Baptist Church, we have the opportunity to get to know, love and care for the other members and show a watching world what the body of Christ looks like.
8. Evangelism
The congregation regularly shares stories of evangelism opportunities the Lord has given them. We pray often that we would have evangelistic opportunities at work, in the home, with friends and family, etc. Training on evangelism is a priority, and we're encouraged to study and plan different ways we can seek to evangelize our city, our nation and the world.
9. Regularly Meeting Together as a Local Body
Capitol Hill Baptist Church only has one morning service. The reason behind one service? How else are you going to get to know those with whom you have covenanted unless you regularly see them, speak with them, pray with them, and worship together. A high value is placed upon regularly meeting together as a local body. We worship together in the morning, and then come back for our evening service, which feels like a giant family gathering together. We share prayer requests, life updates (engagements, marriages, pregnancies, etc), pray over one another, spur one another on in our walk with the Lord,  and the members meet quarterly to discuss matters concerning the church. 
While I'm beyond thankful to be a part of such a healthy and strong church, we aren't a perfect church. We're a group of sinners striving hard after our Savior. If you're ever in Washington D.C., I encourage you to attend a service at Capitol Hill Baptist Church.