Tears streamed down my cheeks as I learned more about Jack and Marley's story. Jack demonstrates with stunning love what it means to truly care about someone, even in the most difficult circumstances. Their beautiful story was featured on CNN, and voted a top story of the year (2013). I had the privilege of "meeting" Jack and talking about his experiences as a father to a child with Down syndrome.
The theme for the March for Life this year is, "Every Life is a Gift", focusing on the fact that all lives matter, have value and importance. I thought Jack was the perfect person to feature, and I think his story will touch your heart, encourage and challenge your faith, and leave you wanting to make this world a better place!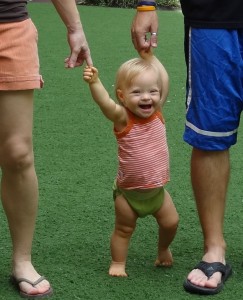 Tell us a little bit about your story:
The day my daughter Marley was born, I went straight to the nursery and held her for well over two hours. I just held her and cried because I had never experienced such a love for anyone or anything in my life. I think the nurses thought I was crazy because eventually they told me I needed to go be with my wife. Three days later, before we left the hospital, the pediatric doctor told us she thought Marley might have Down syndrome. I entered into a deep depression for the first year of Marley's life. My wife became concerned about me, so I started taking antidepressants and seeing a counselor. I contemplated leaving my wife and suicide. I would lie awake at night thinking about my future, and searching for a reason to live. I believed all the negative things the world told me about Down syndrome, and viewed it as a curse on my family. The entire time, I couldn't stop thinking about how this would change my life! Finally, one Saturday morning, when Marley was about 2 months old, I got up and told my wife I was going for a walk. I had no intention of coming back.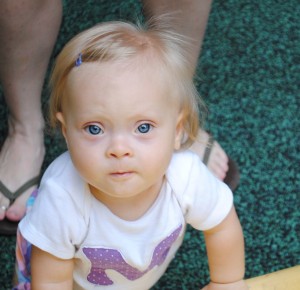 Can you explain a little further about the title of your book, "Failing at Fatherhood?"
I chose the phrase "Failing at Fatherhood" because it best describes the view I have of myself these past first three years as a Dad. I have made many mistakes since Marley's birth and I am deeply ashamed of them. So, why share this when it will be out in the world for others to criticize? It came down to what I believed in as a Christian. If I was going to stand up and say that I believed in God; then I had to be willing to share the struggles and triumphs in my life.
The theme of the March for Life this year is "Every Life is a Gift". Why would you say that all life sacred and a gift?
The change in my life would never have occurred without Marley. Today, I have a love for her that I could have never imagined or comprehended before the words Down syndrome entered our family's life. My love for her and the journey of our lives needs to be shared because many parents out there are receiving news that will forever change their lives. Marley is a beautiful gift that has taught me many things these first few years. It started out difficult, but I promise you, if you accept the gift, then God will bless you in ways you could have never imagined.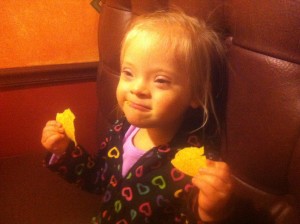 How have your personal experiences being a father to a daughter with Down syndrome influenced your life, and the lives of others?
For the past few years I have really talked to God. I talk to God in the same manner I would talk to my wife sitting at the dinner table. I openly share with him my anger and disappointment about my child's disability. Sometimes this will last for hours and involve screaming, fighting, crying, and praying, but I know this has helped me build a stronger relationship with my Creator. My faith is still not without doubt, but now I believe in a God who I can actually share my life with and can handle my real, unsuppressed emotions.
What would you say to parents of children with disabilities?
The most important thing in life is not our children, but helping our children accomplish the calling God has for them. It was never that I hated my daughter; it was the fact that I hated her having Down syndrome. If I did not share my story, then everything Marley has taught me would be lost once my life was over. What if a mother decides to keep her child because she hears about your story? What if a father decides to come home one night instead of leaving his family because of you? And finally, what if someone takes a step out of the pit of darkness instead of ending everything in death because you brought him or her hope? People need guidance and hope, and this is not our stories, but the stories of our children transforming our purpose, beliefs, and ultimately, society. What a miracle it would be if our children that have been labeled as "broken," actually helped saved lives, families, and other children! This is where I find peace.
What are some of the most important lessons you've learned through being Marley's father?
The most important lesson I have leaned is that our lives are not our own. Look at the story of Abraham and his son. Abraham did not want to kill his only son, but he knew that if God was asking him to do it, then there was a greater purpose. The same is true with our lives.
I don't want Marley to walk in one day and say, "Daddy, why did you not want me when I was born?" I know that day is coming and I will endure that crisis when it darkens my door. But facing that day is so much better than the alternative of not being honest with God, my daughter, or myself, and letting our story go untold. New fathers and mothers are hurting, and they need to know that there are other parents in this world that can show them a glimpse of the joy they will have with their new child. It was not Marley's birth that led me to fail as a father, but it was my previous issues that were never resolved which led to inadequate healing. If sharing my deepest thoughts helps someone start a relationship with God, convinces a father to stay with his children, or helps parents mend their relationships with their own children, then I believe it is worth every bit of criticism.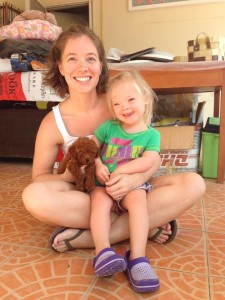 How have you seen the hand of God at work in your life and in Marley's life?
My daughter and her disability inspired the If They Had A Voice video. It has been viewed over 40,000 times and we continually receive emails from people touched by the video.
Marley's CNN article was voted a top story of the year (2013). The posting alone had over 1000 comments and generated enough traffic to be on the CNN front page for several days.
When Jana and I finally accepted God's plan, you could immediately see His work in Marley.
Follow Jack Barr on Twitter here