Elisabeth

Elliot slipped into eternity this morning at the age of 88 years old.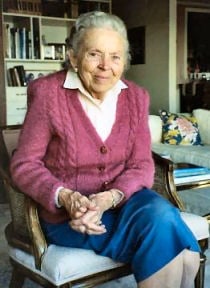 (Photo from ElisabethElliot.com )
When I arrived at my office this morning, I pulled out her devotional "Keep a Quiet Heart" and read a few pages, like I do every morning. A few hours later, I saw the news that Ms. Elliot had gone to heaven. My heart rejoices that the woman who loved her Savior with all of her heart, mind and soul is finally free from the sorrow of this life, and in the presence of her Beloved. Ms. Elliot was one of my personal heroes, and her life and work encouraged me to fall more in love with Christ, and walk boldly and courageously through life, even through some of the most difficult circumstances!
Elisabeth Elliot was the wife of the famous martyr Jim Elliot, who was killed in Ecuador as he was laboring to bring the Gospel to unreached people groups. In honor of the incredible life Ms. Elliot lived, I wanted to share a brief biography and of her most influential quotes!
Biography
A year after I went to Ecuador, Jim Elliot, whom I had met at Wheaton, also entered tribal areas with the Quichua Indians. In nineteen fifty three we were married in the city of Quito and continued our work together. Jim had always hoped to have the opportunity to enter the territory of an unreached tribe. The Aucas were in that category — a fierce group whom no one had succeeded in meeting without being killed. After the discovery of their whereabouts, Jim and four other missionaries entered Auca territory. After a friendly contact with three of the tribe, they were speared to death.

Our daughter Valerie was 10 months old when Jim was killed. I continued working with the Quichua Indians when, through a remarkable providence, I met two Auca women who lived with me for one year. They were the key to my going in to live with the tribe that had killed the five missionaries. I remained there for two years.

After having worked for two years with the Aucas, I returned to the Quichua work and remained there until 1963 when Valerie and I returned to the U.S.

Since then, my life has been one of writing and speaking. It also included, in 1969, a marriage to Addison Leitch, professor of theology at Gordon Conwell Seminary in Massachusetts. He died in 1973. After his death I had two lodgers in my home. One of them married my daughter, the other one, Lars Gren, married me. Since then we have worked together.
Influential Quotes
The fact that I am a woman does not make me a different kind of Christian, but the fact that I am a Christian makes me a different kind of woman.
I have one desire now – to live a life of reckless abandon for the Lord, putting all my energy and strength into it
Stand true to your calling to be a man. Real women will always be relieved and grateful when men are willing to be men
Faith is not an instinct. It certainly is not a feeling – feelings don't help much when you're in the lions' den or hanging on a wooden Cross. Faith is not inferred from the happy way things work. It is an act of will, a choice, based on the unbreakable Word of God who cannot lie, and who showed us what love and obedience and sacrifice mean, in the person of Jesus Christ.
There is nothing worth living for, unless it is worth dying for.

God never witholds from His child that which His love and wisdom call good. God's refusals are always merciful — "severe mercies" at times but mercies all the same. God never denies us our hearts desire except to give us something better.
Where does your security lie? Is God your refuge, your hiding place, your stronghold, your shepherd, your counselor, your friend, your redeemer, your saviour, your guide? If He is, you don't need to search any further for security.
Leave it all in the Hands that were wounded for you