Chris Tomlin kicked off his Worship Night in America on Saturday, August 8th in the sold out venue, Madison Square Garden. I had the privilege of attending the concert, chatting with Chris Tomlin before the show, and worshiping Jesus with over 10,000 people. The show featured Chris Tomlin, Matt Redman, Kari Jobe, Reuben Morgan, Matt Maher, Rend Collective, along with Louie Giglio and Max Lucado bringing brief messages.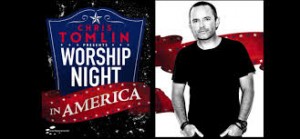 What makes this concert different than previous concerts?
God put a dream on my heart about two years ago to bring together some of my friends who have written some of the most influentials worship songs, together on one stage. My goal was to cross denominational lines, and bring the Church together and worship Jesus, and pray for America. Worship Night in America isn't about one artist, but about all of us gathering to worship one name, the name of Jesus.
Chris, one of my favorite moments during the concert was when Matt Maher began singing the verse of his song, "Lord I Need You". Instead of singing the verse with Maher, the entire crowd started singing the chorus, "Lord I need you, oh I need you. Every hour I need you. My one defense, my righteousness. Oh God, how I need you." It was neat to see the crowd completely engrossed in worship and not worried about singing the correct words.
I loved that too! I was there when the song was written at a piano, and it was such a sweet moment to be around a piano again and connect with the people. My goal is to create an atmosphere where I can back away and allow people to worship God unhindered.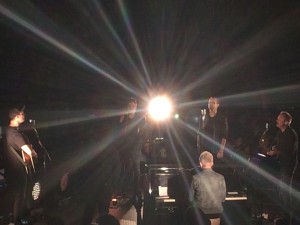 What do you hope the outcome of Worship Night in America will be?
I would love for this to be a yearly event; each year adding 2-3 cities. I don't want this event to be known as an event attached to my name, but a gathering of the church to worship one God, and to pray for America.
A lot of people can get wrapped up in thinking America's only hope is electing a republican president. What words of encouragement do you have to offer?
I think people feel like we're going in a million directions, and spinning out of control. The truth is, there's not a man that's going to lead in a way that three million people agree with. There's not a man who's going to save America through policy. While I think policy is extremely important, it isn't what's going to save America.
The church doesn't lead with politics.

The church leads with prayer.
I truly believe 2 Chronicles 7:14, "If my people who are called by my name humble themselves, and pray and seek my face and turn from their wicked ways, then I will hear from heaven and will forgive their sin and heal their land."
I believe that God can heal the brokenness of this country. We must fall down on our face before God in prayer, humility and repentance. Awakening doesn't come through politics, but it comes through prayer and the holy spirit, that's what we're trying to do! May people know the love of God, and may it start with us.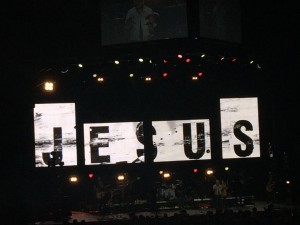 Is there a reason you chose NYC to kick off this tour?
Absolutely! We chose NYC because it's one of the most influential cities in America and in the world. Originally, we had another venue, but they torn it down in May, and everything was cancelled. I never intended to do the show at Madison Square Garden. It's the most expensive venue to rent in America, and I didn't want to charge people $100-$200 to come. It's never about the money for me, and I wanted to make the concert reasonable. After much consideration, so we went for it!
This has been my favorite concert I've ever played, and it was such a delight to see Madison Square Gardens, in the heart of NYC sold out. It's all for God's glory, and I am so thankful.

What would you tell the next generation?
Seek to have a true walk with God. Rise about the noise of what's been created in our world today, particularly social media. Everyone is so attached to their phones, and we're creating a false world. We're a lonelier world because we're all about our phones, not people. I believe that we're robbing our hearts of God, because we're so enraptured with social media and our phones. I consciously seek for moments of disconnect, moments where I can quiet my heart and hear from God. I must rise above the noise and place my relationship with God above all else.
Thank you Chris for taking the time to chat with me.