You might have heard of the band "Stars Go Dim" from their wildly popular single, "You Are Loved", currently at #8 on K-Love's top Christians songs. In addition to their chart topping song, they released their first music video as a companion to the song on February 8th.
Stars Go Dim is a collection of worship leaders, who joined forces with Chris and Michael Cleveland to form the band. They are currently touring on the Winter Jam Tour Spectacular alongside Skillet, for King& Country, and many others. Here's what others are saying about Stars Go Dim:
"Infectious at every turn" – CCM Magazine
"Their debut album is a polished, spiritual, yet fun pop album…it is executed beautifully." – NewReleaseToday
"One of my favorite albums of the year" – 365 days of Inspiring Media
"In fourteen tracks, the band encourages, inspires, reminds, and comforts with a beautiful blend of electronic and acoustic sounds. Without a doubt, Stars Go Dim has a well-earned place in the forefront of developing contemporary Christian music." – The Christian Beat
I had the privilege of chatting with Michael Cleveland about the band, their music, and his family's journey with adoption. We ended up chatting the most about adoption, since that's once of my favorite topics!
Patterson: Can you tell me more about the song, "You Are Loved"
Cleveland: A few buddies from LA co-wrote this song with some of the band members. There are 9 kids between our band, and we all have daughters. This is the message we want our daughters to hear, especially in a . It's a simple, yet very powerful message. We're all made for a purpose, and God didn't make a mistake. If you're struggling with identity, remember that you are loved by your Father more than you could possibly imagine.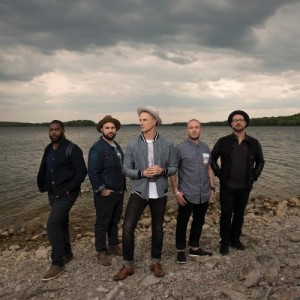 Patterson: I'm so excited to chat with you about your family's journey to adopt! I was adopted from Eastern Europe as a baby, and think adoption is the greatest!
Cleveland: My wife and I have been married for 8 years. During the first few years, we had several miscarriages. My wife's dad passed away and we moved to Kansas City. We'd talked about adoption, and it's something we'd always been open too. In Kansas, you're required to go through six months of classes before you're eligible to adopt. We were asked to fill forms to choose what kind of children we were looking to bring into our family. Healthy newborn babies are the first children chosen; and we knew that children older than 3 years old and sibling sets were drastically less likely to be adopted. My wife and I told the agency that we wanted to adopt the children that no one else wanted. One evening, we received a phone call that 2 little girls were eligible for adoption. We drove down to meet the girls, and were instantly in love. The Sunday after our adoption was finalized was Father's day and it was such a sweet time! God has been so good to use through everything, and our girls are doing great! They love listening to Bible stories, have done exceptionally well in school and have integrated beautiful. Another sweet gift from the Lord was our baby girl that was born this past September.