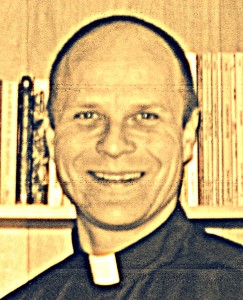 The following quote is taken from a comment by Rev. Dr. Holger Sonntag from an ongoing conversation over at Brothers of John the Steadfast.
For a sneak-peek of Dr. Sonntag's English translation of The Apology of the Book of Concord, coming Summer 2015, click here!
+          +          +
We believe based on the Bible that Christ's gifts are not separated from Christ, the Giver of those gifts. Accordingly, our confessions reject as false the teaching "that not God himself but only divine gifts dwell in believers" (Formula of Concord, Epitome III, 18), but affirm the correct teaching: "it is true indeed that God the Father, Son, and Holy Spirit, who is the eternal and essential righteousness, dwells by faith in the elect who have been justified through Christ and reconciled with God, since all Christians are temples of God the Father, Son, and Holy Spirit, who impels them to do rightly" (Formula of Concord, Solid Decl. III, 54).
In other words, God doesn't give like we do, so that his gifts become separated from him; he always gives himself with the gifts. So, where the gifts are, there Christ is. Therefore, when the Small Catechism speaks of Christ's gifts to us (in the Creed, Baptism, Absolution, the Lord's Supper) — forgiveness, life, and salvation — then you may safely assume that these gifts don't come without the presence of Christ, our crucified Savior, himself.
I think this an exceedingly comforting aspect of the gospel: Christ, our divine-human Savior — not far from us, with his human nature locked up in some far-away heaven, but right here with us under our cross to comfort and strengthen and lead us with his good Spirit, dwelling in our hearts by faith (Eph. 3:17).
Here's how Luther put it in his commentary on the Small Catechism, the Large Catechism (LC II, 67-68):
Now you see that the Creed is a very different teaching from the Ten Commandments. The latter teach us what we ought to do; the Creed tells us what God does for us and gives to us. The Ten Commandments, moreover, are inscribed in the hearts of all men. No human wisdom can comprehend the Creed; it must be taught by the Holy Spirit alone. 68 Therefore the Ten Commandments do not by themselves make us Christians, for God's wrath and displeasure still remain on us because we cannot fulfill his demands. But the Creed brings pure grace and makes us upright and pleasing to God. 69 Through this knowledge we come to love and delight in all the commandments of God because we see that God gives himself completely to us, with all his gifts and his power, to help us keep the Ten Commandments: the Father gives us all creation, Christ all his works, the Holy Spirit all his gifts.
Specifically on the Holy Spirit's present work of sanctification in us, there's this nice quote in the Large Catechism, quite fitting for the end of the church year with its focus on Christ's return in glory (LC II, 57-59):
Meanwhile, since holiness has begun and is growing daily, we await the time when our flesh will be put to death, will be buried with all its uncleanness, and will come forth gloriously and arise to complete and perfect holiness in a new, eternal life. 58 Now we are only halfway pure and holy. The Holy Spirit must continue to work in us through the Word, daily granting forgiveness until we attain to that life where there will be no more forgiveness. In that life are only perfectly pure and holy people, full of goodness and righteousness, completely freed from sin, death, and all evil, living in new, immortal and glorified bodies.

59 All this, then, is the office and work of the Holy Spirit, to begin and daily to increase holiness on earth through these two means, the Christian church and the forgiveness of sins. Then, when we pass from this life, he will instantly perfect our holiness and will eternally preserve us in it by means of the last two parts of this article.
Who wouldn't want to believe this great biblical teaching—the holy Trinity himself right now dwelling in us poor sinners with all his gifts, to forgive us all our sins and in just this way helping us to increase daily in holiness in this life according to the law in which we now delight, and to grant us perfect holiness in the life of the world to come where we will need no more forgiveness? (emphasis mine—TDD)
So, in other words, while the exact term "mystical union" appears neither in the Small nor in the Large Catechism (or any of the other confessions), it's clear that the thing meant by the term—the Holy Trinity himself mysteriously dwelling in us by grace and making us partakers of the divine nature and all its wondrous spiritual blessings by faith (2 Peter 1:4, see also Solid Decl. VIII, 34: "St. Peter testifies with clear words that even we, in whom Christ dwells only by grace, have in Christ, because of this exalted mystery [of the incarnation], 'become partakers of the divine nature' (2 Pet. 1:4)")—is taught in many places.
We should all, as believers in Christ, rejoice in this great comforting doctrine.
+SDG+
Please also take the opportunity to purchase this gem of Lutheran theology, Only the Decalogue is Eternal: Martin Luther's Complete Antinomian Theses and Disputations, also translated by Dr. Sonntag. This book is a rich (and perennially relevant!) work of pastoral theology—some of Luther's very finest, in the opinion of this humble layman.