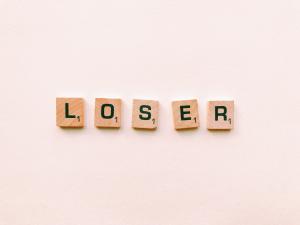 I used to use my "depravity" as an excuse.
Wait… I forgot to put the word total in there.
Total Depravity.
As in…complete.
All.
All of me is depraved.
Nothing good in me.
Not even an ounce of goodness.
Smh.
So what did anyone expect?
The bar was set real low.
The words "I'm a loser" came out of my mouth quite frequently.
A young momma, dripping with four small children and a severe case of anxiety/depression.
Kev asks me to clean at least one pair of underwear.
For real, he isn't asking for much, bless his heart.
I however, can't seem to get that one little task done.
Oops.
And when he asks me about it?
I don't just say "I'm sorry".
Instead I tell him what a loser I am.
An all around loser.
Which, in my head, was more than true.
Looking back, it was one heck of a cop-out.
No need to apologize.
Just a blanket "I'm a loser" would do.
Hear me, he wasn't being a jerk about it.
It wasn't a case of "Do your own dang laundry".
This isn't about that.
This is about me continually calling myself a loser.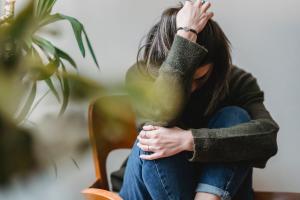 Ok.
Can I take this whole depravity talk one step further?
I would tell our children they deserved hell.
Yep.
All part of our theology.
If one of our sweet littles would ask for something he/she couldn't have?
And then proceed to whine about it?
I pulled the old "you know what you deserve, right?"
They knew.
They deserved nothing.
But hell.
And I was a good momma.
I loved them something fierce.
I rocked them, and snuggled with them, and homeschooled them.
They were my life.
And it was important for them to know how dang depraved they were.
Ugh.
If Jesus chose them, then they would be ok.
No eternal hell for them.
Which is what they deserved.
So let's pray and ask Jesus to choose us.
But we have no control over any of it.
And if he doesn't choose us?
It's fair, because we deserve hell.
And then I rocked them and sang about How great our God was.
Oh, and then the guilt of loving them too much would come on me.
Do I love them more than I love God?
Oh no.
I think I do.
I've made them an idol.
Now he will have to rip them away from me.
Put himself back up on the throne.
If you are still reading this post?
I'm sorry it is so depressing.
But this theology is so depressing.
And I lived it.
I walked in it.
I taught it.
Until I couldn't anymore.
Until the day came where I opened my eyes.
Looked around.
And cried "BS".
This cannot be who God is.
How in the world is this God?
Things began to unravel.
Although it was painful?
It was/is the best thing that has ever happened to me.
Waking up to a loving God and a loved Karen.
Realizing I can see Jesus by looking in the face of my child.
It's not about loving them too much.
It's about seeing them as the gift they really are.
Good gifts.
It's starting with Genesis 1 instead of Genesis 3.
God made us and called us "good".
Let's start there.
It helps to know there is good in us.
I see it.
We are all made in the image of God.
Do we mess up?
Of course.
Do our kids mess up?
Yes.
But can we see the good in them?
Can we look for the good in others?
Do we need Jesus?
Yes.
It's his love for us that causes us to love others.
We love because he first loved us.
So I am learning.
Every day.
To see God in a new way.
To see myself and my kids and my grandkids in a new way.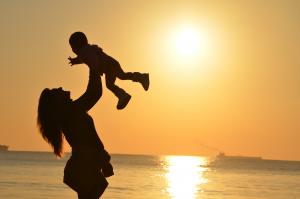 To love and be loved.
To mess up and to say "I'm sorry".
The label is no longer loser.
The label is beloved.
Karen R Shock resides in Fort Wayne, IN with her husband and their youngest son. She had three more children who are married and four beautiful grandchildren. Oh, and a dog name JT Barrett (Go Bucks). She is a retired homeschool mom and is now a high school teacher and cheer coach. Life is hard, but fun.