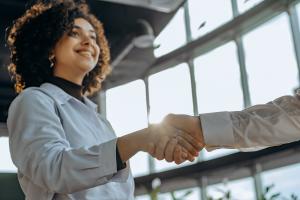 I remember like it was yesterday.
Kevin and I were pretty young.
4 children.
I was homeschooling them.
We were youth group leaders.
Loving and serving Jesus the best we knew how.
Grateful for our little family.
Until one day…
We saw a homeschool acquaintance at the mall.
We chatted and began to catch up on each other's lives and families.
He asked if we were going to have any more children.
We said we didn't know.
Hadn't done anything final yet.
Still, we didn't know.
Four seemed like a good amount to us.
He said "So, you are gonna stop your blessings?".
Ummm….
Then he quoted some verses about having a quiverfull of children.
Apparently…
A quiver holds 5 arrows?
We were one short.
So we were "not blessed"?
I laugh now when I think about it.
I wasn't laughing that evening.
I was confused.
We had people on one side saying we were crazy for having 4.
In this case, we were now clearly interfering with God's plans to bless us.
I'm shaking my head as I think about it.
Why is it that people feel the need to admonish someone in the middle of the Northtowne Mall?
On how many babies they are going to have?
Using God's name in it all?
Kevin and I never did do anything "final" about having babies.
We never did "try" again, but 3 out of our 4 were pleasant surprises.
I really did think we might have one more.
Maybe it's still not too late?
Lord have mercy.
Ok.
That isn't even funny.
All this to say…
We all do are stinking best.
We live our lives one day at a time.
Life is hard.
Sometimes we can barely catch our breath.
And I believe God wants us to encourage one another.
The Truth that he wants us to share with each other?
The Truth we all need to hear?
Again and again and again?
You are loved.
God loves you.
You were made in his image and one of his children.
Funny thing is, if you see me walking in the mall, or in the hallway at school?
You might not ever know that deep inside I struggle with anxiety, depression, insecurity, etc.
We just have no idea.
So, let's make it a point to lift one another up.
Speak Truth.
Love each other.
Lean in.
Ask a few questions…
Without having to have all the answers.
Look people in the eye.
See the need.
Bless that need.
Maybe, just maybe?
God wants to use us to be the blessing someone needs.