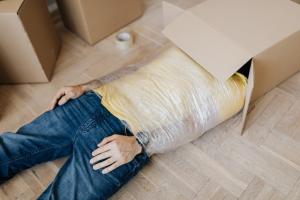 Everyone longs to belong.
I've spent my life longing to belong.
To fit in.
The journey of a misfit.
What box do you want me to fit into?
Just tell me.
I will jump on in.
Oh, that one?
Ok.
It looks too small.
Are you sure?
Here I go.
Wait.
Maybe you should just put me in the box.
Because, God knows I'm trying to jump in.
I just can't seem to fit.
My legs are tired from a lifetime of boxes.
In and out.
In and out.
You really want me to fit into your box, though.
And I want to.
Because I like you.
Just help me.
Help me help you fit me into your box.
You keep stuffing.
I'll keep praying.
Trying to be smaller.
Maybe if I'm quieter?
Nope.
It's not working.
Your box is too small.
My big thoughts, 
Big dreams,
Big hopes,
Just don't seem to fit.
Oh, but your box is the one God is in?
If I don't fit, then I don't know God?
Ok.
Just keep pushing me.
Beating me down.
Hammering me with "the truth".
If you make me small enough, I'm sure I will fit in.
Shoot.
Hold up.
I forgot.
I'm actually claustrophobic.
You've got me all shoved in here,
But I promise you, I can no longer breathe.
There is no room here.
It's dark.
I can't see.
Maybe, stop telling me I'm fine.
Stop stuffing all my stuff back down.
I feel like a toy.
The old Jack-in-The-Box.
Keep winding me up.
Singing that same old tune.
Eventually?
I'm gonna pop on out.
And I will see.
Oh yes, I can see.
There is a whole world out here.
It's light.
And bright.
And there is plenty of room.
Air to breathe.
I can spread my arms out wide.
Look up at the sky.
Actually, unbox myself.
Because, it turns out?
God is outside of the box.
With all the other misfits.
Right here in our midst.
It's a big beautiful space.
With all different kinds of people.
So colorful.
So filled with love.
You told me that little box was the only place where love resides.
Funny, I just felt trapped inside.
It's so good to breathe again.
To be me again.
Absolutely free again.
No more boxes.
No more silly games.
No more lies.
Out of the box.
Into a life of love.
Karen R Shock resides in Fort Wayne, IN with her husband and their youngest son. She had three more children who are married and four beautiful grandchildren. Oh, and a dog name JT Barrett (Go Bucks). She is a retired homeschool mom and is now a high school teacher and cheer coach. Life is hard, but fun. Learning to lean into the mess, find rest in today, and maybe even make some new friends along the way.