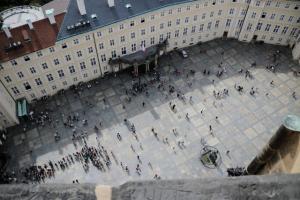 Let's talk about ants.
Two stories.
Two different perspectives.
Both of them inspiring. 
Story Number 1:
I remember talking to a mentor about my weight. 
I was upset about the pounds I had put on in my last pregnancy, and was comparing myself to the younger girls in our small group. 
She told me what she used to tell her kids as they were growing up. 
Do you think God looks down at us compares us to each other? 
Fat, skinny, short or tall? 
Does he compare our noses?
Our hands and feet?
It would be like us looking at the ants.
No, really.
Just check out an ant hill.
Do we care if the ant is "fat" or "skinny"?
Are we checking out the size of their hands and feet?
I know I don't.
I can't tell from way up here.
And it doesn't much matter in the grand scheme of things.
Same with God.
The Universe.
We are minuscule.
Right?
Down here all looking the same to the one who created us.
Maybe we don't have to focus so much on our size.
Spend so much time comparing.
Remember we are all together in this.
Like the tiny ants in our backyards.
It's all about perspective.
Imagine God's in all of this.
I want to lean into this.
Our bodies.
All just kinda the same.
But carrying our big, beautiful, eternal souls.
Let's spend more time looking into each other's eyes.
Focusing on what matters.
Reminding each other how little we all are.
And how much we have in common.
And how much God loves each one of us.
It's all so amazing.
Sometimes we just have to stop and think about it.
Story Number 2:
Kind of the same, but oh so different.
I remember reading this in a Donald Miller book back in 2012.
I still think of it often…
            …she wanted God to make sense. He doesn't. He will make no more sense to me than I will make sense to an ant.
So, it's just kind of the opposite of the first ant story.
We are so small.
And God is so big.
I imagine those little ants looking up at me and trying to figure me out.
It makes me giggle.
Just down there working.
And I'm staring down at them.
Can you imagine them even beginning to know the littlest things about my life?
My family.
My house.
My job.
And me trying to explain anything to them?
Maybe if I became one of them?
Could speak their language?
And spent time doing what they do?
I could help them understand.
Forget it.
I'm not interested.
Good thing Jesus was.
He came on down to show us who he was/is.
How to live.
How to love.
And how not to waste our time comparing ourselves to each other.
Ahhhh…
I didn't even mean to bring it back around to the first story.
But, there we have it.
Two ant stories to help us see our story in a different kind of way.
Karen R Shock resides in Fort Wayne, IN with her husband and their youngest son. She had three more children who are married and four beautiful grandchildren. Oh, and a dog name JT Barrett (Go Bucks). She is a retired homeschool mom, public high school teacher, and cheer coach. Life is hard, but fun. Learning to lean into the mess, find rest in today, and maybe even make some new friends along the way.