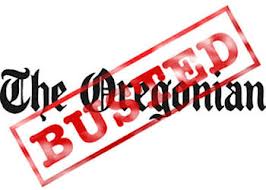 I grew up in a home absent of newspapers.
Oh, to be sure, my mother was a reader. She kept stacks of books beside her bed and piles of magazines throughout the house. Not the highbrow sort of reading found in Vogue or The New Yorker. Mama was reading Valley of the Dolls, the Happy Hooker, True Detective, and True Crime.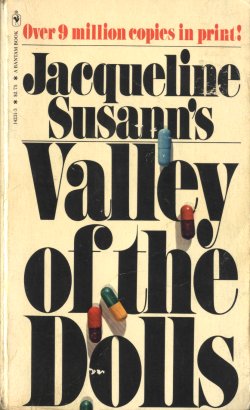 During an era when others were reading Betty Friedan's feminist literature, my mother was reading stories of women being brutalized. Sometimes she'd read the Bible, too, because, I suppose, in many ways it still fit the genre. My mother's True Crime zines creeped me out so much that I would turn them face-down so I couldn't see the terrorized women.
I cut my teeth on Madeleine L'Engle and Victoria Holt.
I didn't become a reader of newspapers until after I was married and had a family of my own. The first newspaper that I subscribed to and read was The Oregonian. And even that was by default, since we delivered the paper to our remote mountain community.
Tim or I would rise early in the mornings, fold and rubber-band the papers,  then head out on the route by 4 a.m. In those days, farmers liked to have their newspapers to read with their morning coffee. Sometimes the kiddos would come along and help, leaning half their bodies out the window in order to reach the box belonging to Mr. Greenjeans. I'd make up silly names for the customers and tell stories about them to entertain the kids. Many years later, the kids would have paper routes of their own.
Once a bird flew into the van through the open window and scared the beejesus out of all of us. I feared it was going to peck out our eyes like those awful birds in that creepy Hitchcock movie. I had to pull the van over in the gravel drive of a sleeping patron, and figure out how to chase that dumb bird out of the van. It took some doing but I finally got that bird gone. Whew!
That paper route helped feed our family. We only made about $400 a month but that covered our groceries in those days. It never ever occurred to me during that time that I would one day be one of the writers featured in The Oregonian.  I barely had the time to write out a grocery list, much less anything else.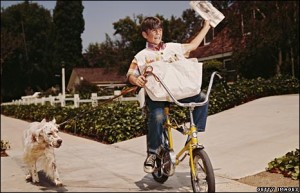 I started my first journalism job on my 40th birthday. That's the gosh honest truth. I had a friend who was editor at the local paper. He knew I could put a sentence together because I wrote letters to the editor all the time. (I bet that doesn't surprise you). This was back in my Sarah Palin days. (That might surprise you.) So named because that was when I thought I had the answer to everything. (Turns out I was wrong).
My editor friend was short-staffed so he called and asked me to come help out at the paper. I told him I didn't know anything about being a reporter and he said he'd teach me. Turns out I had a knack for this writing thing. The reporting thing I learned the old-fashioned way: I practiced it until I learned it.
It wasn't long, maybe a year  into the gig, when editors at
The Oregonian
took note of my weekly column. They asked me to send them stuff. I did and they printed it, big and bold, right there on their editorial page. People wrote me fan mail from as far away as New York City and L. A. It was all very romantic, being the girl from the West Georgia trailer park writing for what was widely-considered the state's newspaper:
The Oregonian. 
It was the essays I wrote about my father that spurred the most interest, and it was an editor at The Oregonian who urged me to write a book about growing up without daddy. Doug Bates is responsible in a huge way for my book writing career. I have had the good fortune to be surrounded by good-hearted people in both the newspaper and book business.
One of the writers I admired most was Tom Hallman Jr. The work Tom did for The Oregonian remains to this day some of the best writing I've ever read. When he wrote about Sam, a boy born with facial deformities, I wept for Sam and his family, and for the beauty and grace with which Tom told their story. Read about Sam for yourself by clicking here.
I met Tom years later, after he won the Pulitzer. For me, it was like being in the presence of the Pope. He exudes grace and wit and goodness. I could never imagine being as fabulous a writer as Tom Hallman, but I longed to tell stories with as much grace as he does.
In those years, The Oregonian had a newsroom full of talented, hardworking writers. Getting a job at the O required God's signature, or a death certificate. People didn't leave their jobs at the O, they just walked on to be with Jesus.
This very day, many people at The Oregonian will be getting a pink slip. The O announced that they, too, have gone the way of the Times-Picayune. They will only deliver a print edition four times a week. They've long since quit delivering their newspaper state-wide.
I know that the general public doesn't understand what the fuss is all about. The public has a general disdain for journalists, ranking them right up there with dentists, lawyers, and Michael Vick.
What does it matter that The Oregonian as we have known it will disappear?  It's gotten so small there isn't real news in it anyway. It's just all regurgitated stuff.
Those were a few of the complaints that a host at Oregon Public Broadcast fielded from the public, following today's announcement of impending cuts at  The Oregonian.
To be sure, there are plenty of things media has gotten wrong lately. Plenty of missteps it's taken over the years during the industry shake-up. Or is that shake-down?
When a matter is declared "newsworthy" simply based on the number of clicks it attracts, media shifts from reporting news to creating news, and that is not at all the same thing. We already live in that era where Kim Kardashian's butt attracts more interest than the number of soldiers killed-in-action. An age where people are more inclined to let the government spy all they want, because they believe, wrongly, it will keep them safe.
People who don't understand the role of a free press and the importance it plays in a democracy are doomed to learn that lesson the hard way. We, like the women in those True Crime zines Mama used to read, are unaware and ill-informed.
We are foolishly putting ourselves in a dangerous situation.