Speaking of coming across the prayers of the dead, have you read Lisa Wingate's latest treasure "The Prayer Box"?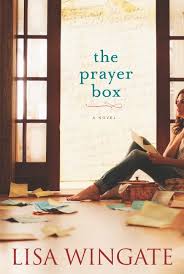 "Tangled in strands of salt grass, treasures waited – a rosary, a bit of sea glass, a tiny bottle found nearby the carcass of a shipwreck, a small starfish, a photo of Iola and Isabelle taken standing next to a miniature hippopotamus at the 1940 World's Fair. Along the frame at the bottom, the text read: Billy, the famous pygmy hippo once owned by President Coolidge…".
If you want to read more of Lisa Wingate's "The Prayer Box", leave me a comment. I'll be drawing a winner on Sunday. It's the perfect Thanksgiving read.