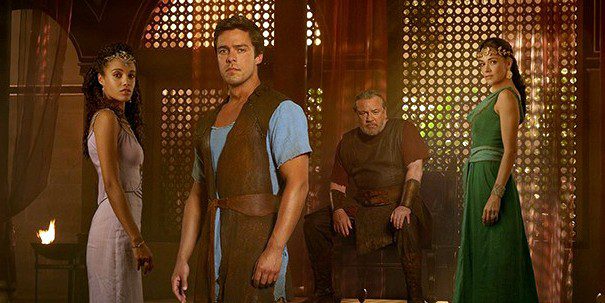 If you're expecting the appearance of "A.D.: The Bible Continues" on NBC to be a harbinger of things to come on network television, don't start saying your thanksgiving rosaries just yet.
The drama, based on the Gospels, the Acts of the Apostles and other historical sources regarding the years after the Crucifixion, is not exactly burning up the ratings charts — although, at 5.47M viewers for the last episode, it's not a disaster either — and it's definitely on the bubble for renewal.
In the end, it might depend on how badly NBC wants to continue to be in business with "The Voice" producer Mark Burnett and wife Roma Downey — and Burnett's not one to let something go easily.
That aside, this is the week before the annual upfront presentations in New York City — where the networks showcase their new programming and schedules for advertisers, in hopes that they'll buy up available advertising spots in advance, or "up front."
The renewals and cancellations are coming thick and fast, along with news of new-series pickups. So far, there's nothing to that specifically looks to make Catholic viewers happy — other than the sorts of mainstream shows we like that everybody else does, too — and there might be a thing or two that ruffles feathers.
Click here for a comprehensive list of the fates of current shows, courtesy of the Washington Post; and here for E Online's look at the new shows.
Of particular interest for good or ill:
* "Of Kings and Prophets": ABC has picked up this one-hour Old Testament drama, which it describes as:
An epic Biblical saga of faith, ambition and betrayal as told through the eyes of a battle-weary king, a powerful and resentful prophet and a resourceful young shepherd on a collision course with destiny.
Ray Winstone plays King Saul: Haaz Sleiman (seen most recently in the title role of NatGeo Channel's "Killing Jesus") plays Jonathan; Maisie Richardson-Sellars plays Michal; Oliver Rix is David; Simone Kessell plays Ahinoam; James Floyd is Ish-Boseth; Mohammed Bakri plays Samuel; and Tomer Kapon plays Jacob.
Before you get too excited, I noticed that one of the executive producers is Reza Aslan, who penned "Zealot," the widely debunked retelling of the life of Christ. He's not the only one involved, but it's not exactly a good sign. We'll have to wait and see.
* "Galavant": ABC's musical series — a loopy take-off on "Camelot" themes — got a surprising pickup, which is good news for song-and-dance fans everywhere. It was one bright spot in a generally dark, gritty and grim TV climate. If you missed it, click here to watch episodes online.
* "Supergirl": CBS makes a rare foray into superhero drama. Melissa Benoist ("Glee") stars as Kara Zor-El, a relative of Superman who also escaped Krypton and winds up on Earth. At 24, she decides to embrace her super-identity.
Producers for this one are Greg Berlanti and Andrew Kreisberg ("Arrow," "The Flash") and Ali Adler, who worked on "Glee" creator Ryan Murphy's short-lived sitcom "The New Normal" on NBC, about a gay male couple hiring a surrogate to have a child to dress up and call their own.
That's not exactly a ringing endorsement, but "The Flash" has turned out to quite good, and its upbeat take on the superhero genre won it a Christopher Award — click here to learn more about that from a conversation I had with Kreisberg.
Kreisberg also said that if you like the tone of "The Flash," then, "our next project, 'Supergirl,' in some ways is even more hopeful in that sense."
* "The Real O'Neals": Despite the efforts of religious and conservative groups to keep this one from seeing the light of day, ABC has picked up the sitcom based on the life of sex columnist and gay activist Dan Savage, an ex-Catholic with no love for the Church he "walked out" of many years ago.
Martha Plimpton stars as the matriarch of a Catholic family whose perfect facade is upended when one of the kids comes out of the closet. Savage is one of the executive producers, but there are indications that, like ABC's "Fresh Off the Boat" — which started with the life of food personality Eddie Huang and then veered off in a different direction — there's no way to know at this point how much influence Savage has.
And, the recent track record for network comedies centered on gay themes isn't good — NBC's "The New Normal" and "Sean Saves the World," with Sean Hayes, didn't last long; and CBS' "The McCarthys," another comedy about a Catholic family with a gay son, was yanked early from the schedule this year and is considered axed.
Even on HBO, the San Francisco-based "Looking" limped along for two seasons with poor ratings before being canceled.
So, my advice is to do what I do when a show doesn't land in my wheelhouse — just ignore it to death. Sometimes it works, sometimes it doesn't, but it's usually best to let the audience decide.
Now, if "The Real O'Neals" starts featuring active Catholic-bashing, that's another thing and should be addressed, but otherwise, if it's destined to fall of its own weight, I'm not going to get in the way.
Image: "Of Kings and Prophets," courtesy ABC