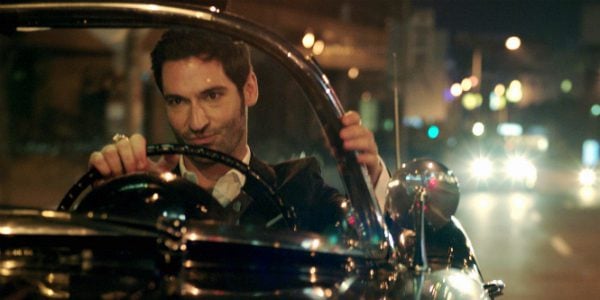 The world might be sliding rapidly into secularism, but the very existence of several TV shows this spring depends on belief in God.
Currently, I'm in the middle of the biannual TV Critics Association Press Tour in Pasadena, California. When I finish writing this, I'm off to a screening of AMC's "Preacher," described on the Website as:
"Preacher" is the story of Jesse Custer (Dominic Cooper), a conflicted preacher in a small Texas town, who is inhabited by a mysterious entity that allows him to develop a highly unconventional power. Jesse embarks on journey to, literally, find God, joined by his ex-girlfriend Tulip (Ruth Negga) and an Irish vampire named Cassidy (Joseph Gilgun).
There's no premiere date given, just sometime in 2016. UPDATE: I've now seen the pilot, and it's a violent, boring mess. Avoid at all costs.
Over the last couple of days, we've had press conferences for two other upcoming shows, the Science Channel documentary "The Story of God," and A&E's scripted drama "Damien," based on the original movie version of "The Omen."
Launching in the spring, "God" features host Morgan Freeman — who's played the Almighty in a few movies — traveling to 20 cities in seven different countries to examine what he calls "The Big Five": Judaism, Christianity and Islam, and Hinduism and Buddhism.
Said producer Lori McCreary (who also said she believed in God):
We're looking at questions I think that all of us as humans have, which is where did we come from, where are we going, what happens when we die, are we here for a reason. And ultimately we found the answers from many different religious people and religions to be very similar, which was heartening.
When Freeman said, "There are questions we can't answer, except with God," McCreary added, "God helps us answer the unanswerable."
Glen Mazzara, who was "raised Catholic" and comes from a family that includes a priest, is the executive producer and showrunner on "Damien," premiering March 7 on A&E (for "Omen" fans, it's based on the first movie only).
Bradley James stars as the title character, depicted as a little boy in the movie, who's the son of Satan in human form, born of a jackal — and the Antichrist. Of course, as I asked at the session, you can't have the Antichrist without Christ, and you can't have Christ unless you believe, not only in God, but in the Son of God.
Said Mazzara:
That's a great question, and what we are looking at is if you take a look at where the original film came out of, you know, in the '70s, you had questions of Watergate, Vietnam, economic collapse. It was a difficult time, and it felt like the end of the world to a sense ‑‑ in a sense, and you have a film about that ‑‑ okay? ‑‑ about an apocalypse.

If you take a look at what's happening today where you have people killed at a holiday party or in a nightclub or an airline is being shot down, all of the stuff, it's a scary time, and I think people ask, "Why is this happening? If there is a God, why would God allow people to suffer?" These are very complex themes.

So the idea to take an iconic film and to go back and freshen it up and examine and say that it's still socially relevant and that it's thematically relevant I think is what's important.

I do feel very good about the Catholic theology that's in the show. I was raised Catholic. So there is a Catholic viewpoint, but you'll also see right from the jump, there are people saying, "Why are these things happening in our world? What does this mean? How can I go on? How can I survive? How can I pick my life up?" And those are questions that are really important to, I think, all of us. So that's the viewpoint that we are exploring.
He also noted:
The approach here is you want to see Damien's humanity, and what we've done is, he's an Antichrist. So if you say Christ is all God and all human, the Antichrist would be all human and all devil. That's an interesting character to root for. And as Damien faces his humanity, he's going to go down a path where, as he's doing stuff, we both want him to be stopped and we want him to fulfill his destiny.
Here's the trailer:
"Damien" isn't the only show that affirms the existence of God by telling a devilish tale.
Last night, I got to see the pilot for Fox's "Lucifer," based loosely a comic-book character created by Neil Gaiman, which premieres Jan. 25. It stars British actor Tom Ellis as Lucifer Morningstar (yep, that's the name he's using), who's hanging out in Los Angeles, taking a vacation from running Hell.
The only power he has is to get people to tell him their deepest desires and then to encourage them to fulfill them (like the serpent tempting Eve but being unable to make her eat). Lucifer tools around L.A., wreaking havoc large and small in the lives of people he meets, for his own amusement.
Then he meets Chloe Dancer (Lauren German), a divorced single mother of a little girl, who's a former actress turned LAPD detective. When a wayward girl whose career Lucifer "helped" is gunned down by a drug dealer — after Lucifer encouraged her to clean up her act — he decides to assist Chloe in the investigation.
Simultaneously, he's feeling strangely guilty for the girl's death (which prompts an existential crisis) — and fascinated by Chloe's apparent immunity to his powers, and her wish to do good in the world.
At the same time, Chloe's little girl (Scarlett Estevez) takes an immediate liking to Lucifer, which, as he despises children, discomfits him more than anything else.
Meanwhile, a pissed-off angel (D.B. Woodside) comes with orders from "our Father" for Lucifer to get his butt back to Hell … and there's no love lost between the two.
It's an engaging pilot and could be fun, and the idea of Lucifer developing a conscience because of his exposure to humanity — in particular, Chloe and her daughter — is intriguing.
At minimum, while it can hardly be considered theologically accurate, it doesn't insult God or belief — and, as Lucifer points out, people are answerable for their own sins — and it might be worth watching an episode or two more to see what happens.
And the trailer:
Coming up this weekend are press conferences for ABC's "Of Kings and Prophets" (based on the Biblical story of Saul) and the rather sad "The Real O'Neals," and for Hulu's "The Path," about a religious cult.
More on those in the next post.
Image: Courtesy Fox
Don't miss a thing: head over to my other home at CatholicVote and like my Facebook page; also like the Patheos Catholic FB page to see what my colleagues have to say.