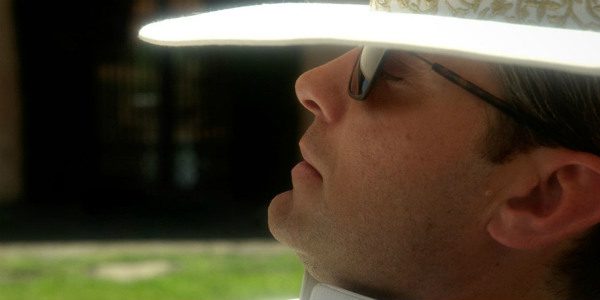 And you thought politics was rough.
Before we've even had the inestimable treat of seeing the reality-deprived fever dream that appears to be HBO's upcoming "The Young Pope," there's going to be a second season … probably.
From The Hollywood Reporter:
Academy Award-winning director Paolo Sorrentino's first-ever TV show, The Young Pope, a production of HBO, Sky and Canal Plus starring Jude Law, has a second season in the works ahead of the first season's international release. Wildside producer Lorenzo Mieli announced the news at the show's Rome premiere.

The show debuts on Sky Italia, Germany and Austria on its Sky Atlantic channel on Friday. It will also air on Canal Plus beginning Oct. 24, on Sky Atlantic in the U.K. and Ireland starting on Oct. 27, and on HBO in the U.S. early next year.

Just as with Season 1, Italian company Wildside is currently developing the second season, and will take it to partners HBO, Sky and Canal Plus for co-financing as soon as Sorrentino finishes the script.

"We are of course hoping to do it," said Sky Italia chief of content Andrea Scrosati, "but nothing is signed yet."
No word on whether HBO — the network that has brought you uncounted brutal rapes and gruesome murders in "Game of Thrones" and now "Westworld"– is picking up the sophomore season of "The Young Pope," which its programming chief described as "not wildly inaccurate." 
Moving on to the battle to put the "surplus population" out of everyone else's misery, Lifetime, the so-called "network for women," is doing a series where the protagonist bravely battles to euthanize people "with dignity."
And, of course, she's a single mother, because why wouldn't she be? Isn't everyone?
From The Hollywood Reporter:
Lifetime is taking edgy to a whole new level.

The female-skewing cable network has picked up a straight-to-series Canadian drama about doctor-assisted suicide.

From Entertainment One and Rookie Blue creator Tassie Cameron, Mary Kills People is a six-episode project created by Tara Armstrong that will be paired with UnREAL in 2017. Caroline Dhavernas (Hannibal, Wonderfalls) stars as a doctor who helps people in need end their lives with dignity. The series was originally commissioned by Canadian outlet Global earlier this year with the drama set to debut there in January.

…

Here's the official series description: Single mother Mary Harris (Dhavernas) is an ER doctor by day, but by night, she and her partner, a former plastic surgeon, moonlight as underground angels of death and help terminally ill patients slip away on their own terms. So far Mary has managed to stay under the radar; but death is hot, business is booming and her double life is getting complicated. When her world starts to unravel, Mary realizes she's going to have to fight dirty if she's going to stay in the killing game.
Hey, if they wanted to be really edgy, they'd do a heart-tugging drama about a courageous abortion doctor, but maybe the feels would be harder to get with that much blood, gore and tiny baby parts (hey, maybe there's a "Shark Tank"-type show for the brisk business in selling fetal bits and pieces — you never know!).
And finally, again courtesy of The Hollywood Reporter, just when all this nuttiness and death isn't enough, why not wipe out the whole planet? That'd be fun.
On the other hand, Alex Kurtzman is a good writer and a decent human being, so let's not entirely give up hope 0n this one. There'll be plenty of time for that later.
Described as a suspense thriller, Salvation centers on an MIT grad student and a tech superstar who bring a low-level Pentagon official a staggering discovery – that an asteroid is just six months away from colliding with Earth.

Liz Kruger and Craig Shapiro (Extant) wrote the script, based on the story by Matt Wheeler, and will exec produce with Alex Kurtzman, Heather Kadin and Peter Lenkov. CBS Television Studios will produce with Kurtzman's Secret Hideout will produce with CBS Television Studios, where he has an overall deal. CBS Television Distribution will handle domestic distribution, with CBS Studios International controlling worldwide distribution.

The serialized hourlong drama has earned a 13-episode order for a summer 2017 launch.
Let's all be grateful that there's actually good TV to watch … and strangely enough, that includes Fox's "The Exorcist." More on that in a future post.
Image: Sky/HBO/Canal Plus
Don't miss a thing: head over to my other home at CatholicVote and like my Facebook page; also like the Patheos Catholic FB page to see what my colleagues have to say.