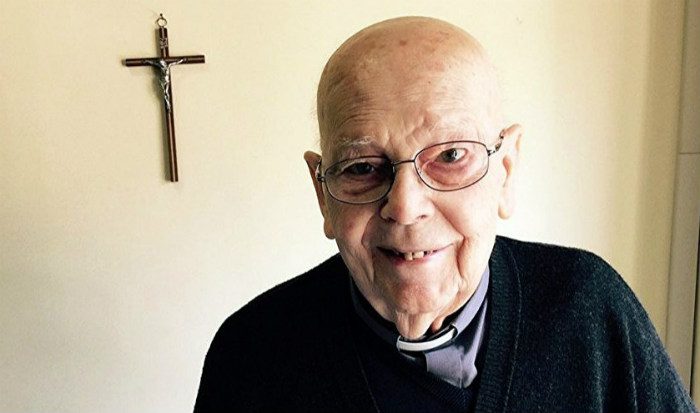 What do diretors William Friedkin and Steven Spielberg, and actress Meryl Streep, all have in common (besides being in showbiz)? Exorcism, that's what.
An early-December story in the Hollywood Reporter about Spielberg's movie "The Post" relates this story:
 "I realized this was the only year to make this film," says the director, who tapped Streep to star as Washington Post publisher Katharine Graham despite the fact that he had only collaborated with her once before — for a single day of voice work on 2000's A.I. Artificial Intelligence. "Most of the time we talked about how his property was haunted and did I know anybody who did exorcisms?" recalls Streep. "And of course, I did. I got him a priest."
What makes this more interesting is that Spielberg is Jewish, and Streep, who was raised a Presbyterian, currently identifies as mostly non-religious. But she did have exposure to the Faith in her youth, as relates a story in the U.K. Independent:
Does religion play a part in Streep's own life, I wonder? "I follow no doctrine," she replies. "I don't belong to a church or a temple or a synagogue or an ashram."

This was not always the case. Born as Mary Louise, Streep had a lot of school friends who were Catholic and she regularly attended Mass because she loved its rituals.
This just shows what has almost always been a truism in showbiz, that when it comes to battling Satan and his minions, whether you're Catholic or not, you always go for a priest.
The phenomenon didn't start with the 1973 movie "The Exorcist," but it's on full display there. Adapted for the screen by the late Catholic writer William Peter Blatty from his own novel, it finds a non-religious actress (Ellen Burstyn) finally turning to a priest (Jason Miller) when her 12-year-old daughter (Linda Blair) is possessed.
The director of "The Exorcist" was William Friedkin, who was raised in a Jewish family. Friedkin has now returned to the subject of exorcism in a new documentary called "The Devil and Father Amorth," which has acquired a distributor, The Orchard, and will be released in the spring (tentative date April 20 for a theatrical release, followed by a worldwide digital release).
It focuses on the ninth and final exorcism performed by the "Vatican exorcist" Father Gabriele Amorth in 2016 — earlier in the same year that the priest, who claimed to have performed thousands of exorcisms — died at the age of 91.
From Variety:
Friedkin was nominated for an Academy Award for directing the 1973 film "The Exorcist." He had won the Oscar in 1971 for directing "The French Connection."

"In the early 1970s when I directed 'The Exorcist,' I had not witnessed an exorcism but I wondered how close I had come to portraying reality," Friedkin said. "I had been curious to meet Father Amorth for many years and when he granted permission to meet and film him in Rome last May, it was the opportunity to complete the circle and see how close that film came to reality."
Further, from DenofGeek.com:
Derived from a chance meeting between Friedkin and Father Gabriele Amorth in 2016—just months before Amorth's death—Friedkin became fascinated by the priest who claimed to have performed tens of thousands of exorcisms over the years (counting each prayer cycle against possession or partial possession as an individual exorcism). In fact, while serving as an exorcist for the Diocese of Rome, Father Amorth also founded the International Association of Exorcists in 1990.
The producers of "The Devil and Father Amorth" are LD Entertainment's Mickey Liddell ("Everwood") and Chaldean Catholic Pete Shilaimon, the men behind the Biblical drama "Risen" and the current faith-based country-music drama "Forever My Girl."
And why did The Orchard pick up this film? From
Deadline.com
:
The world's fascination with William Friedkin's The Exorcist as a piece of art and a debate about religion and spirituality has never waned," said Paul Davidson, The Orchard's EVP Film and Television. "We share his fascination with the topic and the evolution of the discussion that is front and center in The Devil & Father Amorth and are honored to be partnering with him to bring the film to audiences."
While popular on film and TV, exorcism is still largely misunderstood. From an interview with Father Jeffrey Grobe, specialist on Rite of Exorcism, from Adoremus.org:
First, we don't want to give the devil too much authority or power. At the same time I'm not trying to downplay the fact that he is very powerful and has honed his craft for a very long time. But some people want to put him on a par with God. There is only one God, though, and the Evil One is a creature. He has a beginning. So in that sense the dog is on the leash. It doesn't mean the devil doesn't retain the supernatural gifts he possessed before the fall, but he can't do anything unless God allows it. He's not God so he doesn't have the privileges of God. God creates ex nihilo. The Evil One can only manipulate already-created matter—and he's good at it. He lives to instill fear and isolation in the human soul.

Second, there's a tendency to want to lump all kinds of demonic activity together without making distinctions between temptation, obsession, oppression, and demonic possession. We can't equate these activities. The only time a person needs to see an exorcist, I maintain, is when the person is demonically possessed.

Third, there's the misapprehension that the individual will plays no part in these activities. What does a person open himself up to in allowing the affliction in the first place?
It's also a topic that is as important now as it was in medieval times. As related in a Jan. 24 story by Catholic News Agency, there's a crisis brewing in the Church in Ireland:
n a recent interview with The Irish Catholic, Fr. Pat Collins said he has been overwhelmed with the number of requests for exorcisms from the faithful in Ireland. In an open letter, he has urged the Irish bishops to train more priests to deal with the demand.

"(I)t's only in recent years that the demand has risen exponentially," Collins told The Irish Catholic.

Collins' comments are on par with those of other exorcists throughout the world, including the International Association of Exorcists (IAE), a group of 400 Catholic leaders and priests, which has reported a dramatic increase in demonic activity in recent years.

In 2014, the IAE said the levels of demonic activity throughout the world had reached what they considered a "pastoral emergency."
Sounds like "The Devil and Father Amorth" couldn't arrive at a better time.
Here's an interview done with Friedkin after screening of the film at the 2017 Venice Film Festival:
Image: Courtesy LD Entertainment
Don't miss a thing: head over to my other home, as Social Media Manager at Family Theater Productions; and check out FTP's Faith & Family Media Blog, and our YouTube Channel.