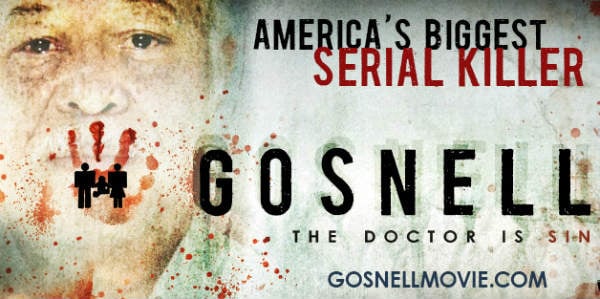 After a lawsuit that delayed its initial theatrical deal, "Gosnell: The Trial of America's Biggest Serial Killer" is set to hit over 700 theaters on Friday, Oct. 12, through GVN Distributing.
Directed by actor Nick Searcy ("The Shape of Water," "11.22.63," "Justified"), the story — based on grand-jury testimony — stars Dean Cain as the lead detective investigating the case of Philadelphia abortion doctor Kermit Gosnell.
Michael Beach, Cyrina Fiallo and Sarah Jane Morris also star. Searcy directed from a screenplay by Andrew Klavan (credited for a teleplay), and Irish filmmakers Phelim McAleer and Ann McElhinney.
The Truth About Kermit Gosnell
Gosnell is currently serving life without parole plus 30 years. He was convicted of the first-degree murder of three infants he delivered alive and then killed; and the involuntary manslaughter of an adult patient. He also pled guilty to federal drug charges.
But this barely covers the the scope of Gosnell's depravity and indifference to human life. Click here for more from The Atlantic, if you have a strong stomach.
Why Media Came Late to Covering the Gosnell Story
Here's what CNN's Jake Tapper (one of the first mainstream-media reporters to cover the story) told me in 2013:
"The truth of the matter is," Tapper says, "it is such a horrifying story that it's not an easy story to tell on television. That's not just about Gosnell, that's about anything that involves horrific things happening to babies, to children. Those stories ar]e often very, very difficult to tell.

…

Look," he says, "my dad is a pediatrician from Philadelphia. I know where Lancaster Ave. is. I know that was a story when I first heard about it, because I read a lot of Philadelphia media. So when it first exploded in Philadelphia media, I was horrified.

"When I got my own show, in the first week, I said, 'We have to cover this, and we have to keep an eye on it and cover it periodically.' I don't disagree with anyone who says this should have been covered more. I'm only saying it was a challenge to tell it for a mass audience because it was so horrifying."
As for what the movie shows, from The Hollywood Reporter:
"The fanatic subject matter poses a risk," said executive producer John Sullivan, perhaps best known for co-directing Dinesh D'Souza's first two documentary films. "We were very careful not to make it too graphic. Gosnell saving feet of infants in jars as trophies plays a role, and you'll see him take scissors out, but that part plays out as theater of the mind."
How the Movie Got Made
In 2014, producers McElhinney and McAleer raised $2.3M on Indiegogo and filmed in Oklahoma in the fall of 2015.
From The Hollywood Reporter:
The filmmakers thought they had a distribution deal a year ago but the judge at Gosnell's trial, Jeffrey Minehart, sued to block the release of the film fearing he was portrayed as part of "Philadelphia's liberal corrupt government."

The lawsuit accused the producers of "shamelessly exploiting for profit the morally divisive issue of abortion and the notoriety of the horrific Kermit Gosnell trial, which involved a Philadelphia abortion doctor who was found guilty of grisly mass murders of fully developed in-vitro infants, some of whom were born alive."

The legal matter was recently resolved.

After a theatrical release, GVN is also handling distribution into homes by way of DVD, Blu-ray-disc and streaming deals.
Click here to follow "Gosnell" on Facebook, and here for the official Website.
The producers released this thank-you video:
Image: Courtesy Hat Tip Films
Don't miss a thing: head over to my other home, as Social Media Manager at Family Theater Productions; and check out FTP's Faith & Family Media Blog, and our YouTube Channel.