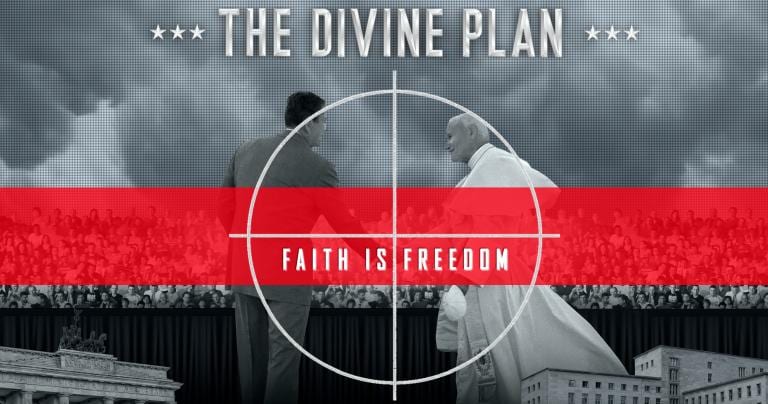 Hitting theaters as a Fathom event TODAY, Nov. 6 (tickets here), The Divine Plan tells the story of how two world leaders, both former actors, both of whom survived an assassin's bullet, came together, with the help of their shared Christian faith, to topple the Soviet Union.
The Divine Plan (official site here), largely told in a kind of animated graphic-novel format with interviews, is based on the book A Pope and a President by Dr. Paul Kengor. He teamed up with writer-director Robert Orlando to show how Presbyterian President Ronald Reagan and Catholic Saint Pope John Paul II united in a shared destiny.
Says Orlando:
Then you see they were almost assassinated within six weeks of one another. They had common ground of almost losing their lives. They both came from anticommunist backgrounds. They both had deep faith that in the end all things would work for God's good.

They were both actors, and not only the acting part was profound to me. That was the pitch that I made to Paul that really clicked. No one has ever done that.

All this came together and the narrative I came up with was, two actors who never play their best role until they get on to the world stage. And it's not on the screen or in theaters.
Using the graphic-novel format also gave Orlando access to the current interest in superheroes.
The next layer was, in a world where Hollywood is making superhero movies all the time, because superheroes represent characteristics that are above the actual characters that are almost archetypal. So I thought these characters are kind of archetypal to the fight for freedom.

So I said, I've got to tell it. They're actors, they're telling our modern Greek myths, and they're the characters we look to, why not make them like superheroes? Put them in a graphic novel. So these were thoughtfully layering and then I was like, what does it look like? Well, probably looks like Soviet propaganda. It's black, it's red, it's stark.
If you can't make it to the Fathom event tonight, no doubt the film will be available on DVD and via digital download. Says Orlando:
Everyone. I want everyone to see it, I want everyone to unite, I want faith to enter the discussion. A force in history, a force for good, a force that's forgotten. A force that people are biased against now in the university.

I just find this a fascinating story. It's inspiring. They're both very decent people. Amongst a lot of power and a lot of things that could have went wrong, they were very decent people. I also think that they were transformed by their suffering, theology of the cross, they really lived the Christian life.
Among the interviewees are historian Douglas Brinkley, Bishop Robert Barron, Cardinal Timothy Dolan and Catholic writer George Weigel.
Barron sat down with Orlando after a screening:
Image: The Nexus Project
Don't miss a thing: Subscribe to all that I write at Authory.com/KateOHare