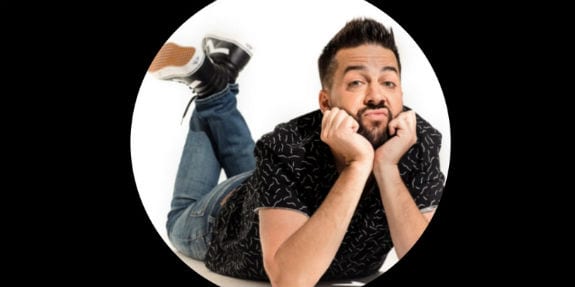 In an extensive report published on Nov. 6, online Christian publication Charisma News outlined several allegations against comic John Crist, concerning inappropriate behavior and relationships with women going back several years.
This has resulted in the cancellation of the Christian stand-up comedian and YouTube star's 2019 tour dates and derailed both a Netflix special and a book.
From Charisma News (the publication chose to conceal the names of the women it spoke to, indicating it with a *):
Similarly, Nora*—whose friendship with Crist from 2012-13 was sometimes flirtatious and sexual in nature—says Crist used to regularly call her and share exploits of "hooking up" and "fooling around" with girls he'd bring back to his hotel room after his shows at churches, ministry events and comedy clubs. (Nora defines "fooling around" as beyond making out but short of intercourse—to her knowledge, Crist never engaged in intercourse so he could honestly say he was a virgin.)

At a July 2, 2017, show at Calvary at Brookwood in Joplin, Missouri, Sarah* says she secretly witnessed Crist making plans backstage with a fan to rendezvous at his hotel room. He later told Sarah that conversation never happened.

…

Yet some evidence suggests certain Christian leaders have been aware of Crist's behavior and—through inaction—let it continue unchecked. This is why Charisma believed it necessary to warn the body of Christ about what Crist has been doing behind the scenes. To be candid, our editorial team does not relish being in this position. We sifted through and gathered information for months before deciding to move forward with the story. Though the allegations against Crist are not criminal, we believe they are newsworthy for three reasons. We believe pastors and leaders who book Crist at their ministry events need to know the person they're signing. We believe leaders who make Christianity part of their public persona—whether or not they are formally in ministry—should held to a higher standard. And above all, we believe the body of Christ must police itself and has an obligation to protect the innocent and vulnerable among us.
The Charisma News story also alleges that Crist engaged in "sexting" and other online behaviors with women and engaged in emotional manipulation.
Crist was supposed to have his first Netflix special, I Ain't Prayin' for That stream on Thanksgiving Day, and he also was planning a March 2020 launch for his book Untag Me: The Subtle Art of Appearing Better Than You Really Are from WaterBrook, a Christian imprint of Peguin Random House.
According to a story today at Religion News Service, Netflix has, at least for now, shelved the special, and WaterBrook stated it was postponing publication of the book.
Reported RNS:
"WaterBrook takes the troubling allegations of sexual misconduct against John Crist extremely seriously," according to the statement.
Crist apparently is not now dodging or denying the complaints. Charisma News quoted a lengthy statement from the 35-year-old, homeschooled son of a pastor, which said, in part:
Over the past number of years, various women have accused me of behavior that has been hurtful to them. While I am not guilty of everything I've been accused of, I confess to being guilty of this—I have treated relationships with women far too casually, in some cases even recklessly. My behavior has been destructive and sinful. I've sinned against God, against women and the people who I love the most. I have violated my own Christian beliefs, convictions and values, and have hurt many people in the process. I am sorry for the hurt and pain I have caused these women and will continue to seek their forgiveness. I have also hurt the name of Jesus and have sought His forgiveness.

Over several recent years, I have privately sought and received regular professional treatment for my sexual sin and addiction struggles. I'm committed to getting healing and freedom from my sin and have decided to cancel my remaining tour dates this year and to postpone all future commitments in order to devote all my time and energy on getting healthy spiritually, mentally and physically.
Having covered entertainment for a very long time, I'm disappointed but not especially surprised. Life on stage and on the road has derailed all sorts of entertainers. Fame and the adulation that comes with it are powerful temptations.
This isn't an excuse, it's just a reality. Unfortunately, Crist doesn't seem to have been able to resist misusing his position and the trust of his audience.
But, someone on Facebook suggested that Crist's behavior was like Harvey Weinstein's. I disagree, in that Weinstein appeared to have been using his power and influence to threaten the livelihood and careers of some of his victims. Crist wasn't in a position to do that. What he offered was free tickets and to get close to someone famous, and there were women willing to take that much, even if they didn't want what came later.
Parents and friends, warn the young people in your life that being famous doesn't make someone automatically harmless or a better person. Teenage crushes on pop stars are one thing, but adults need to, as Crist would put it, "check your heart."
We, as Catholics, are certainly in no position to throw stones. But I agree with Charisma News that we have to hold ourselves — and accept that others will hold us — to a higher standard because of the beliefs we profess. When we fall, we hurt not just ourselves but many who believed in us.
I've loved Crist's comedy and written about him several times. I hope he can clean up his act.
Image: @johnbcrist
Don't miss a thing: Subscribe to all that I write at Authory.com/KateOHare