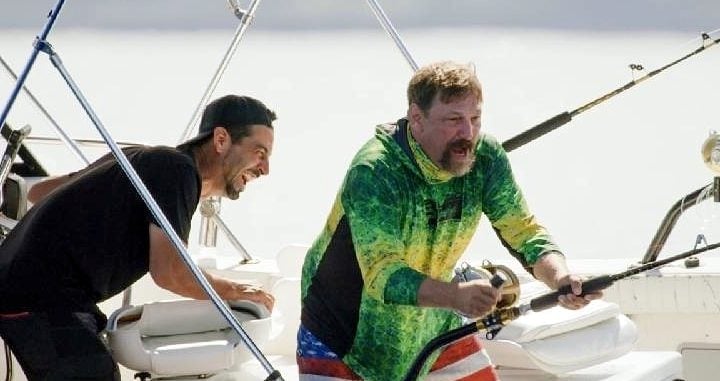 Whether on the Bering Sea in Discovery's Deadliest Catch or the waters off Hawaii in Deadliest Catch: Bloodline, now streaming on Discovery+, fisherman Josh Harris had a front-row seat to see how the toppling dominoes of the pandemic lockdowns landed hard on the fishing industry, as restaurant closures impacted seafood suppliers and fishing fleets.
Harris — who lost his fisherman father, Capt. Phil Harris, in front of Deadliest Catch viewers in early 2010 — had personal encounters with COVID-19.
First, he caught it, but that wasn't so bad.
"Absolutely nothing [happened]," he says. "My temperature rose by .2 degrees. So, I'm not sure if it's just because I had the heated seats on in my car all the way over. I didn't have any symptoms. Didn't even know I was sick."
But not everyone he knew was so lucky.
"The lady that ran our fan page," he says, "the Jake and Josh [Harris] and Casey [McManus] fan page, she got COVID and wound up passing away. I was talking to her, and she's just like, 'Yeah, I just don't feel good, kid. I'm going to go over to the hospital.'
"Then she called me, and she had COVID, and then the next day went on a ventilator. And she passed away a couple of days after that. I had a couple of buddies that were mid-30s, bodybuilders. They caught it. Within three days, they were dead."
Harris got his COVID-19 test because he was getting ready to head to Hawaii to continue building a new fishing business, based on charts left behind by his father. He and co-captain McManus still fish crab aboard their boat, the F/V Cornelia Marie, in the Bering Sea on Deadliest Catch, but now they're spending the off-season chasing Phil Harris' clues to fertile rod-and-reel fishing grounds off the big island of Hawaii.
Along with McManus, Harris partnered in season one of Bloodline with Hawaii-based fishing expert Jeff Silva, selling their catch to local eateries. But with that market flattened, Harris turned to his father's connections in Las Vegas to find a new customer.
With the help of Harris' close pal, Bering Sea veteran Johnathan Hillstrand — who also came out of retirement to return the F/V Time Bandit to the crab-fishing fleet last fall — the crabbers scramble to figure out what sort of fish they're catching, how to catch them, and where to sell them.
Fans might even see the Cornelia Marie heading to warm tropical waters (and conversely, on Deadliest Catch, Silva's doing a surprisingly rough Bering Sea stint with Harris and McManus).
It's been a steep learning curve in Hawaii for Harris.
"I'm trying to figure out all the different lines and the reels and the this-and-thats that they use out there," he says, "the hook sizes and the right terminology — and trying to pronounce the fish. A lot of them, I still can't pronounce, so it's been a little challenging.
"They're like, 'What did you catch today, bro?' and I'm like, 'I got that thing that's yellow, and it's on the bottom, and it's really mean.' … Or I just show them a picture, because I can't pronounce it yet."
Click here for Part 2, in which Harris talks about the possible return of brother Jake Harris, and how faith has entered his life.
Deadliest Catch airs Tuesdays on Discovery; new episodes of Bloodline stream weekly on Discovery+.
Here's a look at the opener of Deadliest Catch: Bloodline:
Image: Courtesy Josh Harris
Don't miss a thing: Subscribe to all that I write at Authory.com/KateOHare