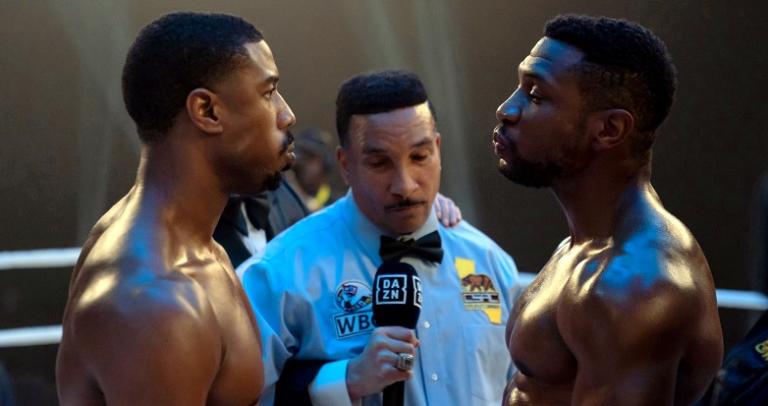 In Creed III, the ninth outing in the RCU (Rocky Cinematic Universe), star and first-time director Michael B. Jordan proves that the saga that writer/star Sylvester Stallone launched in Rocky in 1976 is in solid hands.
Hitting theaters on March 3, it's the first RCU movie in which Stallone doesn't appear (but Rocky does get name-checked).
Jordan, who shows serious directing chops, is also one of the producers. Included with him in that group are his frequent collaborator, director/producer Ryan Coogler (whose brother Keenan Coogler co-wrote the script, with Zach Baylin), and Stallone.
Creed III Picks Up Where Creed II Left Off
As the story opens, Adonis "Donnie" Creed (Jordan), son of fighter Rocky Balboa's (Stallone) frenemy Apollo Creed, having established himself as a champion boxer, is living large in retirement as a boxing-gym owner and fight promoter.
He shares his lavish Los Angeles house with his wife, music producer Bianca (Tessa Thompson), and adorable daughter Amara (Mila Davis-Kent). She has a more profound hearing loss than her hearing-impaired mother, requiring the family to communicate in sign language.
Creed's about to launch a hot new heavyweight prospect, Felix Chavez (Jose Benavidez), into a championship bout against Viktor Drago (Florian Munteanu). He's the son of Ivan Drago (Dolph Lundgren), who killed Apollo Creed (Carl Weathers) in 1985's Rocky IV, and later lost to Rocky in the same movie.
Viktor was also Adonis Creed's chief antagonist in Creed II, which had Lundgren reprising his role.
But, a friend from Creed's childhood, former Golden Gloves amateur boxer Damian Anderson (Jonathan Majors, Devotion, Ant-Man and the Wasp: Quantumania), reappears after spending 18 years in prison.
Creed wants to help his old pal, but the connection between them — severed in the incident that got Damian incarcerated — is complicated, tied up in past and present hurts and resentments.
One way or another, you know these two old friends are going to wind up facing each other in the ring. It's just inevitable, which doesn't make it any less satisfying.
Creed III Doesn't Innovate, But It Delivers
There are few narrative surprises in Creed III, and that's just fine with me. Like last year's Top Gun: Maverick, it isn't ashamed to be a popcorn movie, while still offering great production value, a tight script, good performances throughout, and some profound underlying themes.
As Jordan says in the press notes:
Forgiveness is the most integral part of any conflict, because it is the only way to overcome what you're up against, and confronting yourself in a real way is how you move forward with healing. At the heart of "Creed III" is forgiveness. Forgiveness of self and others. No matter who you are, or what your circumstances are, you can overcome your past, you can overcome any obstacle.

This film is not about one man fighting another for a world title. It is about challenging yourself and proving to yourself that your existence is legitimate, that you deserve your blessings. Moving with grace for yourself and for others. Believing that you are who you say you are, and all that you've done actually matters.
Creed III also has a top-notch training montage (there had to be one). The fight sequences are imaginative and visceral, at once presenting the brutal, bloody reality of heavyweight boxing while also capturing its poetry, precision and pathos.
Respect for Bianca in Creed III
Which brings me to the other thing I really liked about Creed III — the character of Bianca.
Too often in movies and TV, we see depictions of women married to men in dangerous, demanding occupations — whether it's pro sports, law enforcement, firefighting, the military, etc. — and constantly complaining about it.
I know this sort of female character can be a source of necessary conflict for the male character in a script. But, it's not a flattering picture of women as sensible adults who are responsible for their choices.
Bianca isn't like that.
She pursues her own career in music, which her husband understands. At the same time, he loves boxing, which she understands.
When circumstances conspire to have Creed strap on the gloves again, Bianca's not wringing her hands and wailing about it. She knows he's gotta do what he's gotta do, and she's right there, with her daughter, to cheer him on.
Also, like Rocky, Creed isn't portrayed as a violent meathead who also takes his rage out on the females in his life. He tries, despite his flaws and troubled childhood, to be a loving husband and father — and a good son to his adoptive mother (Phylicia Rashad).
In particular, Creed's interactions with his daughter are charming, including when he's teaching her how to box. Will she be all grown up and pursuing a career in the ring in a future Creed movie? Who knows?
Jordan and Majors Really Sell Being Boxers
Like Top Gun's Tom Cruise, Michael B. Jordan is a straight-up movie star. Jonathan Majors, whom I first enjoyed in HBO's Lovecraft Country, is well on his way to being the same.
I can't imagine the training routine both actors went through to prepare for these roles, but kudos for the effort. It paid off. They are more than credible as heavyweight boxers.
Fight fans will recognize some cameos, as real-life ring announcers, referees and broadcasters play themselves. Sportscaster Stephen A. Smith also pops up.
In Conclusion …
Creed III is rated PG-13 and earns it. There's no real sexual content, but there's a good sprinkling of rough language and graphic depictions of violence, in and out of the ring. There's no overt faith content, but neither is faith denigrated.
It's fine for mature teens and up. You might even find yourself doing a bit of shadow-boxing on the way out of the theater.
Image: Michael B. Jordan stars as Adonis Creed, and Jonathan Majors as Damian Anderson, in 'CREED III'/ A Metro Goldwyn Mayer Pictures film. Photo credit: Eli Ade © 2023 Metro-Goldwyn-Mayer Pictures Inc. CREED is a trademark of Metro-Goldwyn-Mayer Studios Inc. All Rights Reserved.
Don't miss a thing: Subscribe to all that I write at Authory.com/KateOHare