As others note today, April 16th is Pope Benedict VXI's 85th birthday. Vatican Radio reports that:
In his homily, the Holy Father noted that for him, this anniversary day of his birth and his baptism is always immersed in the Paschal Mystery, the mystery of the Cross and resurrection, "In a special way," he said, "as Holy Saturday, the day of God's silence, the apparent absence of the death of God and yet the day that the resurrection is announced."
I have some good memories from this day four years ago. The Holy Father was in the United States, and I was a few feet away as President Bush remarked "awesome speech" to the pontiff, after his remarks on the South Lawn of the White House.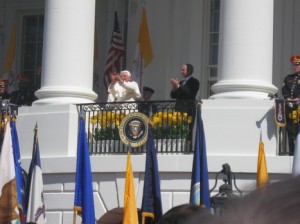 (More photos here.)
Back then I remember a colleague walking away from the event commenting that elections matter. Would a President John Kerry have had the same celebration of faith in America? A papal visit in such an administration would necessarily look different — a Catholic who supports legal abortion as president and all.
In 2012, the April 2008 papal visit serves as a challenge. At the White House, Pope Benedict said:
The preservation of freedom calls for the cultivation of virtue, self-discipline, sacrifice for the common good, and a sense of responsibility towards the less fortunate. It also demands the courage to engage in civic life and to bring one's deepest beliefs and values to reasoned public debate.
In a word, freedom is ever new. It is a challenge held out to each generation, and it must constantly be won over for the cause of good. Few have understood this as clearly as the late Pope John Paul II. In reflecting on the spiritual victory of freedom over totalitarianism in his native Poland and in Eastern Europe, he reminded us that history shows time and again that "in a world without truth, freedom loses its foundation," and a democracy without values can lose its very soul. Those prophetic words in some sense echo the conviction of President Washington, expressed in his Farewell Address, that religion and morality represent "indispensable supports" of political prosperity.
On the Mount of Olives, Jesus taught us about freedom. As Pope Benedict preached on Holy Thursday:
In his anguished prayer on the Mount of Olives, Jesus resolved the false opposition between obedience and freedom, and opened the path to freedom. Let us ask the Lord to draw us into this 'yes' to God's will, and in this way to make us truly free."
(Interestingly, our current president reads the Bible differently.)
In that Holy Thursday homily this year, the pope also said:
When human beings set themselves against God, they set themselves against the truth of their own being and consequently do not become free, but alienated from themselves. We are free only if we stand in the truth of our being, if we are united to God
B16 also said back during his 2008 visit here that:
As the nation faces the increasingly complex political and ethical issues of our time, I am confident that the American people will find in their religious beliefs a precious source of insight and an inspiration to pursue reasoned, responsible and respectful dialogue in the effort to build a more human and free society.
That confidence faces a real test right now as our government no longer protects religious freedom but mere worship. Believe what you want within your house of worship but keep it out of your life among the rest of us.
In Havana recently, the pope issued an important reminder about the value of religious freedom:
The right to freedom of religion, both in its private and in its public dimension, manifests the unity of the human person, who is at once a citizen and a believer. It also legitimizes the fact that believers have a contribution to make to the building up of society. Strengthening religious freedom consolidates social bonds, nourishes the hope of a better world, creates favourable conditions for peace and harmonious development, while at the same time establishing solid foundations for securing the rights of future generations.
Are we a people who light the way for the world, in a nation that leaves men free to choose to let Christ illuminates our lives? Will we continue to be? This coming election will determine the course in no small way — the very future of religious freedom in America.
Four years ago today I stood a few feet away from a pope singing, a president's foot tapping, as the U.S. Army Chorus sang:
He has sounded forth the trumpet that shall never call retreat;
He is sifting out the hearts of men before His judgment seat;
Oh, be swift, my soul, to answer Him! be jubilant, my feet;
Our God is marching on.

Glory! Glory! Hallelujah! Glory! Glory! Hallelujah!
Glory! Glory! Hallelujah! Our God is marching on.

In the beauty of the lilies Christ was born across the sea,
With a glory in His bosom that transfigures you and me:
As He died to make men holy, let us die to make men free;
While God is marching on.
Is that mere nostalgia for us now?
Do these words mean anything to us anymore?
What are we going to do about it?
Are we going to answer our call to defend our freedom to be who we say we are?