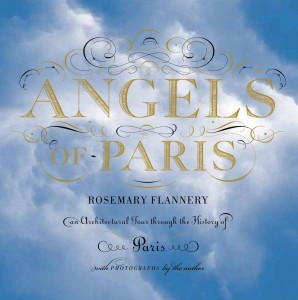 In Angels of Paris, author Rosemary Flannery reveals a cityscape filled with angels: angels peeking out of dark corners, peering down from pillars and flagpoles, hanging effortlessly from the long wall of a government building. I counted 170 of them but there may have been more, hidden in the folds of a young woman's skirt, bowing before the duchess, flashing shy smiles from door knockers, park benches and flower pots.
Flannery, in her new book Angels of Paris: An Architectural Tour Through the History of Paris, has explored the romantic streets of gay Paree with a unique goal: to find and catalog angels in concrete and marble and bronze, her camera revealing their hiding places.
So enjoy the book, if you will, for the architectural photos. Indeed, one can't help but grin at the creative ways in which French artists have imagined the angels, conscripting them to tell a story, to celebrate a victory, to mourn a loss. But equally notable is Flannery's command of language, as she wields her dual crafts of writing and photography to unlock the secrets of her adopted city.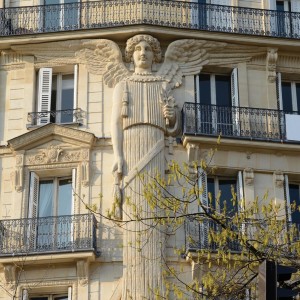 See what I mean. Flannery writes:
In French civic architecture, angels take on different names: renommées if celebrating the renown of a person or a group; angelots for baby angels, a version of the Italian putti or little boy cherubs; and génies or amours if found on buildings other than churches.

The Angels of the Latin Quarter grace a medallion on a cast iron door grille. This one holds a key–to knowledge, perhaps? The other angel, not visible in this photo, holds his finger to his lips, signifying silence.

Most fascinating of all, the angels of Paris reflect l'esprit du temps, the spirit of their times. Some blow trumpets to celebrate a king's victories, or carry a laurel wreath to honor the emperor; others mourn victims of the Commune or were once hacked off churches during the Revolution. They all tell the story of the city during peace, revolution, turmoil, and triumph.
Rosemary Flannery is well qualified to teach us about the Parisians' love of angels. A graduate of Columbia University with a degree in French language and literature, Flannery has lived in France since 1989 and enjoys dual French-American citizenship. She studied Méthodologie de l'Architecture with Professor Claude Mignot, an authority on Parisian building façades, at the Sorbonne. While at Columbia she co-produced and hosted French Encounters, a public-access television program on French culture produced in conjunction with the French Embassy. She has produced a weekly cultural magazine for Paris Live Radio, and she offers tours of Paris, especially of museums and of architecture.
Now, though, you can bring her delightful stories home in this, her first book. Flannery's mission has been to share the beautiful things she's seen and the things she's learned along the way, and to give praise to those who made it happen. She writes:
Angels of Paris is a hymn to all of the angels, both real and in art, and to the sculptors and the architects that made Paris the beautiful city that it is today. This book is my love song to Paris, a song of gratitude and appreciation to my adopted city.