I was young—very young!—but I still remember the canonization of Pope Pius X.  It was in 1954, the year I made my First Communion; and he was a strong proponent of frequent Holy Communion, especially for children.  I am certain that it was the first time I'd ever heard that very big word, "canonization"—and it stuck in my head and in my heart.  A pope, I remember thinking, must be a very holy man.
On August 21, the Church commemorates the gentle pontiff whose last will and testament revealed a deep humility.  Pope Pius wrote:  "I was born poor, I lived poor, I die poor."   But humble though he might have been, he was also a pope of deep conviction.  He wrote more than 14 treatises opposing the heresy of Modernism, and he championed Catholic social action.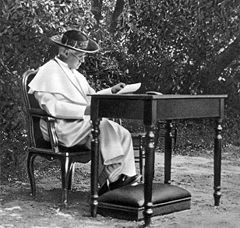 Pope Pius laid out a plan for his pontificate in his first encyclical, in which he quoted St. Paul's letter to the Ephesians.  It was his desire "to restore all things in Christ" (Eph. 1:10).  The best way to do that, Pope Pius believed, was through the clergy.  He encouraged bishops to reorganize their diocesan seminaries, in order to provide the best training for priests who would in turn pass along the knowledge of God to the lay people in their parishes and schools.  Only through a trained and disciplined clergy, he said in his encyclical "Exhortation to the Catholic Clergy," could a program of return to Christ be realized.
Tonight, on the vigil of his feast day, while looking for something else, I happened upon this photograph of Pope Pius X's tomb.  I snapped the picture in the crypt level of St. Peter's Basilica on a trip there, to my favorite place, sometime between 2000 and 2003.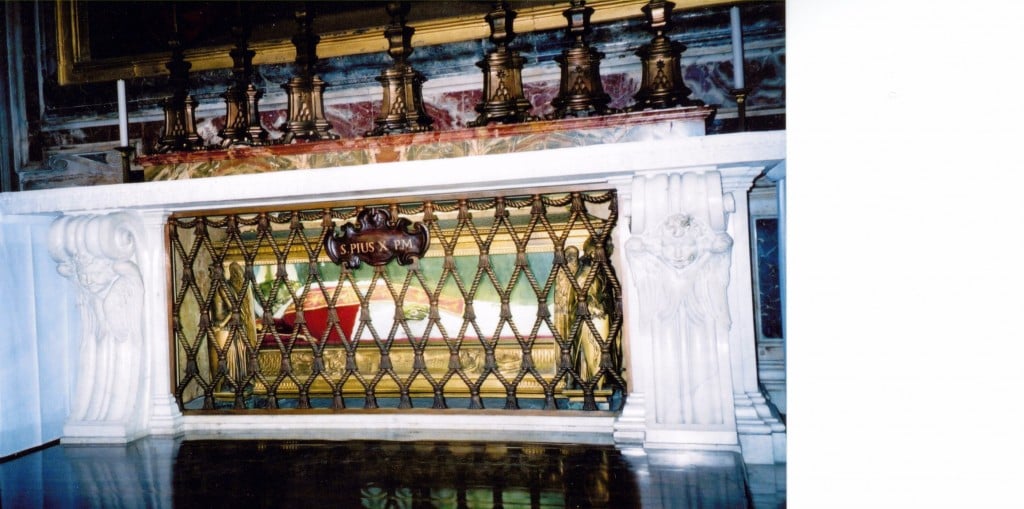 Prayer to Saint Pius X

Glorious Pope of the Eucharist, Saint Pius X, you sought "to resore all things in Christ." Obtain for me a true love of Jesus so that I may live only for Him. Help me to acquire a lively fervor and a sincere will to strive for sanctity of life, and that I may avail myself of the riches of the Holy Eucharist in sacrifice and sacrament. By your love for Mary, mother and queen of all, inflame my heart with tender devotion to her. 

Blessed model of the priesthood, obtain for us holy, dedicated priests, and increase vocations to the religious life. Dispel confusion and hatred and anxiety, and incline our hearts to peace and concord. so that all nations will place themselves under the sweet reign of Christ. Amen. 

Saint Pius X, pray for me.