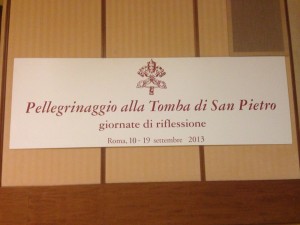 Earlier today, I reported that Fargo's new bishop, Bishop  John T. Folda, had contracted Hepatitis A while attending the recent Bishops' School in Rome, and had unknowingly exposed worshippers at four churches to the virus.
It turns out that Bishop Folda isn't the only new bishop to contract the virus.  A statement released this evening from the Diocese of Tyler reports that their ordinary, Bishop Joseph E. Strickland, has also been diagnosed with Hepatitis A.  Bishop Strickland, who was ordained in November 2012, also attended the Bishops' School program in Rome on September 10-19.
At this point, no other bishops have announced any health effects from the recent trip.  I've placed a call to the office of Bishop Michael Barber in the Diocese of Oakland, another new bishop.  At this point, I don't know whether he attended the same orientation program, and there's been no announcement regarding any health problem; so we can pray that he is well.  Pray, too, that no other bishops, in the U.S. or elsewhere in the world, have been taken ill.
Below is the full text of the letter from the Diocese of Tyler, as posted by KETK-TV.
TYLER, TEXAS (KETK) — Bishop Joseph E. Strickland, ordained bishop of the Diocese of Tyler, November 28, 2012, has been diagnosed as suffering from Hepatitis A.
Bishop Strickland attended "Bishops' School" for newly ordained bishops in Rome in September 2013, and contracted the disease at that time. At least one other bishop in attendance had also been diagnosed with Hepatitis A.
On his return from Diocese of Tyler in late September 2013, Bishop Strickland continued his pastoral duties throughout the Diocese, unaware of his exposure. When he began to experience flu-like symptoms in mid-October, he took himself off duty and sought medical care. Vicar General Bishop Edmond Carmody, has filled in for Strickland during the absence.
Bishop Strickland is feeling much better now and is responding to medical treatment.The diocese asks the community to keep Bishop Strickland in their prayers.
Dusty Gonzalez with the Northeast Texas Public Health District offered the following information:
The virus can cause serious liver problems, usually transmitted through exposure with an infected person, or through contaminated food or drinks.
Symptoms of Hepatitis A include fever, tiredness, loss of appetite, nausea, abdominal pain, dark urine, pale stools, jaundice.
Symptoms can take 15 to 50 days to appear.
People who develop symptoms are urged to consult a doctor.
It is not recommended that people without symptoms get tested.
Frequent hand-washing is essential to prevent spreading of the disease