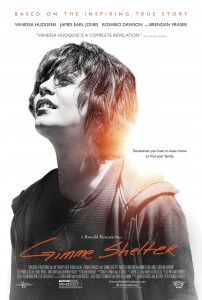 Apple Bailey is a 16-year-old runaway with an indomitable spirit. She dreams of finding happiness and of escaping from the bleak street life she has known with her mother (Rosario Dawson), an addict and prostitute. Apple, played by Vanessa Hudgens, tracks down the father she never knew (Brendan Fraser), who is now a successful Wall Street broker; but after only a few days in his home, Apple learns she is pregnant.
When her father and stepmother direct her to seek an abortion, Apple runs away again. This time, though, with the help of a Catholic priest (James Earl Jones) who serves as hospital chaplain, Apple finds a new way: She enters a shelter for pregnant young women run by a deeply spiritual woman. In the shelter, Apple finds the love and support she's never known; and little by little, she learns to trust and finds the love and acceptance she craves.
GIMME SHELTER showcases Hudgens' talent, as she is transformed from a tough street kid to a confident young mother. To prepare for the role, Hudgens lived for weeks in pregnancy shelters, interacting with the young, homeless mothers who also appear in the film.
Written and directed by Ronald Krauss, GIMME SHELTER opens in theaters across the country on January 24, 2014. The movie trailer has been released today, though, and I know you'll enjoy the fine acting and hopeful message in this screen adaptation of a true story based on the life of Kathy DiFiore.
Fellow Patheos blogger Tony Rossi told DiFiore's story last year.
And here, the tantalizing trailer.