Easter's coming! And as much as children love the jelly beans and the chocolate bunny and the marshmallow eggs, there are lots of moms and dads who want to inject some faith into the Easter basket.
When our children were small, we were sometimes successful in finding white chocolate crosses or tiny rosaries in plastic egg cases to press into the plastic grass in their baskets.
I have some other ideas, though, for dedicated Catholic parents who want to be sure that Easter Day is both (a) fun and (b) holy.
Friendly Defenders Catholic Flash Cards
.
These child-friendly cards by Matt Pinto hold the answers to 50 questions about the Catholic Faith. Kids can learn foundational truths about the faith in a way that's fun–stacking them, quizzing one another, spreading them out on the kitchen table.
And you know what you do with flashcards:
Practice, practice, practice!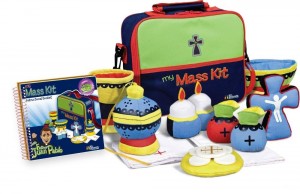 A Mass Kit
!
Future priests ages 3-8 will love Wee Believers' My Mass Kit, an unbreakable set including chalice, paten, ciborium, candles, a crucifix, and all the things a priest would need to celebrate Mass. The pieces are made from cotton/polyester blend and cotton cloth, and the Hosts are foam. The carrying case is nylon. There is a companion book which includes all the prayers of the Mass.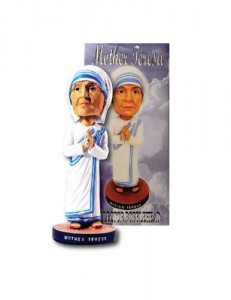 A Mother Teresa Bobblehead Doll.
She's seven inches tall, and her face is hand sculpted and painted. She's wearing the humble blue and white habit of the Missionaries of Charity.
Keep looking for those religious bobbleheads: There are others, too, including saints, as well as various Old and New Testament figures.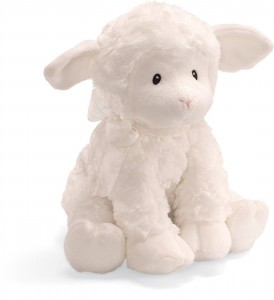 A Baby Lamb Musical Toy That Plays Jesus Loves Me
.
Awww! This one's made by Gund, but there are actually several versions on the market.
This cuddly crib toy plays a soothing naptime version of "Jesus Loves You" to help baby fall asleep with a smile.
You know small children love to press stickers onto everything: books, the wall, their foreheads!
Shown here: a sheet of stickers featuring Jesus, Mary and the saints. There are other options, too, though. Check them out!
He Is Risen Resurrection Scene 18 Piece Magnet Set
.
Our family made it a tradition to carry at least one magnet toy in the car when we traveled. The reason: Nothing got lost in the seat cushions, and it was fun to learn a bit of science on the road. It would have been even more fun to also learn about timeless Bible stories!
I suppose ColorForms would be a good alternative. And if you're traveling, they stick on the rear windows and peel off without damaging the vehicle.
A Religious Saints Stretch Bracelet
.
This one-size-fits-all bracelet is made of hematite tiles. Its colorful art reminds the wearer of Jesus, Mary and the saints.