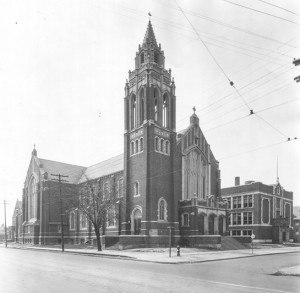 A shuttered Catholic Church has had one more chance to nurture young love, as a couple took their wedding vows last month in the decaying structure.
In its day, St. Agnes Catholic Church in Detroit probably saw many blushing brides walk down its aisle, many eager grooms wait to receive their beloved's hand in marriage.
But old St. Agnes, located on LaSalle near 12th Street in Detroit, fell upon hard times. When Detroit's race riots occurred in 1967, St. Agnes was unscarred—but most of the neighboring buildings along 12th Street were burned to the ground. Attendance dropped from 1,600 families served by three priests and 22 nuns in 1964, to only 162 families in 1986.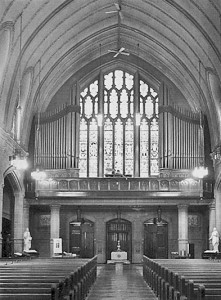 Facing a declining membership in the changing neighborhood, in 1989 the parish merged with the nearby St. Therese of Avila. In recognition of the changing racial demographic in the neighborhood, the combined parish was renamed Martyrs of Uganda in honor of African missionaries who had been executed in 1887 for refusing to renounce their faith.
But attendance continued to decline until, in 2000, the parish was forced to close its school. In 2006, with attendance still in a downward spiral, the parish was suppressed by the Archdiocese of Detroit. About 90 remaining members transferred to St. Cecilia parish.
The building was sold to another congregation which never took possession of it, instead letting it fall into decline. By 2009, metal thieves had stolen the organ's pipes, and many of the glazed tiles set into the walls and pillars had been stripped out. Weather and vandalism took hold, and the sanctuary began shedding large amounts of its facade.
In 2012, it was sold again—this time to theater producer and real estate investor Scott Griffin. Griffin has no immediate plans for the buildings, but he has secured them against further trespass and is talking with the community about what could be done with the property.
* * * * *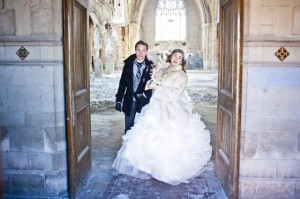 It was in this dejected and decrepit state that Detroit artist and urban visionary Melissa Douglas and her husband Shane found the church as they were planning their February wedding. Melissa saw something special, though, in its crumbling edifice. Melissa explained in an interview with the Detroit News:
"It was desolate and amazing and beautiful all at the same time."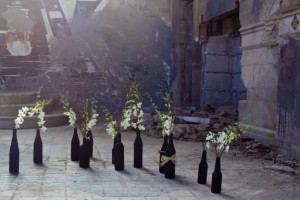 It wasn't its ragged state that attracted Melissa to the unusual venue, but rather, the couple's desire to make their vows the Number One priority on that day. "We wanted to get married in St. Agnes," Melissa explained, "because we felt it was the perfect place to make a covenant with God. It allowed us to focus on the sacredness of our vows, and not necessarily hosting a wedding reception."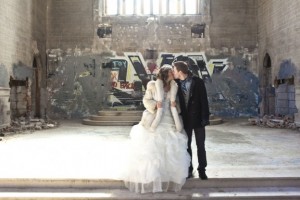 With no heat and with wind blowing through cracked and broken windows, the church was more than chilly on February 6, when the small wedding party and fifteen guests gathered to share the couple's joy as they exchanged their vows. The wedding was officiated by evangelical pastor Kevin Butcher, pastor of Hope Community Church on Detroit's east side. The bride was beautiful in a borrowed gown and a veil she'd sewn herself. Melissa had spray-painted wine bottles to hold stately orchids for decoration. With no pews remaining, the group stood throughout the short ceremony.
"We got married in a desolate place," said Melissa, "but it was once a holy place. It felt like we made it holy again."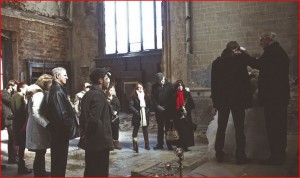 Wishing you every blessing, Melissa and Shane, as you begin your new life together!
 *     *     *     *     *
And please, check out Melissa's website, where you can read her blog and catch a glimpse of her artistic work—paintings, letter press, and wood photo blocks.
Photos used by permission.