Two little boys told about visiting heaven, and saw their stories catapult to #1 on the New York Times best-seller list.  One boy, Alex Malarkey, now says that his story was a lie, promulgated by his father for financial gain.  The other, Colton Burpo, stands by his story and says, "Jesus really, really loves you."
*     *     *     *     *
There's been quite a kerfuffle this week after Alex Malarkey, now 16, went public to claim that the story which was told in the best-selling The Boy Who Came Back from Heaven
was a lie, causing publisher Tyndale House to pull the book from the market and remove the book from LifeWay Christian Stores.
The Boy Who Came Back from Heaven
recounts the story of a 2004 auto accident in which Alex and his father Kevin were injured.  Alex was paralyzed, and doctors told his father it was unlikely that he would survive.  "I think that Alex has gone to be with Jesus," a friend told his stricken dad.
The promotional blurb for the book explains:
But two months later, Alex awoke from a coma with an incredible story to share. Of events at the accident scene and in the hospital while he was unconscious. Of the angels who took him through the gates of heaven itself. Of the unearthly music that sounded just terrible to a six-year-old. And most amazing of all… of meeting and talking to Jesus. The Boy Who Came Back from Heaven is the New York Times bestselling true story of an ordinary boy's most extraordinary journey. As you see heaven and earth through Alex's eyes, you'll come away with new insights on miracles, life beyond this world, and the power of a father's love.
But now that Malarkey is older, he has found his way to God and this week recanted the story.  "I said I went to heaven," he said,
"…because I thought it would get me attention.  When I made the claims that I did, I had never read the Bible.  People have profited from lies, and continue to.  They should read the Bible, which is enough.  The Bible is the only source of truth."
Writing about it in an open letter entitled "An Open Letter to LifeWay and Other Sellers, Buyers, and Marketers of Heaven Tourism, by the Boy Who Did Not Come Back From Heaven," Malarkey said,
"It is only through repentance of your sins and a belief in Jesus as the Son of God, who died for your sins (even though he committed none of his own) so that you can be forgiven may you learn of Heaven outside of what is written in the Bible…not by reading a work of man."
Martin King, director of communications for LifeWay Christian Stores, told the Christian Post:
"LifeWay was informed this week that Alex Malarkey has retracted his testimony about visiting heaven as told in the book The Boy Who Came Back from Heaven. Therefore, we are returning to the publisher the few copies we have in our stores."
As of this writing, The Boy Who Came Back from Heaven
is still available on Amazon.  There's no word as to whether other Christian booksellers will also take the book off their shelves.
 *     *     *     *     *
With Alex's story receiving a lot of media attention, Colton Burpo, whose near-death experience and visit to heaven became the subject of the blockbuster book and movie Heaven is for Real
, spoke out about his own experience on his website.   "I just wanted to take a second," he wrote,
"…and let everyone know that I stand by my story found in my book Heaven is for Real.  People have their doubts about my story, but the thing is, I wasn't coaxed into doing this.  I wanted to tell people about my experience.  In fact, I started sharing my story with my friends and people in our town way before there was a book called Heaven is for Real."
Here is the letter as it appears on the website of Heaven Is For Real Ministries, heavenlive.org: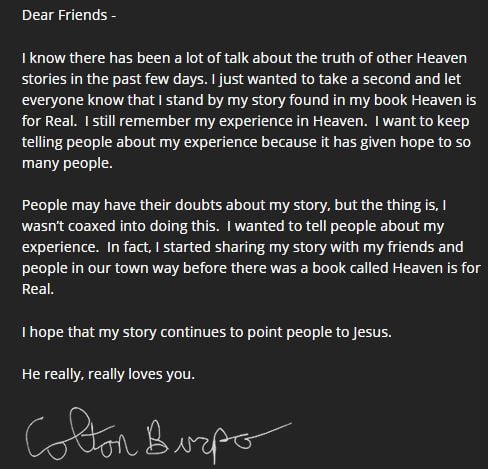 I've written before about Colton Burpo and his parents, and about my meeting with them in California.  You can learn more about him in that older post, titled Heaven Is For Real:  Secrets Colton Burpo Didn't Tell You in the Book or the Movie.