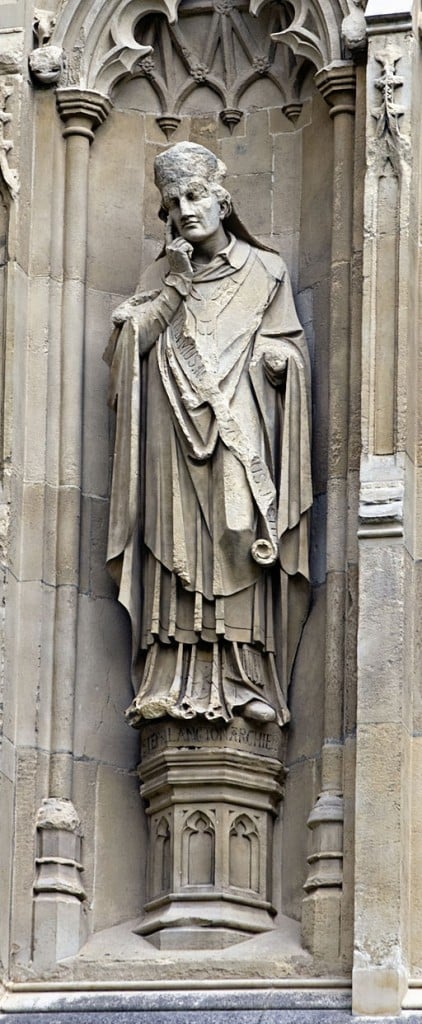 Cardinal Stephen Langton, Archbishop of Canterbury from 1207 until his death in 1228, was a voluminous writer whose homilies are collected and preserved in Lambeth Palace.
Langton drafted the Magna Carta to make peace between the unpopular King John of England and a group of robber barons. It promised the protection of church rights, protection for the barons from illegal imprisonment, access to swift justice, and limitations on feudal payments to the Crown, to be implemented through a council of 25 barons. Neither side stood behind their commitments, and the charter was annulled by Pope Innocent III, leading to the First Barons' War. After John's death, the regency government of his young son, Henry III, reissued the document in 1216, stripped of some of its more radical content, in an unsuccessful bid to build political support for their cause. At the end of the war in 1217, it formed part of the peace treaty agreed at Lambeth, where the document acquired the name Magna Carta, to distinguish it from the smaller Charter of the Forest which was issued at the same time.
Langton is credited with having divided the Bible into the standard modern arrangement of chapters used today. 
But today, the Solemnity of Pentecost, I especially appreciate his poem-prayer to the Holy Spirit, Veni Sancte Spiritus, which is sung as the Sequence during the liturgy on Pentecost Sunday. Here, in English, is that great poem:
VENI, SANCTE SPIRITUS

Holy Spirit, Lord of Light,
From the clear celestial height.
Thy pure beaming radiance give.

Come, thou Father of the poor,
Come, with treasures which endure;
Come, thou Light of all that live!

Thou, of all consolers best,
Thou, the soul's delightful guest,
Dost refreshing peace bestow.

Thou in toil art comfort sweet;
Pleasant coolness in the heat;
Solace in the midst of woe.

Light immortal, Light divine,
Visit thou these hearts of thine,
And our inmost being fill.

If thou take thy grace away,
Nothing pure in man will stay;
All his good is turned to ill.

Heal our wounds, our strength renew;
On our dryness pour thy dew,
Wash the stains of guilt away.

Bend the stubborn heart and will;
Melt the frozen, warm the chill;
Guide the steps that go astray.

Thou, on us who evermore
Thee confess and thee adore,
With thy sevenfold gifts descend.

Give us comfort when we die;
Give us life with thee on high;
Give us joys that never end.
Amen. Alleluia.
And here, in Latin, is the song in Gregorian Chant, as performed by the monks of Santo Domingo de Silos.