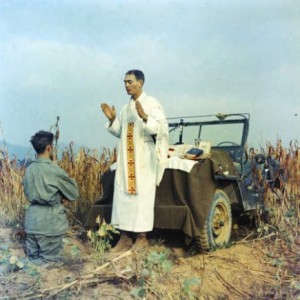 Father Emil Kapaun, a priest of the Diocese of Wichita, was a U.S. military chaplain and prisoner of war during the Korean War who has been called a "Shepherd in Combat Boots." In 2013 he was honored posthumously by President Barack Obama, who presented the Medal of Honor. His cause for Beatification is currently being considered by the Vatican.
Now, the Most Reverend Carl A. Kemme, Bishop of Wichita, has declared a Year of Father Kapaun, beginning June 7, 2015 and concluding June 9, 2016.
Father John Hotze, judicial vicar and diocesan Episcopal Delegate for the Father Kapaun cause for canonization, explained that the reason behind this special year is that there are a lot of significant events regarding Father Kapaun going on this year.
Among the memorable events during the Year of Fr. Kapaun was the 75th anniversary of his ordination to the priesthood, on June 9, 2015. April 16, 2016 is the 100th anniversary of his birth; and May 23, 2016 will be the 60th anniversary of his death. There will be several different events throughout the year including presentations in schools and parishes on Father Kapaun, monthly Masses at the Spiritual Life Center, and a visit from Dr. Ambrosi, the postulator for Father Kapaun's cause. But the most important event of the year will occur in November, when Bishop Kemme will travel to Rome to present the Positio–the story of Father Kapaun's life and his heroic virtues–to the Vatican's Congregation for the Causes of Saints.
On June 6, the Wichita Eagle carried a story by Roy Wenzl, Fr. Kapaun's biographer, which explains how the courageous priest helped to save many lives on the battlefield:
Fellow soldiers say he saved hundreds of lives on the battlefield and later in a North Korean prisoner of war camp. He led mostly by example, running through gunfire to rescue wounded soldiers, then giving his own meager rations to starving fellow prisoners.

In one encounter, he interrupted the battlefield execution of Sgt. Herb Miller by knocking aside a Chinese soldier's rifle. He walked away with Miller on his back.
Father Kapaun died on May 23, 1951, in what his fellow prisoners called the "death house" because no one who was carried there by Chinese army guards ever returned alive. He reported died of illness, starvation and neglect. His fellow prisoners, including former POW Lieutenant William Funchess, say that Chinese army guards quickened his death through neglect because, according to Wenzl, they resented Kapaun's prison leadership and his opposition to the brainwashing of fellow prisoners.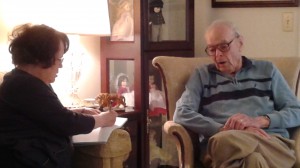 It was my privilege on a recent trip to South Carolina to talk personally with Lieutenant Funchess in his home in Clemson.
I told that story in the National Catholic Register; you can read that interview here.
And you can see other photos from Lieutenant Funchess' collection of memorabilia
here
.
UPDATE:
I should have included this excellent report from Samuel G. Freedman, writing in the
New York Times
:
"…the case for Father Kapaun's sainthood rests on two relatively recent events: the medically inexplicable recoveries of a 12-year-old girl from organ failure and a coma, and of a

20-year-old man from severe head injuries

in a pole-vaulting accident. In both instances, family members had prayed to Father Kapaun for a healing miracle."