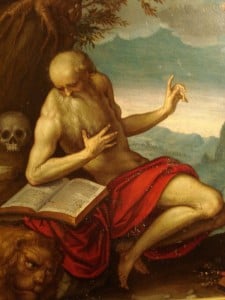 September 30 is the feast of St. Jerome, Doctor of the Church, patron of libraries. 
The most scholarly of the church's early theologians, Jerome has an extensive list of writings.  His commentaries and letters offer a peek into fourth-century life in Rome, but he is probably best known for translating the Bible into Latin (the Vulgate).  Medieval paintings of the saint always show him with a large book.
Which has me wondering:  If Jerome, scholar that he was, were alive today, would he go to the library?
These have been tough times, as you know, for the information media:
Faced with competition from New Media news outlets, newspapers and magazines around the country are downsizing or ceasing publication, or at least struggling for survival.
Ditto:  Network news broadcasts.  Once the hallmark of informed reporting and commentary, morning "news" shows have dumbed down to provide fashion advice, summer concerts in the park, andHollywood tabloid fare.
Ditto:  Booksellers.  The closing of the Border's chain was a shock to the printing industry, I'm sure.  The struggles of other booksellers suggest that this isn't a one-time problem.
So I wonder about the general health of that great civic institution, the community library.  Are people reading nowadays?  If yes, are they reading books made of paper and ink, or are they turning instead to screens and monitors for information and entertainment?
In my city, we have a new and very expensive library.  The $36 million facility opened in 2003, and houses a book collection of over 250,000 volumes as well as more than 100 print magazines and newspapers.  One can also find audio books, DVDs, videocassettes, e-books and downloadable audio books.  The children's area is a splash of color with the Reader's Treehouse replete with fireflies, the early literacy stations with learning games, the Storybook Castlewith its own dragon, and a display of the artwork of Dr. Seuss.
In addition to the books and the 190 public-use computers in the library, there are meeting rooms where numerous educational and informational programs are offered.  Rotating exhibits are featured in each of six different exhibit areas.
But it doesn't stop there:  My library features a café with indoor seating and an outdoor fountain terrace; a second-level observation deck; a drive-up service window; a Space Station program room; an Imaginarium Garden;  fireplaces; and so on, and so on.
I love my library.  I admire its glass tower whenever I drive by.  I imagine schoolchildren doing research for class projects, senior citizens' book clubs discussing great literature, college students stopping to check out books on hieroglyphics or particle theory or the poetry of e.e. cummings.
But I only imagine these things, because I rarely go in.  Oh, last year when the tree fell on our power lines, cutting power to our house, I checked in to read my email.  And once or twice a year, I check out Consumer Reports before making a major purchase.
Every other day, you know how I get my information?  Right here, folks.  On the laptop.  At the touch of a button.
I hope that somehow, communities will continue to value their local libraries and to encourage schoolchildren to take advantage of their full range of services.  In reality, I'm not so sure.