Hekate as Kourotrophos is Guardian of the Children. I'm sharing this ritual that I've done on the traditional day associated with Hekate in this role, but it's suitable for any time. Especially when children are suffering and in danger.
Use as is or adapt to your needs. Hekate will come to the aid of children when she is sincerely called.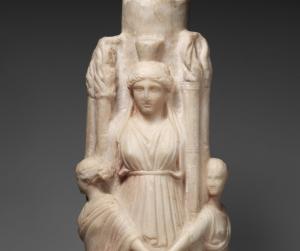 Hekate: Guardian of ALL Children
All children have fundamental human rights, although the importance of their rights is often secondary to those of adults in power. Families being torn apart due to a political agenda that is as dangerous as fascism and as heartless as The Handmaid's Tale is entirely unacceptable.
Central to my devotion to Hekate is my alliance with her as Guardian of the Children. Before I am anything else, I am a mother to two sons and a long-time advocate for children. Hekate is the Guardian of the Marginalized.
She is the Goddess of the poor undocumented worker, the underpaid single mother, the shunned transgendered son and all those who identify as witches.
Hekate Kourotrophos, to me, extends Her protection over all children and beyond to all the vulnerable people. She wishes for us as Her devotees to honor Her through our dedication to protection of the young and weak. I have worked in this capacity for all my career.
Below is a short ritual that I wrote years ago for blessing all children, my own and often said over the ones that I met in a professional capacity who were truly suffereing. I recommend that you incorporate the natural energy available to you whenever you do this working. For example, if you do the ritual during the waning moon you could visualize drawing protection onto the children, but if the moon is waxing you can harness that energy to remove harm. Incorporate the day of the week, the astrological correspondences and time of day as appropriate.
Ritual of Blessing, Protection and Rescue
Create your sacred space as you feel led. It is helpful to have objects that symbolize Hekate as she presents Herself to you. I usually use black, red and white in some form. You may want to have pictures of the children for whom you are seeking protection on your altar if their energy is not present where you are doing the ritual. You should meditate on the children, calling to mind their faces and attributes and also invoke Hekate as you feel led.  Hold in your mind's eye the exact nature of the blessing, protection or rescue that the child(ren) require. Once this is accomplished, recite the following petition:
Hail Hekate Soteira,
She who reigns over all creation.
Hail Hekate Pammetor,
The Great Mother of all creatures.
I call upon you as Hekate Kourotrophos,
Guardian of Children.
Mistress, Attend Your Epithets!
Hear me now!
End the suffering of ALL children, (or substitute names or a group)
Lift them out of pain,
Strike down the power structures and
The weak minded who control them.
Reign down your wrath,
Fierce Brimo,
On ALL those who harm children,
Tender Aglaos, Bestow your love
And protection on ALL children,
Restore them to their families now.
Mighty Healer,
Lift up those who work to protect children,
Bless them, support them,
May they know your fierce love.
Mistress, I beseech you,
Unconquerable Kourotrophos,
I claim these things now!
Ritual can also be done for individual children:
I ask for your  blessing and protection over _______________ (list the names of the children; do each child one at a time).
May your light shine before them and around them.
Bestow upon me your virtues so that I may protect ____________ *(child's name).
May I honor you through my relationship with this child.
*As you ask for protection for each child, make an offering in that child's name. I recommend a clove of garlic. Also, you can have a talisman for each child in which you focus your energy and Hekate's, comingling and charging that token. The talisman can be given to the child to wear or carry with them. I also have a talisman on my altar to Hekate for each child that I place under Her care. If you do not have children in your life, you can refer to all children.
Hail Hekate Kourotrophos,
Guardian of the Children.
May my gratitude for Your protection over these young lives
Be expressed through every part of my life.
Hail Hekate Pammetor,
Great Mother.
Thanks be to You.
Hail Hekate Soteira,
Our Savior.
Note: This ritual is not designed to impart Hekate's will or worship on the benefactors, nor interfere with their highest good.
Join The Witches' Realm to participate in our Ritual for Refugee Children and all our other projects dedicated to better living through witchcraft. June's featured free course is Shadow Healing, available until the end of the month only.
Note: The Day of Hekate as Guardian of the Children is August 26-27, 2018. 
Join us in The Witches' Realm, our amazing group all about Hekate's Modern Witchcraft and Applied Modern Witchcraft.
Connect with me: Keeping Her Keys is on Facebook.