The shattered pieces of ourselves find refuge deep in Hekate's cave. Call upon the Mistress of Souls to guide your way to where she safeguarded these soul fragments until you were ready for reunion.
Soul retrieval requires a deeper descent into Hekate's Cave than all other forms of death walking. We must traverse the river of the dead to reach this crossroads. A perilous journey for the bravest seekers of truth. The reward is a blissful reunion with our missing soul fragments. To once again be whole.
Potential trigger alert: This article sinks into the realness of our personal Underworld journey. If you are feeling vulnerable right now, perhaps you may want to skip it. Being triggered is part of the healing process, but please do what is best for you. I've offered some resources at the end of this article, including a simple color magick ritual that may be helpful. 
Read more about how being triggered can be healing in my article:
Rage, Healing & Being Triggered By Truth-Telling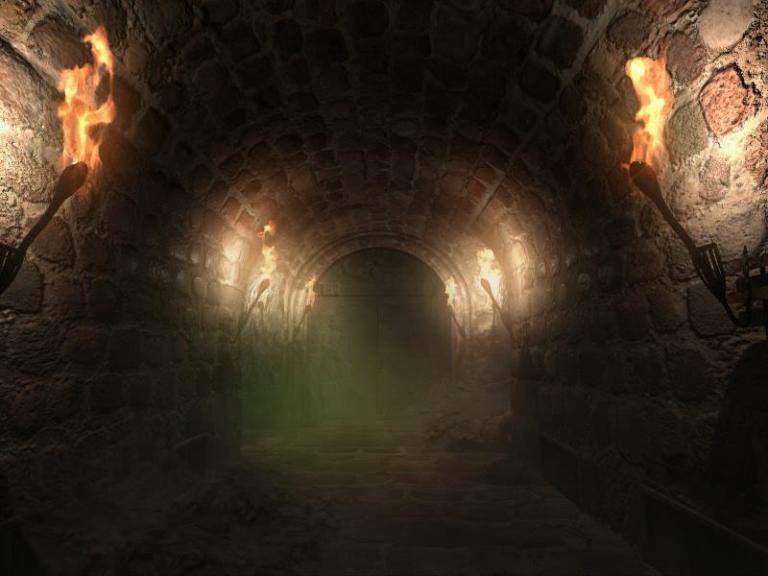 Hekate and Soul Retrieval
Soul retrieval is performed to reunite us with pieces of our soul that take flight when we experience trauma. I've long been a student of soul retrieval, teaching the essence of the technique and in my personal practice. Hekate as the Mistress of Souls is the psychopompe who guides us back to our missing pieces. Protected within the deepest reaches of her cave, they wait for us to come to them. Soul retrieval is the second part of the Holy Darkness Cycle. It begins with letting all that which longs to die within us do so with grace and grit. During this phase, those who have harmed us, the ones who took advantage of our weakness, die to us as well. While their demise is not literal, their power over us is laid to rest. No more do they have the ability to hurt us with words or deeds. This is where we begin our internal death walking.
While you can certainly read this article on its own, I suggest reading the previous blogs in this series:
Honoring Hekate of the Underworld and Ourselves: A Death Walking Ritual of Transformation
Hekate & November: The Underworld, Death Walking, and the Crossroads
Witches Are Not Light Workers. We are Death Walkers
Trauma takes on many forms and has may consequences. Abuse, cruelty, violence and the subtle, but most deadly form of all, invalidation. Many of us witches have been made to feel unworthy by individuals, groups and even society. I like to think that the current witch wave is soul retrieval on the grand scale.
Healing the Mother Wound may help you prepare for the work of soul retrieval. Read that guide:
Healing The Mother Wound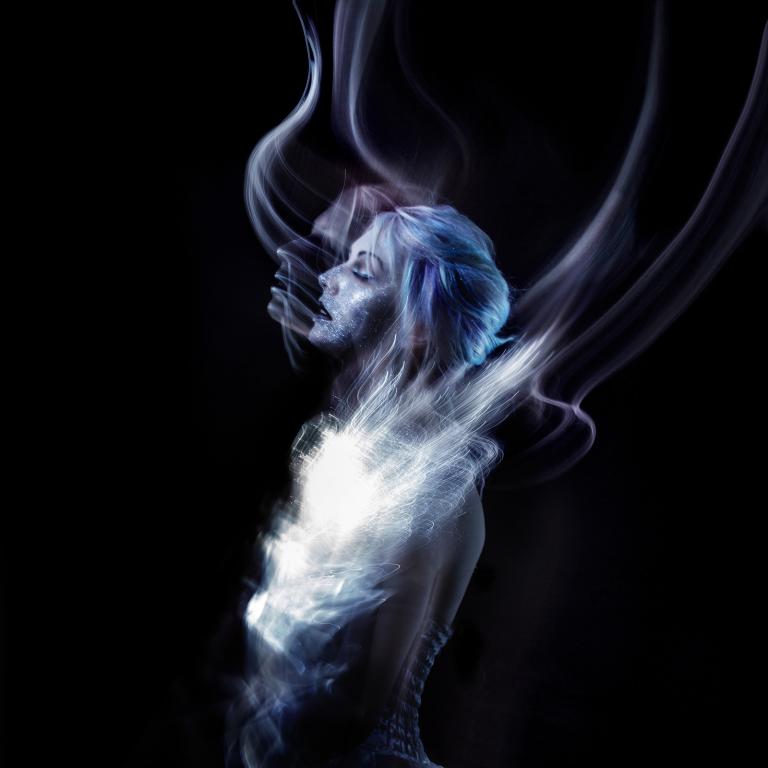 Wholeness, Not Perfection
On the individual level, soul retrieval is a necessary part of the witches' journey. Incredibly personal, this work requires a substantial amount of preparation, including the release of past trauma before the process should be undertaken. Well trained practitioners can act as guides for this work, but ultimately it is up to the individual to call their missing pieces back to them.
The goal of this mission is wholeness, not perfection. During the Underworld journey, there is the realization that perfection is pure shadow-talk, driven by fears of further trauma. That shadow of ours serves to protect us during difficult times. It is the shadow who releases the soul-fragments into Hekate's Cave for it knows when they need to be safeguarded. The resulting gaps in our etheric beings are filled in by the shadow. While this often saves our very souls, the impacts include emptiness, addictions, distress, anxiety, depression, toxic relationships and an inability to stand in our own power. The wise shadow calls us to heal from the past before we can call our missing pieces back to us. The choice is ours. Do we do the dark work of true healing or choose the bright light of false positivity?
Avoid Spiritual Bypassing and Toxic Positivity
The urgency for healing often lures us onto the blinding path offered by quick fixes, including some so-called light workers. I'm not saying that all of those who identify as such aren't capable of helping you retrieve your missing parts but be very wary of those who talk only of light and love. We can do this to ourselves by spiritually bypassing the healing we need, hurdling towards the light as though it is our only salvation. The outcome of this type of spiritual bypassing is increased psychological and spiritual distress because it takes us further from our truth. We all know people like this, right? Super fake happy all the time, they are often telling us that we are too much of the dark. Spiritual bypassers are usually toxic witches.
Read more about toxic witches (and regular people) here.
Spiritual bypassing also occurs when we jump too deep. This is why the Holy Darkness cycle of death walking begins with the demise of all that which no longer serves us. I think spiritual bypassing is worthy of an entire article, so I'll write one in the near future.
Signs of Needing Soul Retrieval
Perpetually feeling shame for who you are is one of the main signs of needing soul retrieval. If you feel a pervasive emptiness, including never feeling that you are in the right place or not being comfortable in your own skin, soul retrieval may be what you need. Imposter syndrome, always having to put on a false front, and ineffective boundaries are other signs. Significant psychological distress requires proper evidence-based treatment. Soul retrieval functions on the deepest spiritual level. For those of us with mental health problems, we need support to develop coping skills, rewire dysfunctional thought patterns, and to help us process our emotions.
Souls fragment in the aftermath of trauma, but they can also become enmeshed with another soul. I'll discuss soul enmeshment in a future article in greater detail. Briefly, others can claim pieces of us for a variety of reasons. The person must have an incredibly strong energetic field to do so. Psychopaths and some other types of toxic individuals can do this, although our own beings are usually strong enough to send our pieces to safety. If you are feeling enmeshed, banishing witchery may be in order.
Learn more about recognizing and dealing with psychopaths here.
Read my endorsement of what some (but not me) call dark magick – Hex Appeal: The Power of Cursing
Watch this video all about witchery for removing toxic people from your life.
Sometimes the place we live in can cause disintegration due to exceptionally toxic energy. Read more about
Healing the Ancestors of Place.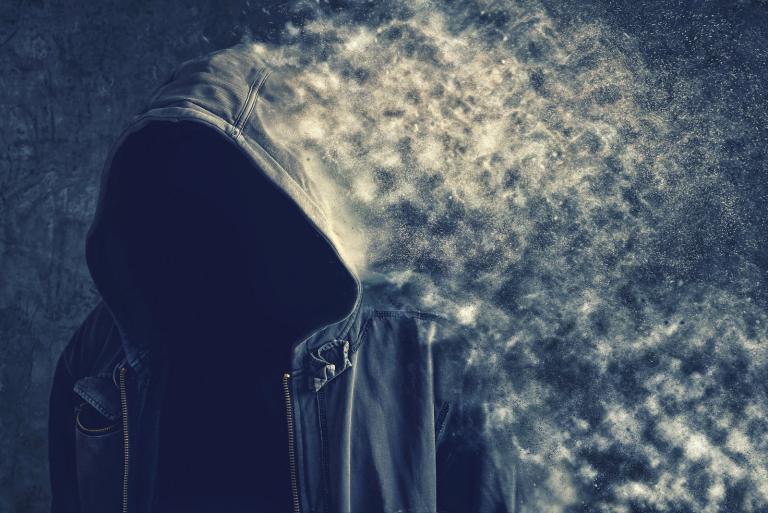 Deeper Into The Darkness
If you feel ready to go deeper into the darkness of Hekate's Cave to retrieve your missing pieces, I urge you to be well prepared. Going into the process requires completion of the personal death walking transformation that I wrote about in this article. While you certainly don't have to complete the ritual described in that piece, I do strongly suggest intense release of what longs to die within you, along with cutting the energetic cords between you and those who have caused your pain. There are many ways to do this. If you are one of Hekate's Witches, turn to her for guidance.
Mistress of Death,
Reveal to me all that must die within me,
And what cords need to be severed.
May your torch-light guide me back to myself,
Then shall I be reborn.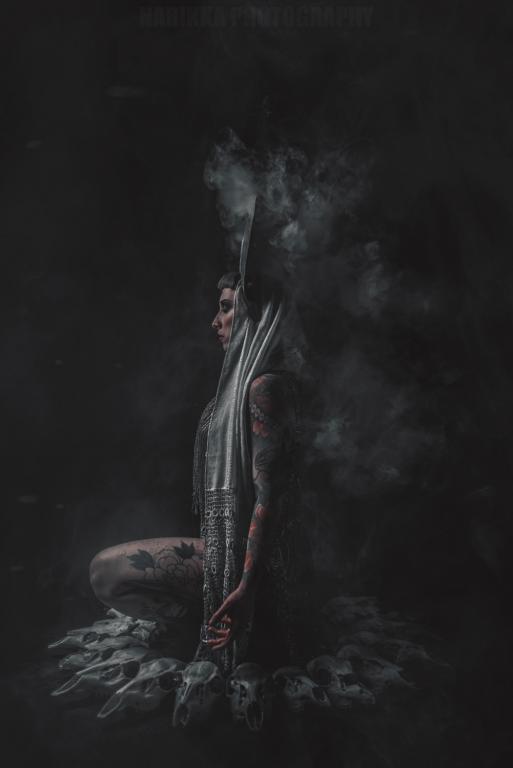 The Soul Retrieval Process
Soul retrieval is a journey completed while in a deep trance. This is required to open the path deep into Hekate's Cave that resides inside of us all. It is best to have a support person with you while you experience this process. If you do undertake it on your own, arrange a check-in with someone you trust after. Also discuss your plans with them in advance. While Hekate offers the ultimate protection, she is not one for doing the work of our friends unless absolutely necessary. You know her, she's all about sovereignty.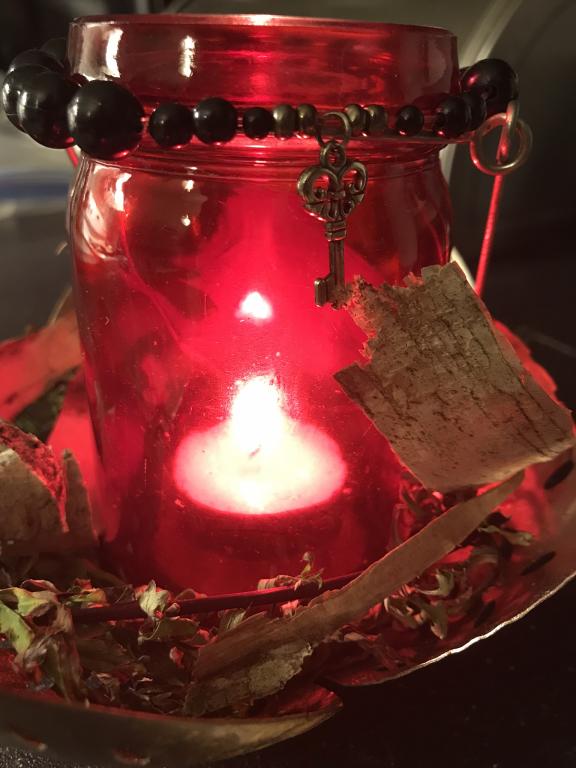 Once you determine that you are going to do a soul retrieval journey, I suggest a daily practice for at least one week consisting of creating a soul beacon. Usually this can be accomplished by anointing a candle with carefully chosen oils and botanicals combining personal power and healing. There are many to choose from. My preference for a soul beacon candle varies by individual needs, but frankincense and yarrow are generally excellent. I like to add birch for its potent ability to bind and mugwort to boost our connect to the etheric realms. Recite a petition to Hekate for guidance and call out to your missing pieces while standing before the lit candle.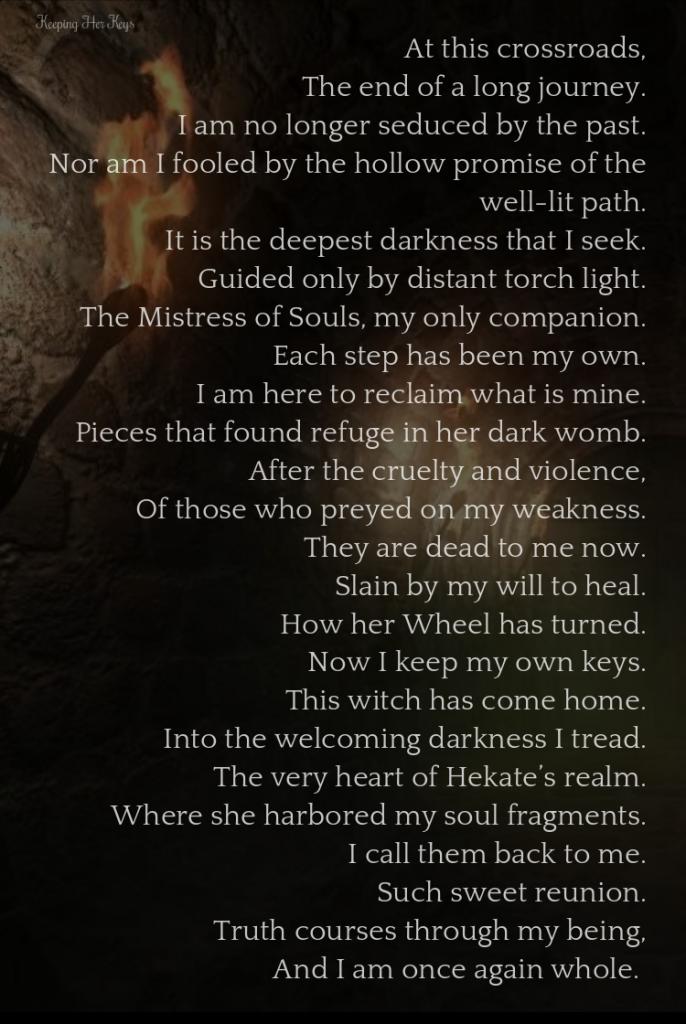 Soul Integration
Since you've reached this point, you're most likely drawn to soul retrieval work. I want you to know that this is a very courageous path you've chosen. If you've come this far, I am confident that you can go deeper into the darkness when you are ready. Get the support you need, take your time, and trust in yourself. Always remember that Hekate, Mistress of Souls, will guide you back to the missing pieces of yourself that she has sheltered. The effort that goes into transformative death walking, including soul retrieval, is so worth the potential benefits. The integration process is a homecoming back to yourself. Afterwards, you may feel very tired or completely energized. Immediately after a soul retrieval journey, it is important to balance yourself back into the Middle World of everyday life. Grounding is not appropriate since you have ventured so deep into the Underworld that further pushing yourself down into the earth can cause sustained emotionality.  Pull yourself up to The Starry Road by extending all your energies up towards the Upper World until your feet are firmly back on solid ground. Extend your heart center out to your surroundings, reconnecting to the material world. As always, be gentle with yourself after. You will be experiencing greater sovereignty, mental clarity, increased emotional regulation, and more. Spiritual upgrades may spontaneously occur.
The Holy Darkness cycle can be done at any time you feel led, but I've situated it between Samhain and the Winter Solstice. The first part, transformative death walking in the Underworld can be read about here. The soul retrieval process can be done on Hekate's Night of the Crossroads on November 30. After soul retrieval comes the final part of the Holy Darkness Cycle – rebirth. I'll be writing about that in the near future as part of the Winter Solstice.
The death walking oil described in this article can be used during soul retrieval work: Samhain Death Walking Oil & Ritual
Resources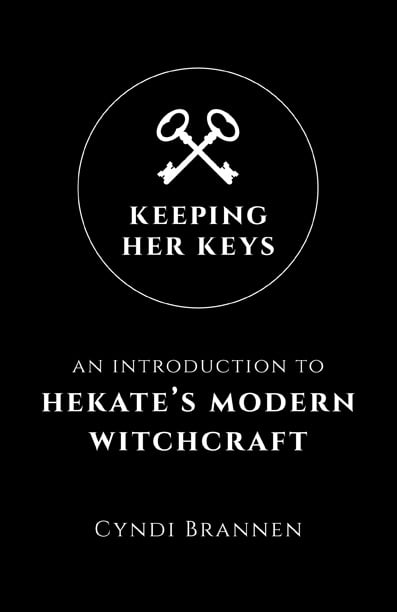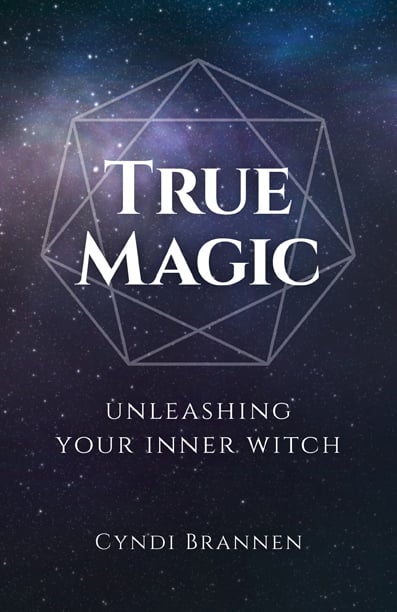 If you don't have the time for the intense work of the Holy Darkness Cycle, here's a simple healing ritual using color magick. 
Get in touch with your shadow and receive Hekate's guidance using this Tarot spread.
To begin your healing journey, read and watch my three-part series on Healing with Hekate.

A short guide to spiritual upgrades can be downloaded here. 
Read this for an alternative view of soul retrieval. 
Learn With Me: The Sacred Seven
If my approach to witchery and personal development resonates with you, consider applying for The Sacred Seven. This seven stage course leads you on a journey through witchery, including animal, plant, stone and candle magick…and so much more. Learn more here.
Connect With Me
Connect with me on Facebook to participate in the Night of Hekate's Crossroads to experience a soul retrieval journey on November 30.

Apply to join
The Witches' Realm
to discuss and learn more about soul retrieval and so much more.