The darkness breathes into December, forcing some to run for the light while others embrace the night. The Hekate of December urges us to follow her into this time, to explore our depths, delve into her mysteries and be reborn. Here I find myself with those that remain: the moon, her poisons, and her powerful winged creatures. If you're here with me, know that this is not the easy path, but it is our truth. The world of spirits awaits those who answer Hekate's call. All of us sustained by the breath of her darkness. Hail the Hekate of December!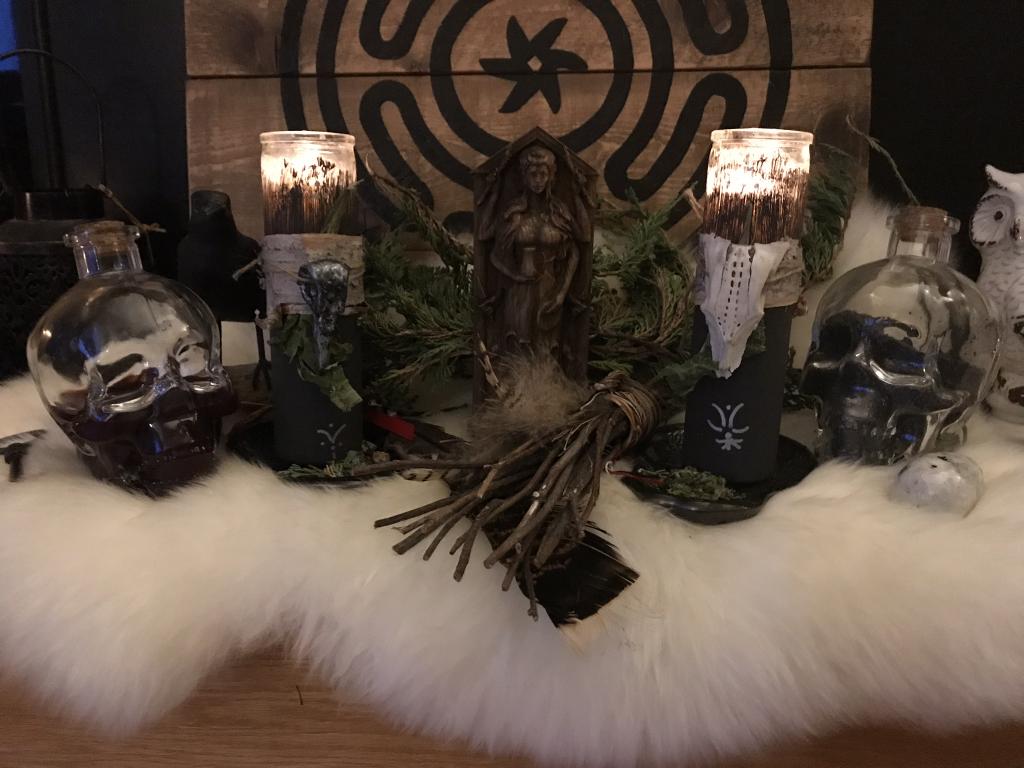 The Holy Darkness of December
December retains the energy of  spiritual death walking, this is the time to claim your skills as a psychopomp(e), soul guide, death doula and medium. All the fuss around Samhain neglects that the end of October ushers in a season of spirits rather than just one day. I wrote several spiritual death walking articles around that time, including ways to connect with the ancestors of place, a Great Goddesses ritual for unleashing your inner witch, and the death walking oil that so many of you have written to me proclaiming it's effectiveness. All those workings can still be done in December. The fact that this is a season is why I call it the Holy Darkness. It is a sacred time for witchcraft, for those of us who draw down the moon, talk to the dead, and work with all manner of spirits.
The Winter Solstice marks the transition away from this time, regardless of how you celebrate that day, across cultures and times, the energy is that of rebirth. Except, of course, for the Ancient Greeks who didn't celebrate the solstice. So much of what we know about Historical Hekate comes from their perspective. They followed a lunar calendar and I do, too. I don't think I have ever once summoned the sun for a spell, while I have a close personal relationship with Luna. There's Saturnalia, of course, which can be celebrated for a more reconstructionist vibe. Saturn and Hekate have some ancient, yet enduring, connections.

From the Dark, Wet Womb We Are Reborn
Venturing into Hekate's Cave is a journey of becoming. Perhaps out of desperation, curiosity or a combination, we turn away from the bright light of false positivity towards the darkness. Hekate's torches shine in the distance, a dim light that we can choose to follow. Trust in ourselves is a necessity for this work, even though I've often had only the weakest grasp on it.  Through introspection and healing, we reveal what we knew all along. A reunion with our truth occurs. Then we are born anew. Stronger, wiser and more certain of our magick.
For me, the truth is that I am a witch. No religion. Not a light worker. I am a Hekatean Witch. I can't imagine a life without Hekate in it. Her history continues to fascinate me. There is so much more for me to explore and share with all of you. I'm looking ahead to January – a month that I perceive as intellectual – to write about how a Goddess of Witchcraft – drinking blood and leading a horde of nefarious creatures – ended up as a philosophical construct. But, now here we are in the month of December. This is still Hekate's time as a Dark Mother, Night Wandering Queen. These are highly emotional aspects of Hekate. To December, the darkest part of the year. To Hekate, the eternal darkness and the pale light within it.
The Dark Moon of December and/or the Winter Solstice are perfect times for rebirth witchery within the safety of Hekate's Cave.
A Warning and the Truth
Another thing I want to share, perhaps because the dark makes me more introspective about all things, is that this is hard work. Releasing what longs to die, retrieving missing pieces of yourself, reclaiming your truth and the rebirth process is not for the weak. If you are already in it, know that you are a warrior-witch. Let me tell you that there will be difficult times when the shadow seems too powerful. Then there will be the other times that you slip into an awakening that will have you lying in bed, shaken to the core. Opening the door to the world of spirits can be overwhelming. Walking the poison path can be noisy once they know you are listening to them. It's not easy and not often pretty. But it is only by sinking into the realness of magick can we become what we are here to be.
December Hekatean Witchery
In Hekate & November, I wrote a bit about the energy of Hekate's Poison Garden at this time of year. My collection of poisonous pretties call loudest to me during the time between Samhain and the Winter Solstice. They hang on the walls of my kitchen, not so silently awaiting their purpose. Aconite, foxglove, and pennyroyal. Even mugwort who longs for the chance to astral travel with me. If you are feeling called by the poison path, perhaps by Medea or Kirke or even Hekate herself, welcome. Botanical witchery is the most ancient form practiced by Hekate's witches before time became linear. Go slowly, easing yourself into it. With study and practice, the poison path offers a depth to witchcraft that I've never found with sparkly stones or colorful candles.
Animal spirit magick of a Hekatean persuasion during December for me turns to the cries of her aviary. Crow, gull and owl are still with me, while the summer birds have left for safer locations. Birds are excellent companions for Underworld witchery for they hold the power of flight, forging ahead of us on our journey and guide us back to the Middle World of everyday life. Vultures, raptors and other corvids are close allies to Hekate's Witches. December is an ideal time to discover your avian companion (or even that flying mammalian, bat) as an ally. Look for their signs in your waking life and the dream time.
Read more about Hekate's Animal Horde here.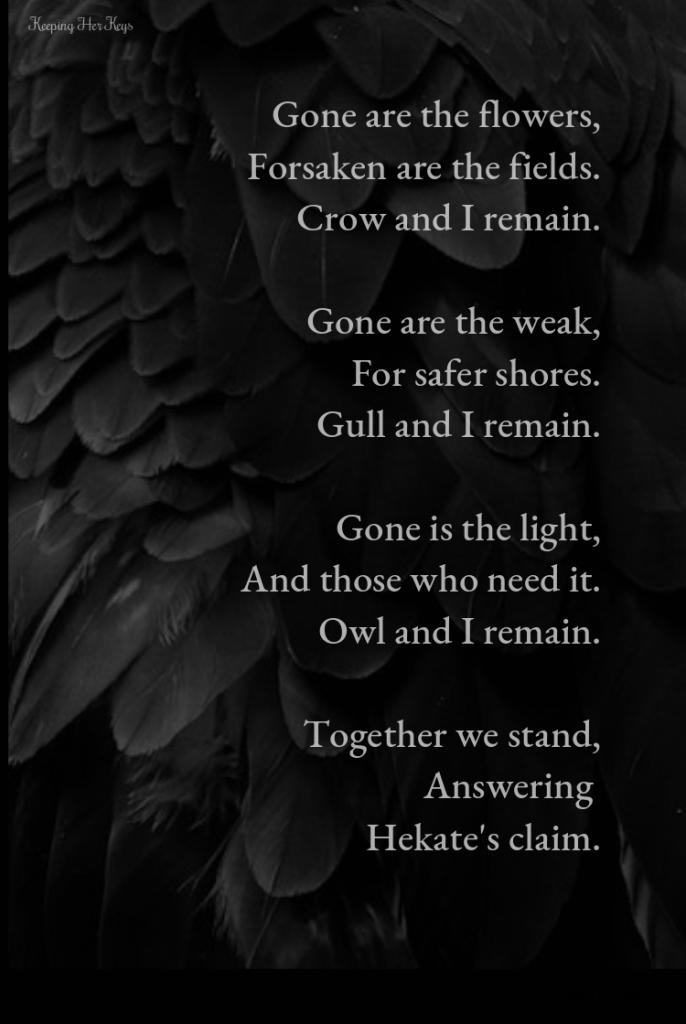 With the stress that the holiday season can bring to us, botanical witchery and avian spirit work can greatly help us navigate the busy season. Of course, for some, December is a reminder of all that they have lost. Turn to the plants of the dead, such as poppy to help soothe your grief and connect to the departed. Birds are amazing spirit messengers, happily carrying our messages to those on the other side and bringing us replies.
For many of us, the hours of moonlight are greatly expanded during December, providing an opportunity to hone our skills at drawing down dearest Selene for our witchery. Ancient lore claims that the moon rose and set out of a cave, thus Hekate's connection to both is as old as time. Read my article on Drawing Down Hekate's Moon to learn more.
Hekate, Mistress of Souls
If you are remembering your lost loved ones, I offer you Prayer to Hekate for the Dead. Perhaps it will offer some comfort. For those experiencing the insanity of the holiday season, turn to Hekate for solace in her dark home. December is also an ideal time to practice your gifts for working with spirits, whether avian, human or otherwise. New spirit allies tend to pop up when we need them the most.
The rituals done earlier in the autumn have strengthened your abilities, perhaps in the stillness of the dark nights, reach out to the spirit world. They are all around us this time of the year. Hekate as Mistress of Souls, the supreme necromancer can be petitioned for guidance for spirit work. Speak to the restless ghosts that wander this season, looking for lost loved ones or stuck in the memories of Christmas past.
However you choose to explore the depths of Hekatean Witchcraft this December, I wish you the darkest blessings. To the depths, the moon, and the glories of the night.
Witchcraft For December
Welcoming Winter: Elemental Correspondences, Witchery, And A Ritual
Hekate And The Winter Solstice: Enter The Cauldron of Rebirth
The Winter Solstice: Day of Hekate Soteira
Old Nelly And The Christmas Witch