For a goddess with such a long and complex history, you would think there would be one giant tome all about Hekate, including how to practice her witchcraft. Maybe it's because of that history that there isn't one. I like to think that Hekate enjoys that there's no single source for everything we need to know about her. Hopefully, it won't irritate her too much that I've this compiled this list of the 13 texts every Hekatean Witch should read.
In my article about how I understand Hekate, I wrote that there is a vast difference between knowing about Hekate and knowing her. This, of course, came after I tried to summarize almost 3,000 years of recorded knowledge about Hekate in about 1,500 words. While it's great for you to read my articles about historical Hekate, I honestly prefer for you to peruse the original texts. Not only will it help you develop your own understanding of Hekate, but then we can discuss our thoughts about what we've read. The more we all know, the better. Ignorance doesn't have a place in witchcraft. Rummaging through dusty English translations of ancient texts isn't for everyone. At least give one or two of these recommended below a try.
I've included this particular version of the story of Jason and his sidekicks because it includes the amazing description of Hekate's garden within the context of the tale of one of her original witches. Medea's role in Jason's story reveals much about ancient Hekatean Witchcraft, at least according to the author of this and other versions. Beyond the juicy parts featuring Medea, the story helps us to understand the Hero's Journey and the ancient world. Read it because Medea has much to teach every witch.
Medea: Her Story, Themes, Correspondences, Rituals, Spells and More
Hesiod really had a thing for Hekate that much is clear from his rhapsodic explanation of her origins and powers. While scholars have debated whether others shared his views, the beauty of his description can't be denied. Hesiod proclaimed Hekate a queen of kings and goddess to everyday people. Start with his description of Hekate and then get entranced by his descriptions of the rest of the Greek deities. A gateway book to ending up hooked on ancient texts. Consider yourself warned. Read it because Hekate will come to life as you read his words written almost 3,000 years ago.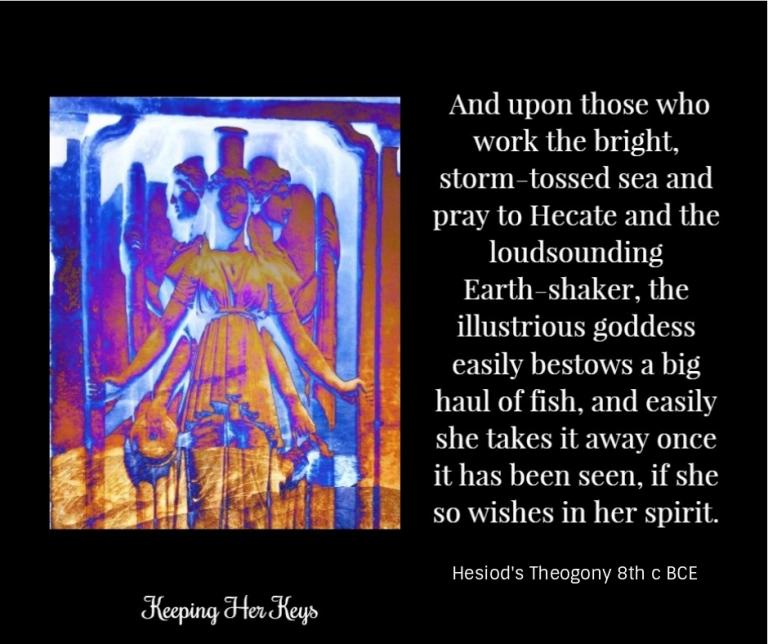 The absolute coolness of this collection of ancient magical fragments, including several spells involving Hekate, really can't be overstated.  While the methods may not be viable in witchcraft today, the spirit underlying these techniques is. Avoid falling into the fixed mindset that the PGM is a how-to guide for Hekatean Witchcraft, keep it in the context of what it is: basically, a Book of Shadows. Using epithets is part of modern Hekatean Witchcraft for many of us and there is no better source than the PGM. Hopefully you'll be inspired by these ancient elocutions to create your own epithets, just like the writer(s) were doing when they recorded their magic. Read it because of the epithets and spells.
Should We Fear Hekate? (Contains a list of some of the epithets from the PGM)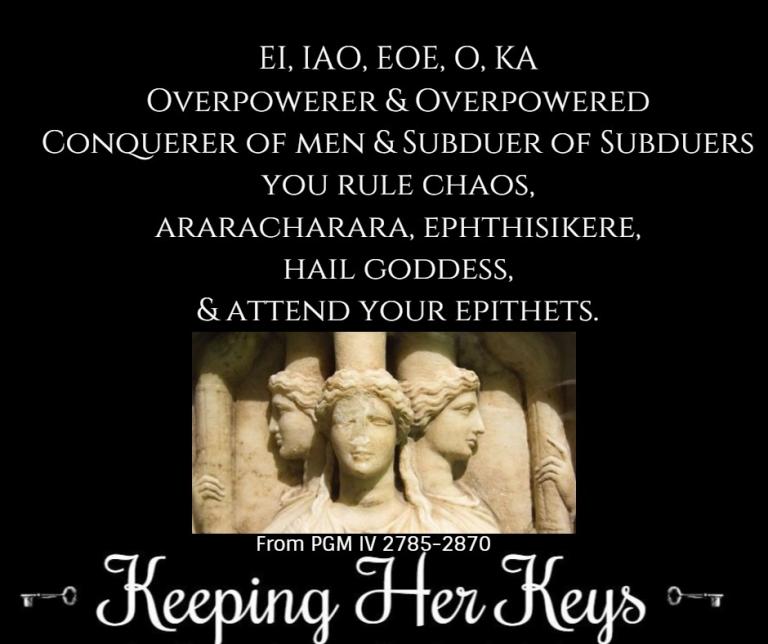 Up for a deep dive into neoplatonic philosophy featuring Hekate? Then The Chaldean Oracles will make you very happy. This is Hekate as a philosophical construct more than an embodied goddess. This collection of fragments is the primary source for exploring Hekate as Anima Mundi. Read it because a little philosophy never hurt anyone. Nevermind, I'm certain it has. Read it anyway.
Honoring Hekate as the World Soul with a Sunrise Ritual
Prayer to Hekate, The World Soul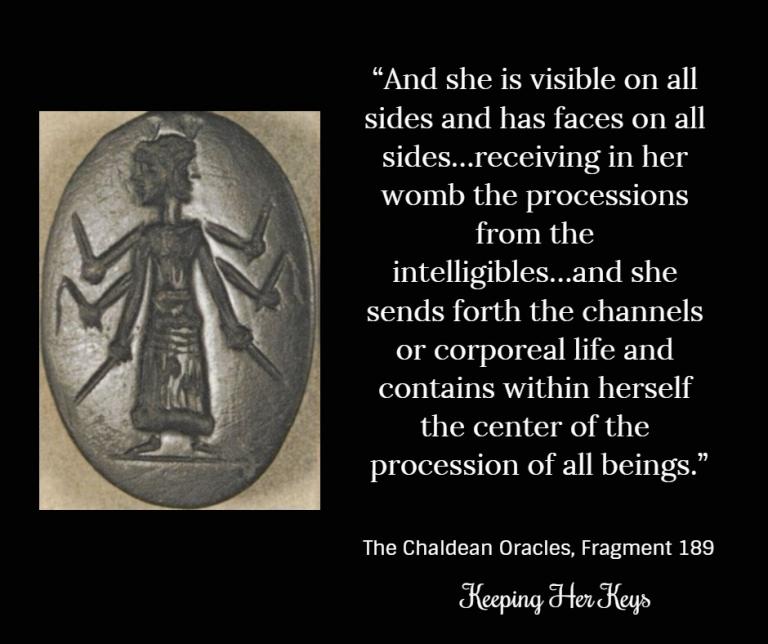 I think that this epic poem should be required reading for all pagans, witches and maybe even the general population. Yeah, it'll never happen. But you are different, you want to understand this epic tale that has captured our attention for centuries. The story of the cycle of life-death-rebirth told through the lens of Persephone, Demeter, and, of course, Hekate. My favorite goddesses all in one story, does it get any better than that? Hekate plays central roles as mediator and companion.  Read it because you'll be emotionally transformed while learning some things about this trio.
Great Goddesses of Magick & Mystery: Ritual for Unleashing Your Inner Witch on Samhain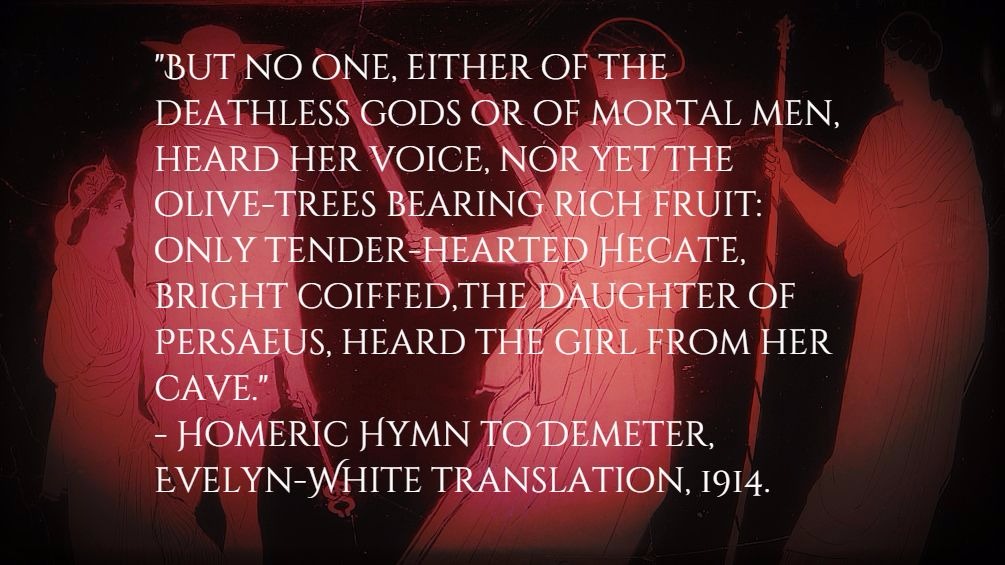 This fourth century Christian propaganda treatise might appear to be an unlikely entry in this list, but in order to understand Hekate we need to explore all of her history, include the authors who were stridently against her.  A bit of a heavy slog, but nowhere near the intellectual heights of The Chaldean Oracles. Read it for a few reasons. First, it's a wealth of information about the ancient Hekatean Witchcraft. Second, delight in the beautiful irony of gleaning this type of information from an anti-pagan tome. Third, because being ignorant of history dooms us to repeat it. Important reminder that paganism and witchcraft withstood the Christian war against them. Finally, this and the other texts, such as the Pistis Sophia, have influenced some contemporary versions of Hekate. You'll see the similarities.
The Charming Serpent of the Past: Hekate, Snakes, and Letting Go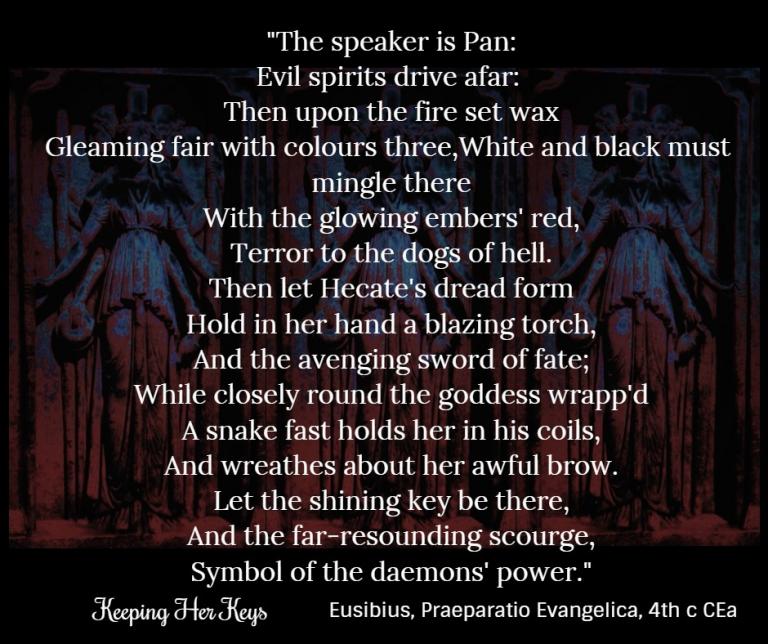 You may have figured out by now that I'm taking you on a timeline of Hekate's history through the recommendations on this list. Our last stop was early Christian views. In between then and this early 20th century still-very-Christian interpretation of Hekate (Chapter XVI), there are many other portrayals of her found. I wanted to give
Macbeth 
a spot on this list for Shakespeare's depiction of Hekate and her witches, but he'll have to be content with an honorable mention. The Cults of the Greek States is now public domain, so it can be ethically downloaded from various websites. Read it because this version of Hekate has permeated the neo-pagan views that grew out of this era. Warning that you won't stop with Hekate; these volumes are fascinating.
Hekate: Guardian, Guide and Gatekeeper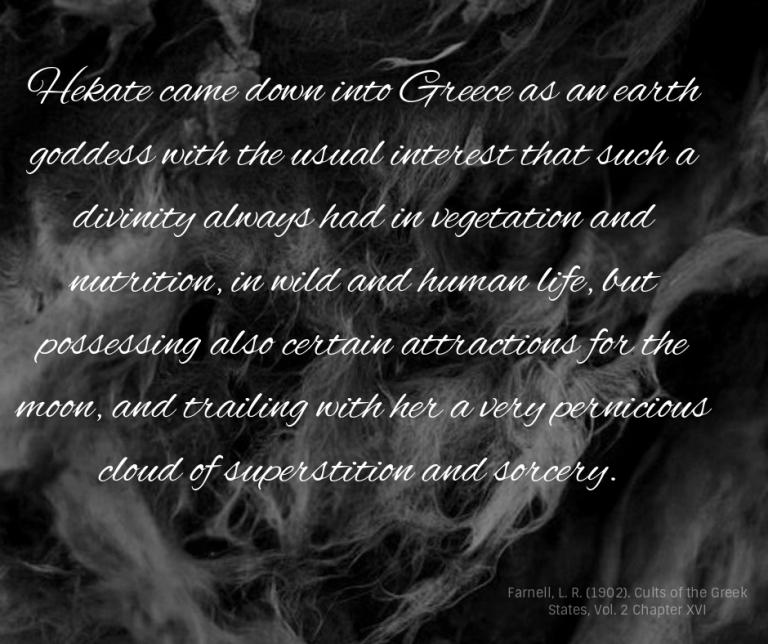 During the twentieth century, neo-pagan writers often depicted her as a crone, largely influenced by the dominant discourse that had emerged throughout the Christian era. There are many shades of this version of Hekate including Aleister Crowley's. In terms of understanding the shift away from male deities towards the divine feminine that really took off in the 1970's and how Hekate was viewed during this period, I'm recommending this slender book because it illustrates this and also has a lovely personal interpretation from the author. Read this because recent history is just as important as the distant past. I selected this one because it is very easy to digest after all that heaving duty reading.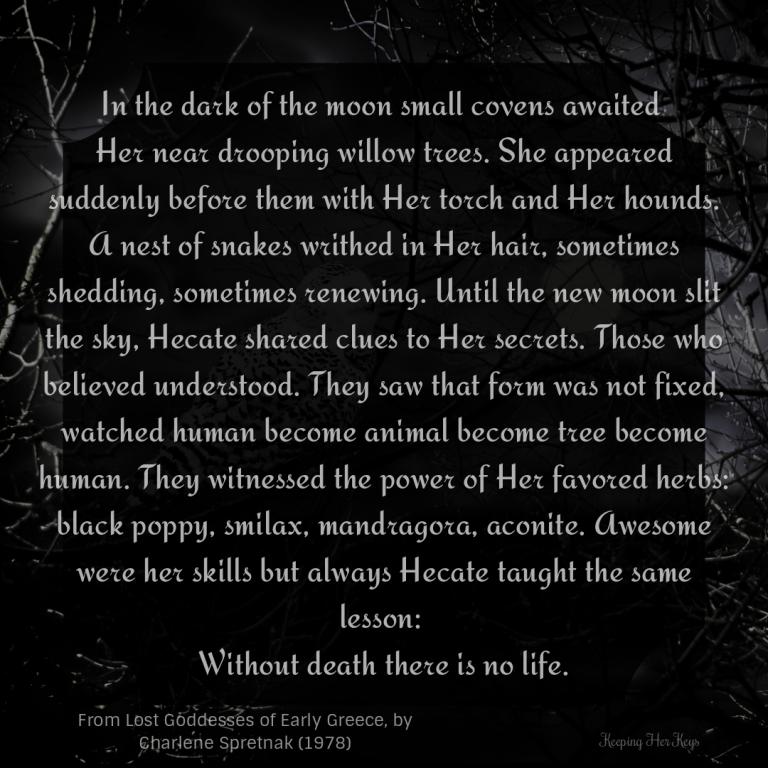 While some contemporary traditions stick with the limited version of Hekate that grew from the Christian era, there are others that have returned Hekate to her full glory described by Hesiod and in The Chaldean Oracles. Dr. Johnston's seminal thesis published in the early 1990s, on the multi-faceted nature of Hekate is heavy going, but well worth it. Read this to better understand the diversity of Hekate of the ancient Mediterranean. Also because she explains the Hekate of The Chaldean Oracles so well.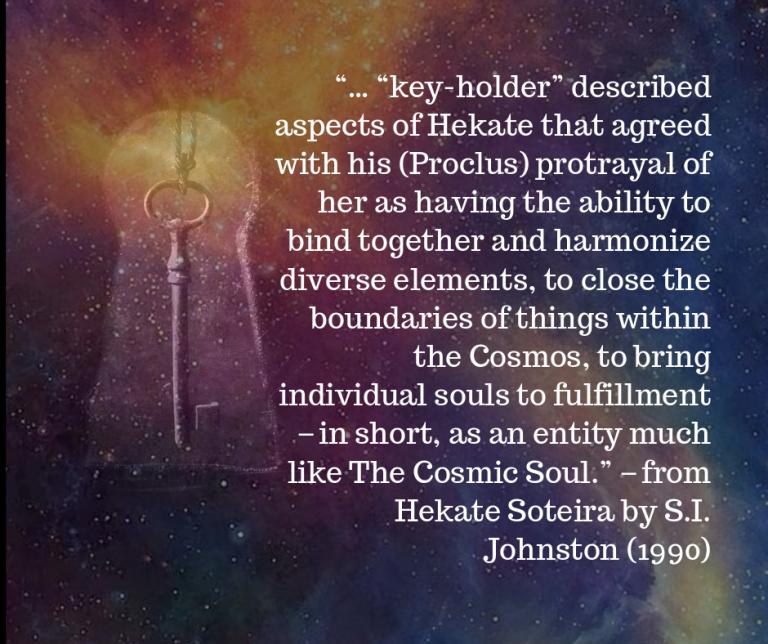 Hekate's Symbols: Keys – History, Meaning and Uses
Read everything written by Sorita, who blogs here on Patheos as The Adamantine Muse, but especially her most recent summary of Hekate's history that expands on the earlier Hekate: Liminal Rites. Read this because Hekate's diverse and complex history is wielded into a fascinating web that is sure to inspire you to both learn more and to develop your own rituals.
Hekate's Name: Origins, Meanings, Pronunciations & More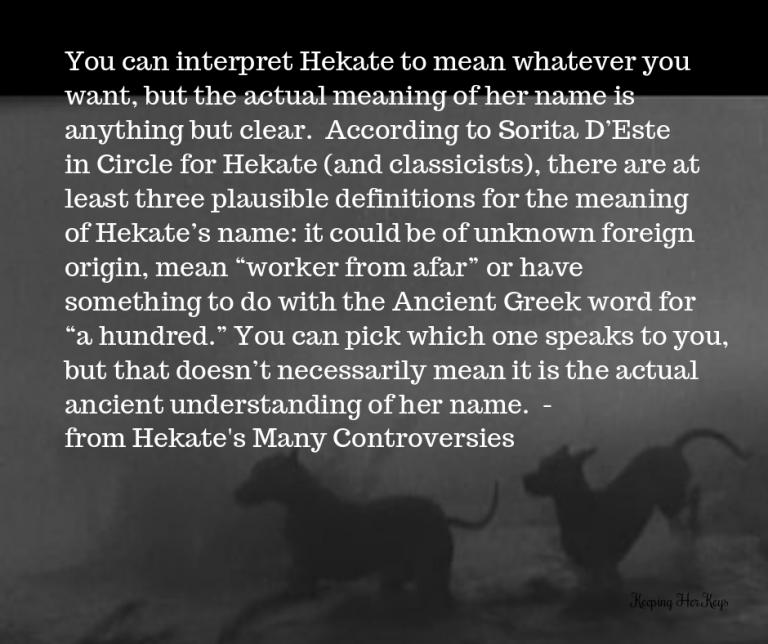 I've chosen this from the handful of high quality books including Hekate as part of an overall book on Dark Goddesses because it is both inspirational and instructional with beautiful prose, rituals and more. Read this new book because it's well-written and a nice break from all that historiocity.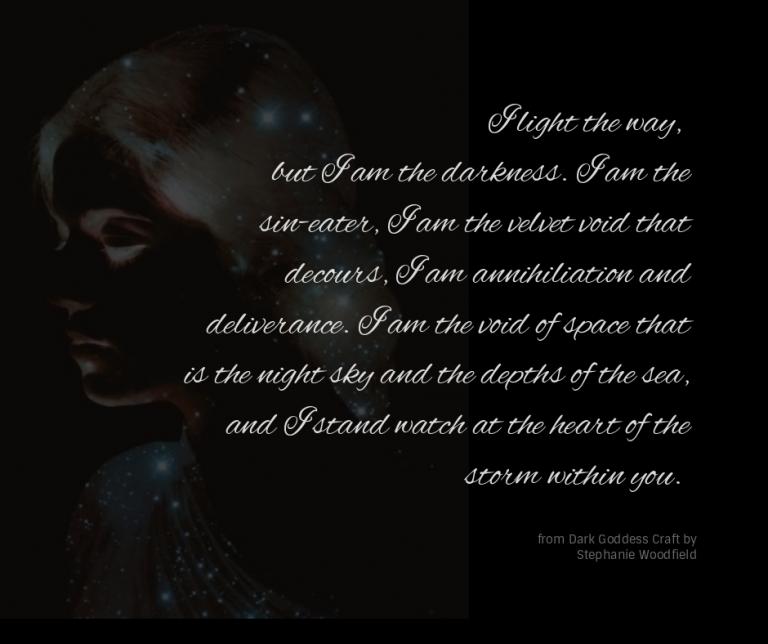 While there are other devotionals, including a few anthologies, out there, none of them can compare to Vivienne Moss's love letter to Hekate. Read this because Vivienne's words bring Hekate to life.
When Hekate Calls: A Practical Guide for Answering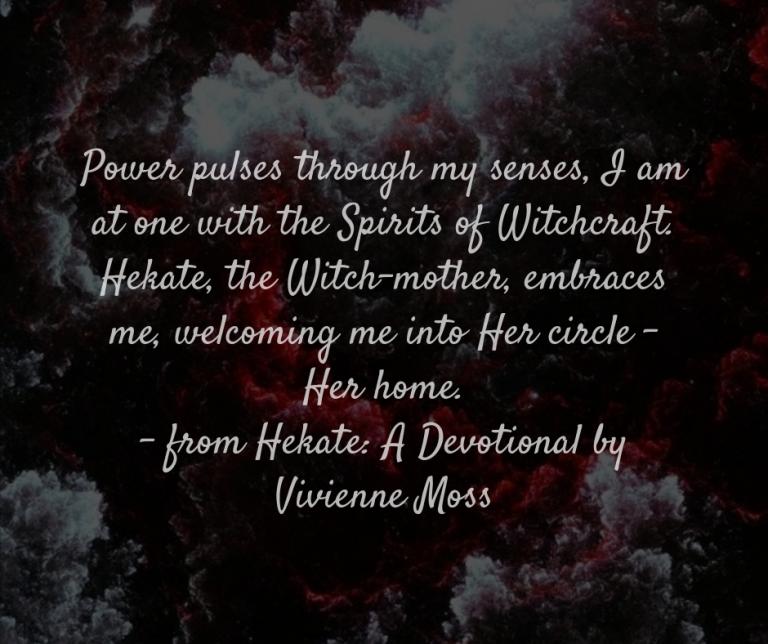 If I had to recommend one book about Hekate, this would be it. Deservedly, I am placing it in the top spot on my list. A moving and informative combination of history, art, prose and workings depicting personal and historical understandings of Hekate. Read  Buy this because you'll turn to it again and again. I can't choose one excerpt from this book. You'll love it.
A Witch's Understanding of Hekate
Download a "library" of all my articles about Hekate to date.
Purchase my book Keeping Her Keys: An Introduction to Hekate's Modern Witchcraft