Tarot offers a wide variety of spirits to include in your magick, from divination to claiming your personal power. Take your tarot practice deeper by choosing your significator card. This power card can become a spirit ally, boost the accuracy of your readings, be used for sympathetic magick and more.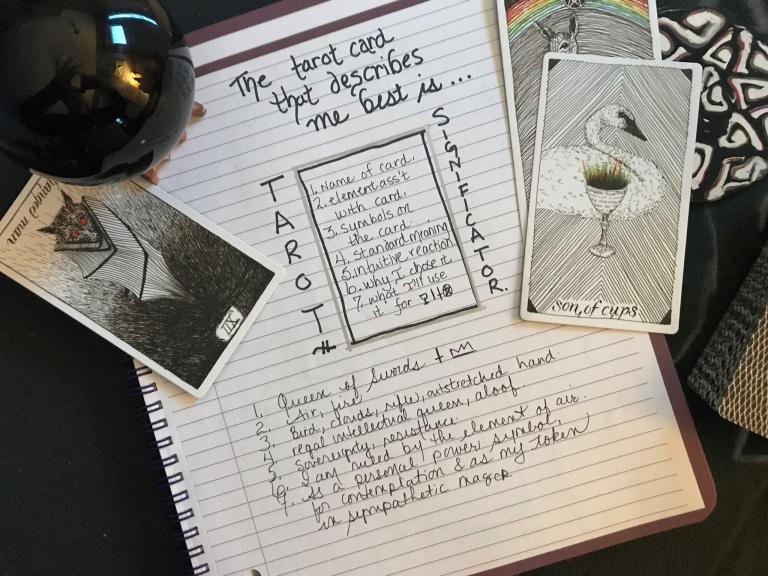 Are you the magickal High Priestess or the mystical Hierophant? Perhaps you're all about hearth and home, you Four of Wands. Maybe you want it all like The World. Perhaps you've only just begun your Witches' Journey. In that case, be proud to be The Fool. The cards reflect who we are in so many ways. Having a personal power card, known as a significator, is a sort of "spirit animal" for the tarot.
Oh, tarot why do you have to be so truthful? Have you ever found yourself saying this to cards? There are times when I argue with them. Then there are those when I want to run the other way. It's not surprising that many of us develop strong feelings, and relationships, with those magickal cards. After all, they are a collection of spirits who've traveled throughout the ages, always weaving their ways into new decks. With the proliferation of decks available now, it's so easy to choose one that reflects your practice and personality. David Bowie fan? There's a deck for that. I've used the Druid Craft deck for personal readings for over a decade. We know each others moods, when to back off and when to wave that truth-flag. Sigh. Right now, I'm using the popular Wild Unknown for public things, like this article.
Having a strong tarot practice means attuning yourself to the energy of the deck. Building a long-term relationship takes time and effort. One of my favorite ways to work with the spirits of the cards is by choosing a significator card, a personal power symbol and ally.
How to Find Your Tarot Power Card
Each card represents a certain spirit, especially the court cards and the major arcana, although the others do, too. Your tarot significator card represents who you are right now. You can also have a shadow card and a vision card for who you are becoming. Watch my suggestions for choosing your tarot significator.
The significator evokes the qualities that you currently have. Who are you today? I've been the Queen of Swords for my entire life. Once in a while, I'll change into the Empress or the Moon, but always I am the Queen of Swords. Finding your significator is an excellent exercise for claiming your sovereignty. Plus, it's a lot of fun. Which is what I hope that these casual chats inspire you to do: enjoy your witchery. Like my sons say, "you don't always have to be so cereal." I am the Queen of Swords. All I can do is try.
I've heard stories of people being told that there is only one way to pick your significator. Perhaps whoever is saying this is the Queen of Wands – Reversed. Totally into limiting others freedom. Finding your power card does require a certain level of self exploration. Be open when doing this work, but also don't be that Prince of Cups drowning in emotion. Unless, of course, that happens to be who you are.
Using Your Tarot Significator Card
There are so many books about the tarot, from The Tarot Bible to ones specific to a deck. I've been used the Druid Craft book for years. In one of those beautiful examples of the right teaching appearing at the perfect moment, Coby's recommendation for this classic book of tarot wisdom would be a great accompaniment to your work with your tarot significator. Read more.
Join Open Circle for our coven and courses.
Hekate and The Shadow Self Tarot Spread
Three Simple Spells Using The Tarot and Herbs
Binding the Tarot for Yes/No Work
The Witches' Journey: Working With Spirits, Shadows and Shades
Connect with Keeping Her Keys on Facebook, Instagram or even Twitter. I love Pinterest, check out Keeping Her Key's many boards on witchery.