We are the wild woman who broke free of the chains using her own cleverness and cunning. This is the spirit of Hekate, the ancient keeper of keys and breaker of chains. We are wild in that we resist and persist against those who would keep us bound. This is the remembering of what our soul has always known; that through the reclaiming of the keys of our wild, intuitive and wise selves can we find true freedom.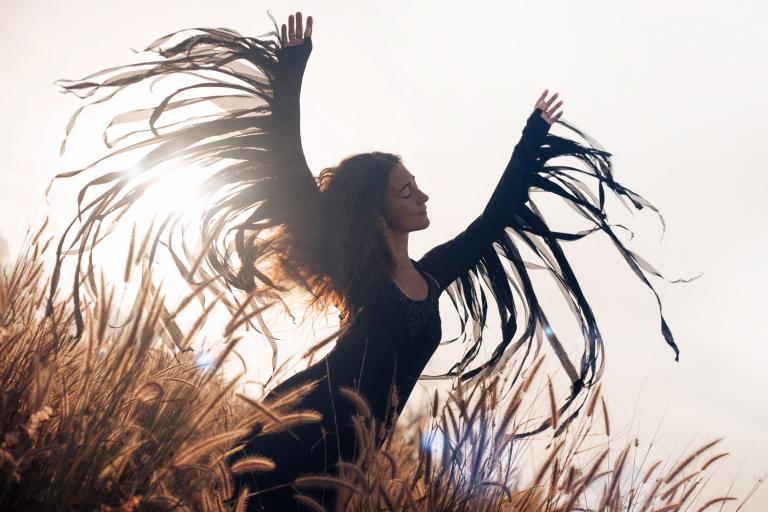 Hekate: Breaker of Chains of the Wild Woman
The return of wild women has led to a foundational shift in the power structure. It is a fault line over which we cannot traverse. There is no going back. From this cleavage has emerged the eternal primal power of the sacred feminine. The wild woman has broken free. Her crown in place, she now stands in her power.
To me, this goddess rising is Hekate. She is the ancient mother called forth from her cave by the cries of thousands. She is fierce, bold and enduring. Hekate is the voice that whispers we can choose to stand in our power. She is the life-death-life cycle. That is what women know in our souls. This is the power that is feared. We are creators and destroyers. Tender, yet unbreakable. And we have broken free of their chains.
We are living in the aftermath of the chain-breaking earthquake. The terrain is dangerous, yet it is the territory in which we are most powerful. This is Hekate's landscape; the crossroads between what was and what will be.
Unlocking The Chains: The Keeper of the Keys
One of Hekate's ancient titles means "Breaker of Chains."  To the ancients, the goddess was multi-faceted, unhampered by restrictions placed on her by the powerful. Hekate was known as the Keeper of Keys of the universe by the ancients, indicating that she held the knowledge of all things. She was also widely revered as a goddess of the crossroads, a place viewed as a portal between this world and the one of spirits. To some, she was the Great Mother Goddess.
She was always known as the Queen of Witches. Today, we have been programmed to believe that there is separation between ourselves and the goddess. Moreover, that the goddess is restricted to the harmful restrictive definition that we've been force-fed. The goddess must be compliant and small. She must be limited to being courteous and nice. These are the lies we have been told. Hekate is the rebellion against these profanities. She is the eternal wild woman.
It must be said that her enormous power was so threatening to the rise of patriarchal Christianity that great efforts were undertaken in order to wrap her in chains. This was parallel to the same binding placed on women. Granted that patriarchy existed before Christianity, yet only this religion enthusiastically sought to eradicate the powerful sacred feminine.
Being a Goddess Loving Warrior
Several years ago, a man said to me, "I am a god fearing soldier," after I had said something that he had found too woo-woo for his taste. My response: "I am a goddess loving warrior." My goddess is Hekate. She is powerful beyond comprehension. She has returned, and we merge with her spirit to rise as well. We are all breakers of chains and keepers of our own keys. She unleashes my intuitive, wise self that some find too "out there." That is our wildness. Those intuitive keys are the very ones we use to free ourselves, then we used them to open the gates of our truth, and now we stand together with our power. Hekate is the energy that brings us together, in circles small and large. We stand as wild women reborn.
The Risks When We Claim Our Powerful Keys
However, women's power is still subjugated to much backlash. There are those who wish only to see us fail. It's a sad but true fact that when women are in control, they get judged negatively. There are those who fear circles of the sacred feminine, and there are many who are terrified of our individual power.
When women speak of uncomfortable topics, they are disliked. Claiming the goddess in all her glory is threatening to many. Talking about abuse, bias and the ensuing trauma can be upsetting for certain, but it's the blaming of the truth-talker that is so problematic. Women who talk about difficult subjects and who stand in their power are disliked. This comes from both men and women. There is a bias against powerful women speaking truth, whether it's in personal relationships or to the power structure that seeks to keep us in check. Hekate, as we do, persists in the face of risk. She is the triumph of overcoming pain and risks to achieve a life of integrity. One where what we know on our insides becomes what we present to the world.
Breaking the Chains in Spite of All the Risks
Living this integrity is not easy. It is difficult to choose to claim our own place in the world because of the insults, slurs and insinuations that get flung whenever a woman boldly lives her truth. There's a great deal of risk when women choose to stand in their power. Hekate abides in the crossroads. She is there when we stand on the threshold of choosing to say, "time's up." She empowers women to speak out.  If you are a woman who boldly lives her truth and takes up space in spite of all the risks, I honor you. You are a wild woman reborn.
Silently Breaking the Chains
You may be a woman who can't live that truth out loud right now. Perhaps the risks are too great. You could lose your home, children, partner, friends, family and job by allowing what is inside of you to become evident in the world. There are those still who would face violence and even imprisonment. The women in these difficult situations, where the risks are too high, often find quiet ways to claim their power. These are the silent revolutionistas. Hekate stands beside all the women who must protect themselves. If this is you, I honor you. You are a wild woman reborn.
Using Our Keys
More potent than awakening is the moment when we choose to do something about it, whether in our personal lives by setting firm boundaries or speaking out about our painful experiences, or standing up for a cause we believe in.
If you, like me, find strength through the goddess known to us as Hekate, you understand that we are entwined with her rise. We are part of a force so much greater than we are. This is the wave that emerged from the cleavage from the earthquake of women's power that opened the gates of Hekate's cave. Turn to her when you need to funnel your righteous rage for healing and for hexing those who seek to control you. Behold her unlimited tenderness when you are weary and allow her strength to invigorate you. Claim those keys she's been keeping until you are ready. If you are claiming them now, I honor you. We are the wild women reborn.
Listen to Hekate: Breaker of Chains
Reclaim your wild woman through the power of Hekate:
Hekate: Goddess of Witches, Dark Mother And Keeper Of The Keys
Evoking The Dark Mother: A Ritual For Summoning Hekate
Hekate's Key Journey And The Keys Of Spiritual Journeying
Hekate' s Serpent Medicine And The Awakening Of The Inner Snake Goddess
Keeping Her Keys: The Rise Of Hekate And Her Witches
Unf*ck Your Life Using Witchcraft
June 2020: Please subscribe to my blog on keepingherkeys.com/read to receive updates about new articles which are completely free. No ads. No subscriptions. I am no longer publishing articles on Patheos. You can join my modern online coven network for the first month free. Try it out here.
Questions? Comments? info@keepingherkeys.com is where to send them.
Thanks to everyone for supporting Keeping Her Keys on Patheos. You can find me at keepingherkeys.com, on Facebook, Pinterest, Twitter or Instagram, in addition to the Keeping Her Keys network.
Stay true. Rise strong. Keep your own keys.
Deep Blessings,
Cyndi