Hail to the keys, the crossroads, the torch, and our eternal moon.These are the gifts of Hekate. The keys of magick and mystery that she freely gives to those bold enough to claim them. Behold the power of her crossroads, the otherness of the witch. Dare we enter this space between worlds and beyond time? Follow her pale torchlight, if you will. For it is your choice alone. Lastly, to the moon above, forever watching over our witchery.
These are the gifts of Hekate's Modern Witchcraft, as ancient as Circe and as eternal as the Witch-Mother herself. To the future, where we are free to practice as we so chose, living a life of sovereign power. And to the community of witches who follow this journey. Hail to Hekate, Keeper of the Keys!
Like the moon, Hekate has gone through phases. Haven't we all? Here we are today when her keys are readily available to all those willing to claim them. Hekate has risen, bringing her witches along with her. Keeping her keys, we find truth, power, and kinship.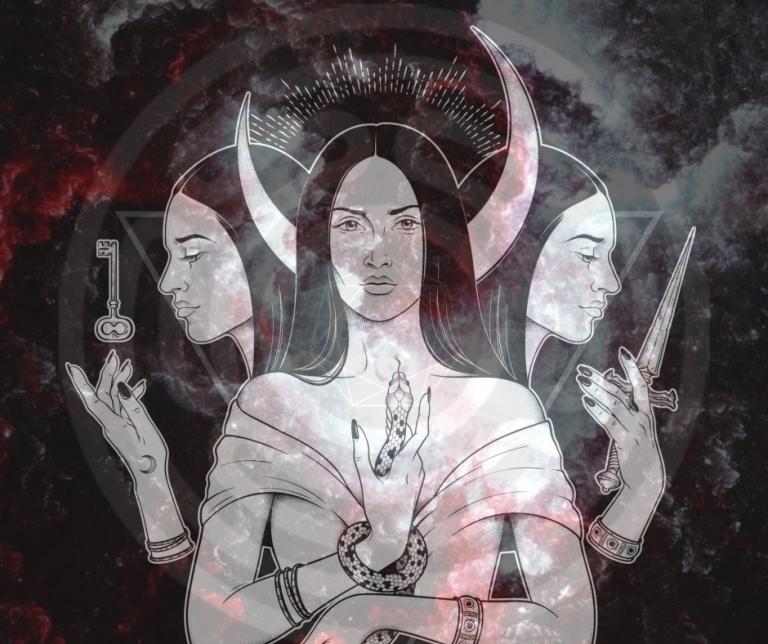 Keeping Her Keys
There is this image in my mind that has taken up permanent residency. It is of a woman, triple formed, with one well manicured hand dangling keys. Those keys look different every time I see them, and they appear different to everyone she calls. The appearance of the keys doesn't matter for those keys are not at all keys, they're only keys in our human perception. They are Hekate's gifts of magick, mystery and wisdom.
Mighty Hekate, Queen of the Witches,
You have bestowed upon me the power of the Witch.
Through the gifts of Your sacred keys,
I am the walker between the worlds,
The spinner of the web of fate,
The knower of Your secrets,
The student of Your mysteries,
The giver of Your healing.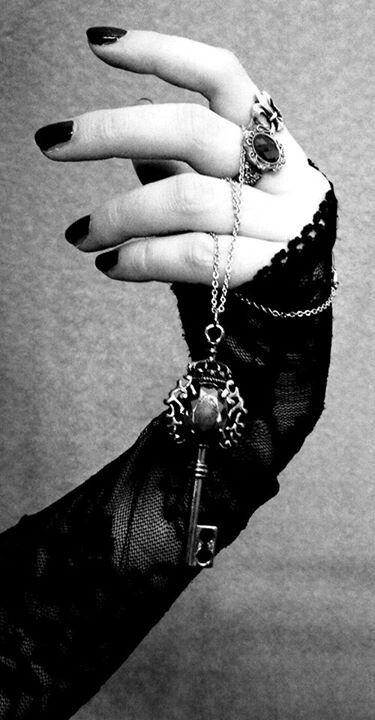 The Keys And The Crossroads
I stand at the crossroads yet again. This time it's the transition between being my usual outspoken self here on this blog and forever having made a contribution to Modern Hekatean Witchcraft, for tomorrow Keeping Her Keys: An Introduction to Hekate's Modern Witchcraft is finally released. One thing was clear from the very first transmission I received from Hekate was that I had to write from my perspective at the crossroads of personal development, spirituality and modern witchcraft. Those are the keys that Hekate has given me. I hold them openly in my hand, willingly sharing them with all who wish to take them.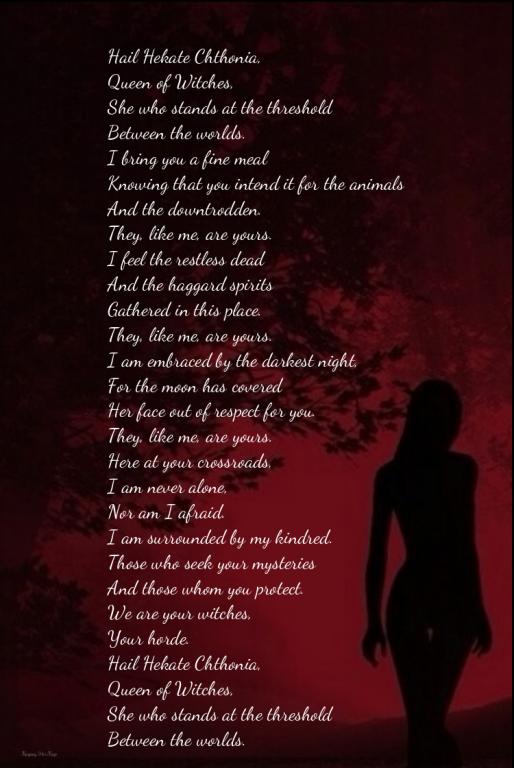 Learning to Keep Her Keys
When I started out on this journey with Hekate over a decade ago, I had no clear vision of where the road was going. She came to me in the depths of despair, her hand dangling those keys. The other carrying that torch of hers. Inviting me to take the keys and follow her pale light. At that moment, I had almost no knowledge of Hekate, and certainly no clue where taking those keys would lead me. I searched for guidance, but found limited information that didn't seem to fit with this goddess who had called me. My personal life was a mess, too. Read more about that here.
Her Keys And Mine
Yes, she is eternally of the dark. She is a Mistress of the Dead. Leader of the Horde. The Dark Mother.  To me, she wasn't a wizened crone as she was so commonly portrayed. Nor was she merely a nefarious goddess to be feared. She was so much more. Everything I read seemed to only glimpse those keys of hers. Over time, I became enthralled with Hekate's long past. Never had I imagined that I would spend a huge chunk of my time reading ancient texts. I wouldn't have predicted that my future included learning how to read Greek and Latin. All in the pursuit of fully understanding this ancient goddess. I remain committed to pursing these keys of mystery and wisdom.
Another prediction I couldn't have made is that I'd also end up connecting my personal understanding of Hekate, her historical records and others' contemporary views of her with my two other passions: personal development and spirituality. How obvious it all seems now.  I was a different person back then. Following those pale torches has transformed my life in many ways that I couldn't have predicted. As always with Hekate, she shows us the keys and lights the way, but it is ultimately up to us to go boldly forth.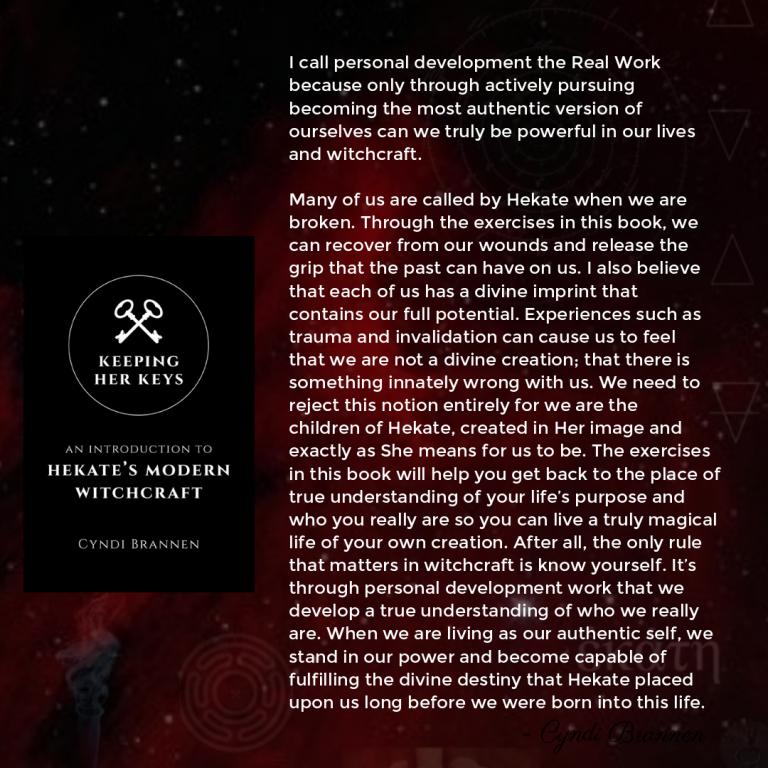 Those Keys Shine Under The Moon's Watchful Gaze
And to think it all started with me whispering to Hekate that I wanted to show up in my own life. Mission accomplished. Sitting here on the eve of the book being widely released, I am reminded of how the phases of my own life parallel the lunar cycle. Just like the moon, I go through phases. The waning periods of removal, loss and heartache. The waxing times of success and plenty. The fullness that can be wonderful, but at the same time, too damn bright. Of course, there's my favorite time of all: when the moon refuses to appear. The darkest night is where the truth is so often found. Then the glorious New Moon, reminding me that it is never too late to start anew. Sitting here at this crossroads on this night under the moon, holding my keys.
Hekate Rising: The Story of Her Keys And The Moon
It is always to the moon that we witches return. For under her light, we work our magick and explore the mysteries. Hekate's association with the moon is a subject that I've often written about, from ways to honor her on the Dark Moon to drawing it down Hekatean Witchcraft style. Like seeing my own life as a series of lunar cycles, Hekate's glorious history also follows clear phases, each one revealing different keys and unique crossroads.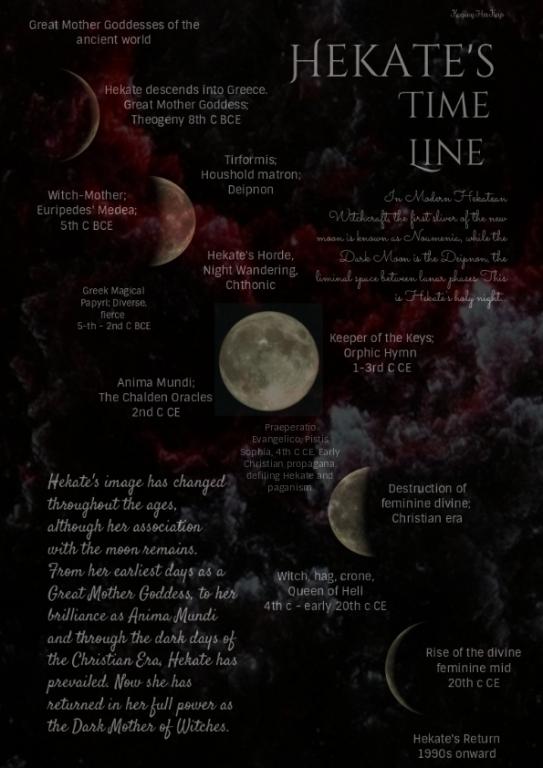 In the beginning, Hekate was most likely known by another name, as part of a Great Mother Goddess. This goddess evolved and traveled, into Anatolia and other parts of Asia Minor. Spreading into what is now eastern Europe. She became Hekate, adopted by the Greeks as their own. Was she Isis by another name? Or at the very least, the Egyptian goddess, Hekat? We'll never know for sure, but what is known is that this was a period when the divine feminine was celebrated. It was the New Moon, the future for the Mother Goddess looked promising. The keys of magick and mystery were abundantly shared.
Hekate's cult grew, that much we know for certain, rising to a place where the regular practice of venerating her on the Dark Moon was most likely common in certain areas of ancient Greece. Ancient writers and philosophers wrote eloquently of her many powers. Her role as Witch-Mother was solidified in many tales and by ancient practitioners. She was Kleidoukhos, the Keeper of the Keys of all the Universe.
The Dark Times: Hidden Keys
Hekate reached her zenith around the beginning of the Common Era. She then transitioned into the Roman Empire, although her keys were shared with other goddesses, and her powers narrowed. A goddess holding the keys to witchcraft and necromancy she became. Thus was the onset of her waning time. As Christianity grew, the reverence for her and her companions was snuffed out, often with great violence. Her witches hid themselves and her keys. The complete darkness came.
Now, the New Moon has come. Hekate is rising, calling forth her witches. Heed the message of the past: there are those who will always seek to control Hekate and her witches. Don't let this glorious period of freedom to practice our truth be taken from us. Hold onto those keys. Defend them with all you have. Share them with those who are sincere. Raise those keys up to the moon, giving thanks for all they bring.
Hekate offers keys of fear and love, pain and joy. Download the Love and Fear Ritual from Keeping Her Keys: An Introduction to Hekate's Modern Witchcraft to explore the power of her epithets.