In times of great upheaval, we can turn to both the deeper world and science for guidance. Our modern science tells us that simple rituals to boost resilience include a daily gratitude practice, certain forms of coping, and daily breathwork. The teachings of Mother Hekate demonstrate that perseverance and resourcefulness will see us through. In particular, the lessons Hekate taught Persephone and Circe provide powerful medicine for increasing our resilience.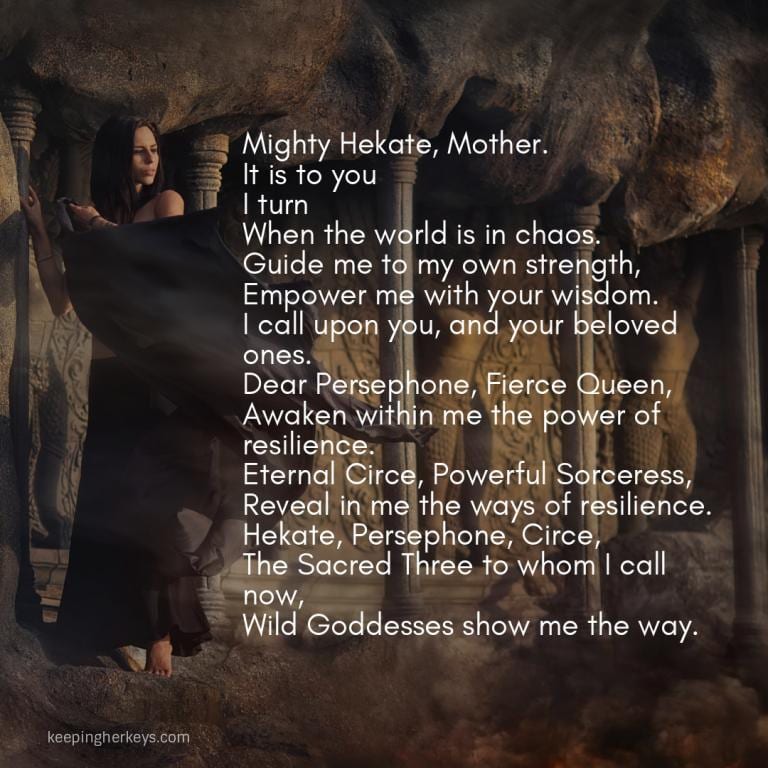 The Consuming Nature Of Stress
During these troubled times, it's so easy to get overwhelmed by everything that is going on, from feelings of social isolation to worries about the future. Then there's the actual pandemic itself to fret about. With all that's going on, it is easy to get very stressed. Especially for those of us who are highly sensitive to the emotions of others, whether those we care about or those societal energy waves we pick up, the sheer amplitude of this time can be all-consuming. We must enforce our energetic shields and maintain firm boundaries, lest the toxic ones who thrive on times such as these swallow us whole.
Those Who See The Future
Those of us who are dialed into the deeper world may also experience feelings about what's to come in the months ahead, such as I wrote about in my annual forecast months ago. You don't need to be psychic to know that this crisis will last for months. The evidence is everywhere, from social media to our everyday activities. This is a crossroads moment for the entire planet. The way to cope with the demands of the situation right now, and over the long haul, is to tap into our resilience. The first act of resilience is to accept what is happening right now.
The Lessons of Mother Hekate
Hekate shine's her torches on the way ahead, instructing us to boldly see things are they are and what is to come. Acceptance, not avoidance, is her wisdom shared.  Through the myths of her daughters, including Persephone and Circe, we learn of the medicine of Mother Hekate. They share the resilience of wild goddesses.
Persephone's Exile Become Her Power
Persephone's story of the young maiden forced into a marriage that required her residence in the underworld teaches us how making the most of undesired circumstances is ultimately empowering. Many of us know the first part of her story about the unwanted alliance with Hades.
What, for reasons that are both complex and simple, is often ignored is that her mythos continues as she ascends to being a true queen. She is both fair and fierce. The very picture of resilience. Persephone teaches us, especially those of us who are wild women, that we may find ourselves in situations that are painful, yet, even in those dark places, we can use our cleverness to reign over those who would be our captors. Persephone often comes to us when we are feeling downtrodden and isolated, offering great comfort and strength. She is particularly fond of pomegranates and poppies, so an offering of both along with a heartfelt prayer will undoubtedly awaken her to you.
Circe Turned Her Isolation Into Medicine
Circe is another wild woman who used her resilience to rise strong. Vanquished to a deserted island by her birth family, she chose to teach herself the powers of the natural medicine of animals and plants. She is the original pharmaka, a wild woman who heals with these energies. When her island was threatened by vicious men, she used her medicine to reveal their porcine natures. That was quite a revelation potion she had. Circe teaches us that we must rely upon ourselves, using our own knowledge and intuition to conquer both our circumstances and our foes.
She also calls us back to the natural medicine of this planet and away from the charms of false society. Circe knew that witchcraft was her medicine. Like Persephone, she leaned into her isolation and used it to grow strong. As we are now quarantined in our homes, we can be experiencing intense loneliness. Speak to Circe for guidance on how to use this isolation as an opportunity to learn more about your form of spiritual medicine, whether it is through your crystals or botanicals. Circe favors white flowers, sometimes known as moly, as well as dittany. She is especially connected with birds of prey and large cats. All of these arranged into a connective portal will help you to attune to her energy.
Hekate's Medicine: Turning Ashes Into Resilience
To both of these wild goddesses, Hekate was Mother. For Persephone, she became her confidante and guide, substituting for Demeter. With Circe, she was her biological mother in some versions and, certainly, her spiritual mother in all depictions. Hekate taught these wild goddesses that resilience comes from heading head-first into the catastrophe. That women rising strong were built out of the ashes of their former lives. Hekate's medicine to them was to follow her torches into their own darkness for deep healing, and to find power. This is the Mother's most sacred medicine of her fires.
Resilience Is Growing Our Own Medicine From Dust And Tears
For those of us who've survived trauma before, we have much in common with Circe and Persephone. We are accustomed to the landscape of loss in which we learned to grow our own crops from dust and tears. That is resilience. Mother Hekate beckons us to step into the crossroads, going forward into the darkness so that we can eventually emerge victorious. We've learned this already.
As such this present crisis is, in some ways, is familiar territory. We had our world turned upside down by forces beyond our control. With our personal world in turmoil, we pieced it back together to find healing. We created an abundant terrain from naught. We stitched ourselves back together with what we grew on that field. What is different with the current situation is that it is not personal at all. The pandemic is not about us as individuals, yet drastically impacts our lives. What is common to both personal and societal trauma is that resilience is the key for minimizing the harm caused.
The Lessons of Modern Science
For modern science, resilience is a sort of catch-all term for a wide variety of behavioral, psychological and spiritual ways of being that drastically reduce the risks associated with trauma of all kinds.
Behavioral resilience includes practices that strengthen the body, like regular exercise. In this current pandemic, practicing behavioral resilience includes social distancing. Psychological resilience includes a wide variety of coping skills. Spiritual resilience includes faith in whatever higher power we believe in, or perhaps even a general mindset that all will be well in the end. Gratitude bridges the science and the wisdom of the deeper world: that which we honor grows.
Spiritual Practices That Provide Deep Medicine Are Freeing, Not Restricting
While belief can be comforting, without practices that facilitate our connection to the deeper world, it can be quite fragile. This is the opposite of resilience. Engaging in regular spiritual practices, from
simple activities
to
transformative ceremonies
increases our resilience by connecting us to the divine however we understand it to be. From a psychological perspective, these rituals strengthen us when we choose to stand in our own power.
One of the earliest research projects I was involved in explored the connection between religion, close relationships and well-being. In this study, we found that blind faith and rigid adherence to dogma was negatively associated with wellness. In my ongoing exploration of how Hekate is experienced today, a convergent theme emerges; the true medicine of resilience is by finding our own truth rather than sticking to the rules. The wild woman who follows her intuition to her own spiritual homecoming is the resilient one.
Merging The Medicine Of The Mother With Modern Science
As a writer who stands at the crossroads of psychology, spirituality and the witchcraft of Mother Hekate, I study the parallels between modern science and her ancient medicine. This is my home territory. Modern science tells us that breathwork is imperative to resilience. That simply taking a few moments to deeply engage with breath calms the mind, restores the body and releases neurochemicals that help us manage stress. This is a ritual of resilience that we can take deeper by attuning to the wild goddesses who can share their medicine with us. Circe. Persephone. Mother Hekate.
Finding Meaning Yields Resilience
The ability to find meaning in the face of catastrophe runs through the stories of these goddesses. My own research on women's coping with incredible stressors reinforces these themes. When I analyzed the interviews of hundreds of women looking for ways that they demonstrated resilience through coping skills, finding the deeper lessons of their travails was key to their wellness. This was in addition to the more widely studied benefits of tackling problems head-on and emotional management. Unsurprisingly, because of cultural mores about women, those of us who find meaning, solve problems and don't succumb to base feelings, are often viewed as cruel queens in a similar manner as our mythic wild women.
Resilience Abides In Our Own Power
The will of The Mother is that we are empowered to solve our own problems, rather than rely on anyone else or her intervention. Hekate can't do for us what she can't do through us. We are the agents of the change we seek, just like Circe and Persephone. There's no one ritual that will magically remove all our problems, make the virus disappear or bring world peace. What rituals can do is to connect us to the Mother, providing us with the healing and wisdom necessary to accomplish the task at hand. That is the medicine of resilience.
The Soul-Essence of Resilience
Many of us have been heavily programmed by our upbringings, and the power structure, to not be resilient. This is because those who hold authority over us desire for us to remain weak. Mother Hekate's medicine is that we are strong beyond our wildest imagination.
This is not to say that there aren't times when we find ourselves crumpled on the bathroom floor in the depths of despair. It is understandable, almost to be expected, that in the depths of enduring trauma such as this current crisis, we will be reduced to a heap of distress on occasion. What is different is that, deep within us is the spark of The Mother. She has implanted the essence of resilience in our very souls. She offers these keys to us, just as she did to Circe and Persephone.
More Resilience Resources
Witchcraft For Coping With COVID-19: Banish, Protect And Heal
Hekate And The Return of the Wild Woman
Hekate's Key Journey And The Keys Of Spiritual Journeying
Diving Into The Unseen River: Ways To Deepen Your Connection To Hekate And Strengthen Your Witchcraft
Why Hekate And Her Witches Are Necessary Now More Than Ever
Entering Hekate's Cauldron of Rebirth
Circe Is A Goddess We Need Right Now: Her Story, Powers And Ways To Connect With The Eternal Witch Goddess
Life Lessons from Persephone, Queen of Pain: Practices and Rituals for Healing and Finding Your Sovereignty Power Through the Queen of the Under World
Be a Grateful Witch: The Importance of Giving Thanks and Suggestions for Practice
Practicing Spiritual Witchcraft: The Combined Superpowers Of Gratitude And Prayer
Free Resources: Guides and Classes
I'm offering several guides and classes during the crisis. You can access them here.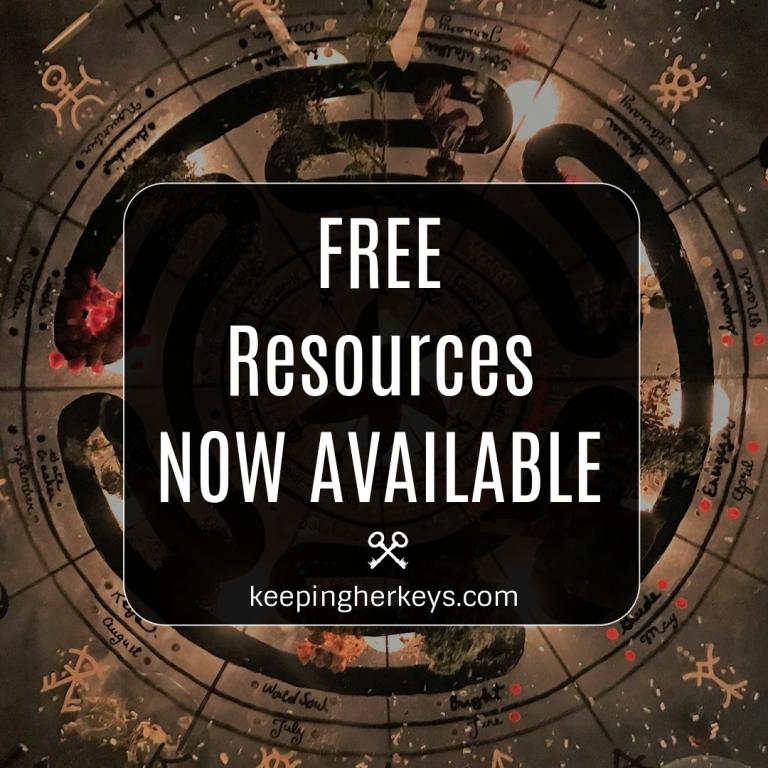 Take Refuge: The Keeping Her Keys Modern Online Coven Network
Join my safe and supportive community here.
Evoking Hekate, Persephone And Circe For Resilience
Mighty Hekate, Mother.
It is to you I turn
When the world is in chaos.
Guide me to my own strength,
Empower me with your wisdom.
I call upon you, and your beloved ones.
Dear Persephone, Fierce Queen,
Awaken within me the power of resilience.
Eternal Circe, Powerful Sorceress,
Reveal in me the ways of resilience.
Hekate, Persephone, Circe,
The Sacred Three to whom I call now,
Wild Goddesses show me the way.
I offer this freely. May these words bring you resilience.
Deep Blessings,
Cyndi