White advantage is everywhere in modern witchcraft, from pop culture to the common Wheel of the Year. While there is nothing inherently wrong with this, it is problematic when all this whiteness blinds us to the problems it causes for those who are from marginalized groups. However, there are ways those of us who want a more diverse witchcraft can be true allies. Diversity strengthens us personally and witchcraft as a whole. 
Look at your bookshelf and the thought leaders you follow on social media. I did just that. So much whiteness. This launched me on a quest to better understand the problems this causes and ways I can possibly help give space to those who aren't white. I'm not putting myself on the cross here. My interest in dismantling whiteness in witchcraft is selfish. The more I learn from other groups, the more I can understand myself.
Note: This article isn't about discrimination against witches. While this certainly is a problem, I'm not writing about it here. My choice not to focus on this is not a denial of its existence.
 "The unpleasant, unfortunate, unavoidable truth is that most modern forms of Paganism, polytheism, and occultism—and emphatically most modern American iterations of same—are, at heart, little more than watered-down Protestant Christianity with a thin coat of New Age whitewash (pun intended), concocted for the express purpose of making white people comfortable and reassuring us about our essentially libertarian individualism." 
from
The Unbearable Whiteness of Being: Some Observations on White Fragility in Esoteric Spiritual Movements.
White supremacism is so extensive in modern paganism and witchcraft that it is breathtakingly invisible.
I shared a longer version of this article in my private group. The response to the above sentence from persons of color was that while it's invisible to people like me, it's the opposite to them. Those traditions who overtly practice white supremacism are only the obvious symptom of the widespread white advantage in modern witchcraft. We can't fool ourselves into thinking it doesn't exist and that these groups are unusual. Yes, talking about white advantage takes emotional labor. If you don't feel like getting into it, consider how exhausted people who live with oppression every day feel.
Views of modern witchcraft are influenced by pop culture which is largely dictated by those who are the oppressors.
Sabrina, the good "white" witch. Papa Legba representing "black magic." These are the images that reflect the dominant discourse about witchcraft today in pop culture. Don't school me on the history of the meaning of white and black magic. Today, the terms "white" and "black" have certain connotations in our society. Pop culture is what draws many into our ways.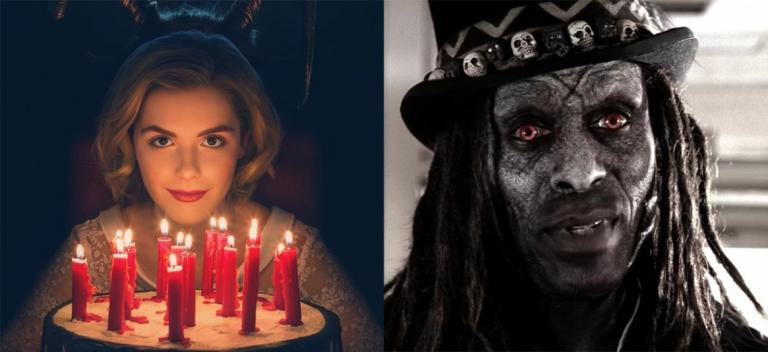 The problem of white witchcraft
I'm talking to my fellow white witches – not the color of the magick you practice – but your primary racial identification. Let's begin by talking about that. I've read the comments where practitioners claim this has nothing to do with race. Give me a break. It has everything to do with race when filtered through our modern lens. I can't even imagine what it must be like for a person of color to continually hear that the witchcraft that matches the racial color of their oppressors is the only acceptable kind. Also spare me the "color doesn't matter" in witchcraft idea. It really does. All this whiteness isn't good for any of us. 
Whiteness always is an advantage
If you've experienced personal victimization, discrimination and/or trauma because of who you are as an individual, then know that you have my support. This article isn't about those of us with these experiences. It's about an advantage we have because of our whiteness, no matter how poor or hurt we are. This isn't the Oppression Olympics. Suffering is not a competition, but it is a continuum. No matter what we've been through, those tears of ours are still white. Crying about our own struggles when a person of color is speaking is very disrespectful.
Why is it that the loudest voices discussing cultural appropriation are always white people?
Taking up all the air in the room with their claims of injustice, speaking on behalf of groups to which they do not belong and whose lived experience they have nothing in common with. I sincerely try not to do this. I don't always get it right. Being supportive means more than this. It requires actively dismantling the systemic white supremacism in witchcraft and society. It's much more than articles claiming that it's wrong for white people to practice shamanism or burn sage.
Dismantling white advantage in witchcraft
Us white witches have a unique position, being on the edge of the power structure of white supremacy we are able to reach out to the oppressed because we are closer to them, but we are not them. Yes, some of us accused of practicing witchcraft were brutalized in the past. It's nothing compared to what marginalized witches go through each and everyday in the here and now.
White guilt is useless to us and harmful to those who we want to help. None of us here today created the system of oppression. We need to accept that it exists. That modern witchcraft often reinforces it. Avoidance is a luxury we white people have. I don't want to avoid the truth of who I am anymore than I want to deny anyone else the opportunity to claim theirs.
Tips for Being A Real Ally
 

Shut up and really listen. I'm trying.
Give credit where credit is due. If your truth includes practices from a nondominant group, honor them and acknowledge it. We all borrow from other cultures. The myth of "pure" witchcraft is xenophobic at best.
Question why you are drawn to certain practices. Avoid the "wise savage" trope of white supremacism. Approach other cultures with respect. Don't think they hold all the answers.
Develop your own identity. Figuring out your truth will help you understand the importance of letting others speak theirs.
Speak out. "Ally" needs to be a verb. Don't speak on behalf of groups to which you don't belong. Use your perspective.
Be accountable for your practices. Know why you do what you do.
Don't be an isolationist. Get to know witches who are from marginalized groups. Read books.
Check your privilege. Basically, asking ourselves if we are coming from a place of dominance over the individual or group with whom we are interacting. Also, if we believe that we are inherently better than another group or individual. In addition, having an attitude that we are the "chosen ones" can also be a sign of privilege. In other words, be humble.
Check the privilege of the teachers and authors you admire. Do they claim that their way is the superior one? Is there diversity in their followers? Have they ever denounced a group due to reasons of identity, for example TERF witches who decry non-biological women.
Don't use your self-proclaimed ally status to glorify yourself. The irony of writing this doesn't escape me.
Do not monopolize the emotional energy when engaging in discussions about oppression. Seriously, this is a huge problem in the witch world. I know I'm guilty of doing it. Their experience is not about your pain.
Engage in witchery to make yourself a better ally and to dismantle white supremacism in the witch world and society in general.
Get over yourself. Don't take it personally. Your identity is not threatened by creating space for others. I may get this tattooed on my forearm as a reminder.
* I am writing about witchcraft in this article. Paganism and witchcraft are often intertwined, but not always. There has been much written about the whiteness of modern paganism, some of it conflating witchcraft with it.
Articles about white supremacy in paganism and witchcraft tend to focus on certain traditions, as though only overt white supremacy matters. Here's an example:
Article that does a better job of explaining why modern witchcraft is white supremacy than I do:
My cover image was inspired by another article, cited above.
Further Reading: