I've been keeping my keys, speaking my truth, and taking up space here on Patheos Pagan for two years now. This has been a wild broom ride that all began with Hekate insisting that I answer this call. She whispered to me, "take my hand,  we'll make it, I swear." Her hand offered me the keys of this amazing journey. Now when the Mother speaks through rock n' roll, I heed her words. 
If you've taken me up, know that we'll make it, too. We are in this together. Like I wrote in Keeping Her Keys: An Introduction to Hekate's Modern Witchcraft, I believe we're all in this together. No matter what you're going through, take the hand offered, whether it's through my words, our Mother or another source.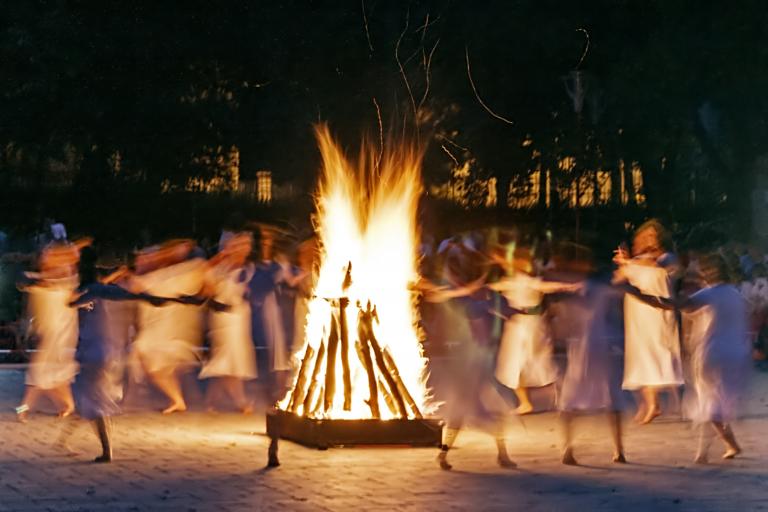 Take the hand offered. You will make it, I swear.
It's been an incredible honor to write here. I have deep affection for my amazing readers. You've inspired me with your knowledge and strengthened me through your courage. It's been a wild broom ride so far, and I'm only getting started. For all of you struggling through your own journey, I stand with you. In the immortal words of Bon Jovi, "take my hand and we'll make it, I swear."
Because many of us are living on a prayer that's the promise that we will find our way out of the suffering we've known too well to find entrance into our Mother's sacred garden where comfort abounds. That is the key of healing. It is the deep knowing that witchcraft is our medicine. That the only true religion is the one that lives in our souls. This is the connection with the divine as we understand it. There's no right way to walk this crooked journey of ours. While our journeys can be very different, at their heart they are the same: the persistent seeking of our own depths and those of the deeper world. No dogma, no rules.
Above all, be grateful for the helping hands and the keys offered
When Keeping Her Keys started, I hoped that maybe a few people would identify with my journey. I'm an outsider, both in spirit and geography. Right from the outset, I wrote about Hekate, witchcraft and life from my perspective. Sitting here, my belly full of after our autumn celebration, I feel the same fullness in my life. As we gave thanks for all we have, we toasted Keeping Her Keys and, above all, Hekate for all the blessings this work has brought to us as a family.
Hand-in-hand, we rise together
My sons have sacrificed and supported me every step of the way. We work together as a team; they do admin work, help with shipping out the books, and generally keep everything going so I can keep on keeping those keys. We are proud of each other. The magic we possess as individuals, and the collective magic of our family, is beautiful. We live a charmed life.
As we were reflecting on times passed, which is what we typically do over these meals, our conversation turned to a time when our lives were pretty much the opposite of what they are today. The difficult time when we lost everything but found ourselves and each other. As is our practice, we laughed until we cried about our year of no fixed address and all the ridiculous stories accompanying this period. We took each others' hands, and we made it together. Hands that held the keys necessary to accomplish what seemed impossible eight years ago: our own happy home, health and prosperity. These are the rightful keys for all of us, Hekate's children. Hand-in-hand we can lift each other up.
If there is one thing I know for certain it is that no matter no bleak your current circumstances are, things will improve. Keep going. That is the key you must keep.  
Over the past two years, I've developed amazing relationships with other keepers of the keys, many of whom write here on Patheos now. We hold each other's hands, lifting us up together. Each one of us has overcome horrible trauma and tragedy, forging our triumph through taking our unique keys in one hand, while staying connected with the other. Good thing those keys hang nicely around our necks. I've realized that my journey has inspired others to claim their keys. I know it can be difficult, but I also know – deep in my soul sort of knowing – that you can succeed. Healing is the work of months, not days. Success takes years, not weeks. Recovery is the ongoing daily act of choosing soul over shadow. True magic is knowing that you can find your way to better days. Our darkness is where we find our light.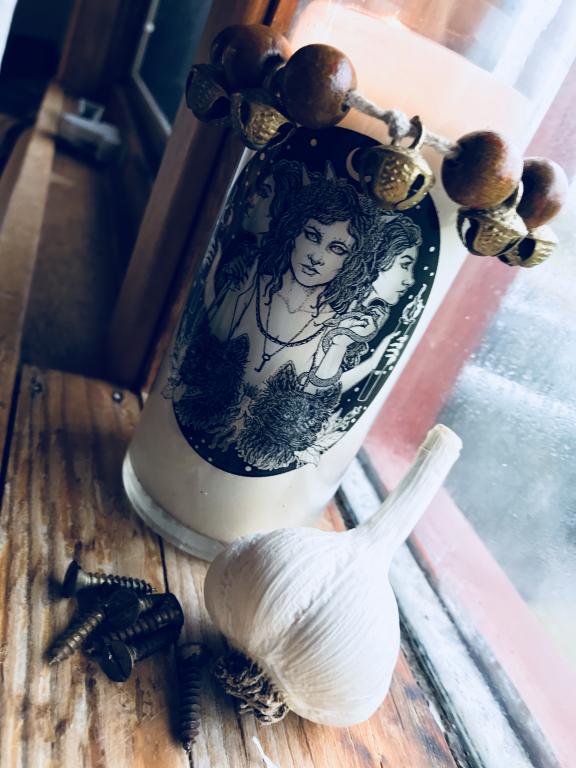 What's a blogiversary without a list of my favorite articles?
My sons groaned when I said that it was the Keeping Her Keys blogiversary. That's not a real word, they said. Perhaps there were a few jokes about me being Blogger Barbie, Middle Aged Edition. Whatever. It's my blogiversary. Here's a list, in no particular order, of some of my favorite articles over the past two years.
Give Me That Old Time Witchcraft
When I wrote this article, I was yearning for the deep connection to the spirits and to my kindred. I'm happy to report that it has returned to me in spades. Give me that old time witchcraft, it's good enough for me. I don't need fancy trinkets or restricting rules. That old time witchcraft whispers that we are loved as is.
Keeping Her Keys: Seeking Hekate And The Deeper World
My complex relationship with Hekate was explored in a deeper way than I had previously written. To me, she is Mother, the primal source and the creative source. How I perceive her through my human understanding is a bit like how I imagine dogs understand us humans. I felt that I was taking a risk with this article in admitting that I don't have all the answers.
Boundaries Are Your Personal Magic Circle: Ways to Know and Strengthen Them
To me, this article sums up what my blog on Patheos is about: me as the imperfect teacher-healer merging my knowledge of effective psychological practices with traditional methods, plus a bit of homespun witchery. The follow-up article, one year later, explored the power of
vulnerability.
 In that article, I felt as though my writing skills leveled up a notch. It's one of my personal favorites as well.
Welcoming The Witches' New Year With The Moon
I've never been one for what I consider religion: rules, dogma, and related nonsense. If I strip away all this to reveal the true meaning of religio as the experience of the divine, then I found it on the night when this poem came to me. Without edit or fuss, the poem was in my head. That is simply divine. I've written about my experience of the divine, from the spirits of Hekate's Garden to her mighty presence many times. Maybe I do have religion after all.
Deeper Into The Darkness: Hekate and Soul Retrieval
My witchcraft is medicine: it is healing into the divine creatures that we are. The descent in Hekate's Cave is where we can recover what was lost and be reborn. I love her sacred Cave, it is the dark, wet womb.
Artemis, Wild Goddess: Her Story, Themes, Correspondences and More
My first goddess. I have such deep affection for the wild one. She is so connected to Hekate, that they can take on each other's qualities. However, she remains the youthful rebel to me. I've written about my other favored goddesses as well, including Circe, Medea, and Demeter. I've written about dearest Persephone as a queen of pain, an emotional warrior, and reimagined the common version of her story. 
Hekate and Her Four Sovereign Goddesses: Artemis, Medea, Persephone and Kirke (includes a ritual)
I've shared quite a selection of my rituals, from the Evocation of Hekate Suitable For Any Rite to a Simple Elemental Winter Ritual.
Perhaps my favorite is the Sovereign Goddesses Ritual because it's evolved as I have, becoming a central part of my work. There's a Samhain version that's very powerful as well. Read that here. 
Witch Bottle Spell for Protection, Growth, and Success
Spellcasting is what separates witchcraft from other paths. This article is itself a spell blessing Keeping Her Keys for 2019. I'm thrilled that the methods I describe have inspired many to create their own. I love spells. Here's a few more I've shared:
Prosperity Magick: A Spell and Correspondences
Three Simple Spells for Personal Development: Confidence, Opening Up and Standing in Your Power
Healing with Hekate's Modern Witchcraft: Concepts, Practices, Techniques, Spells and Correspondences
Three Simple Spells for Personal Development to do During the Waning Moon
Spells can be simple or complex, they can be a heartfelt cry or a beautifully woven symphony of correspondences. I love them all. Sincerity and spirit are all that's required.
Keeping Her Keys is, above all, a blog about Hekatean Witchcraft, which is the pursuit of our own truth and the deeper world through the practice of witchcraft and the belief that Hekate is Anima Mundi and Witch Mother. It is about true magic: the keys the universe fueled by Hekate offers us, and it is energized by the fierce love that is the fuel itself.
My sincere gratitude for taking my hand, and claiming our keys together.
Together we rise.
Cyndi
With thanks to Jon Bon Jovi, Desmond Child and Richie Sambora.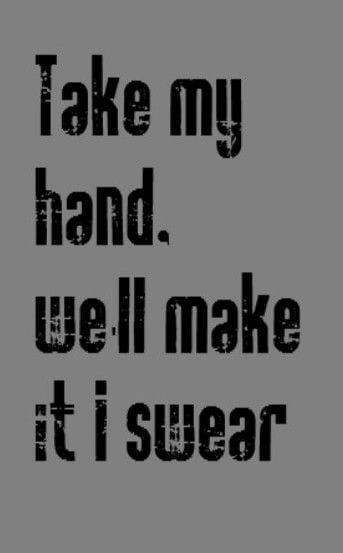 Join our Open Circle Coven, our network of amazing witches on our own private platform.