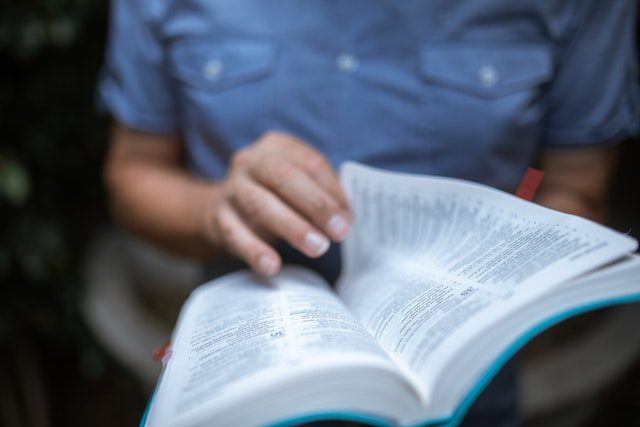 Don't you just love when you discover a verse in the Bible that totally blows your mind and reorients everything you thought you knew about following Christ?
Well, that's exactly what happened last night when I quite accidentally came across this passage in Hebrews chapter 6, verses 1-3 which says this:

"Therefore let us move beyond the elementary teachings about Christ and be taken forward to maturity, not laying again the foundation of repentance from acts that lead to death, and of faith in God, instruction about cleansing rites, the laying on of hands, the resurrection of the dead, and eternal judgment. And God permitting, we will do so."
Do you see it? At first, I didn't, but as I read it slowly and began to trace the structure of the ideas here I realized that what the author of Hebrews was saying could be summarized like this:
"Move beyond the elementary teachings about Christ. Start moving on. Become mature by NOT continually focusing on repentance from your sins, and by NOT going on and on about faith in God, and by NOT getting distracted by religious rituals, and by NOT becoming obsessed with laying hands on people for ordination, and by NOT dividing over arguments concerning the resurrection, and by NOT preaching eternal judgment. It is God's will that you do these things and if you do so you'll begin to move forward."
Simply put, we are told here – in the New Testament – to MOVE ON from things like Sin, Repentance, Resurrection, Eternal Judgment, Prayer, and Religious Rituals.
In fact, the author urges us to realize that, until we move on from these things, we will remain immature and unable to move forward in our faith.
Another way to read this might be:
"Stop talking about repentance, faith in God, the resurrection and eternal judgment as you move away from basic teachings about Christ and begin to practice the more advanced knowing of Christ."
Sadly, this is pretty much all that Christians today want to spend their time on.
They only want to go on and on about repentance and keep us on the endless hamster wheel of weekly confession, repentance, temporary cleansing and then back again next Sunday to do the whole thing all over again, ad naseam. They only want to emphasize how important it is to believe the right things, and they only want to hold eternal judgment over everyone's head to keep us under control through fear, shame and guilt.
Does this mean we don't need to talk about Repentance? Or Sin? Or Resurrection? Or Eternal Judgment?
Of course not.
But it might be helpful if we talked about those things the way Jesus and the Apostle Paul and the earliest Christians talked about those things.
For example:
Repentance – Metanonia in the Greek – literally means "to change your way of thinking" and Jesus used it almost exclusively to prepare his disciples to think differently about who God was, and what God was like – not full of wrath but full of love – and to rethink God's Holiness – expressed in God's infinite love for everyone even if they rejected God – and to reimagine the Kingdom of God as an inner reality rather than an outward condition or location or imminent event.
Sin – Missing the mark, is what the word literally means in the Greek, and that mark is not "perfection" but simply the calling to reflect the image of God within each and every one of us. What Jesus said about sin was that he had forgiven us. John the Baptist declared that Jesus was "the Lamb of God who takes away the sins of the world", not the Lamb of God who continually reminds us that we're sinners until the day we die. The Apostle Paul told us that "Love keeps no record of wrongs" and that "God was in Christ NOT counting our sins against us but reconciling the World to Himself." [2 Cor. 5:19]
Resurrection – Something that the Gospels are vague about and largely unclear and in disagreement about, and that the Apostle Paul literally says is about being "sown a physical body and being raised a spiritual body" [1 Cor. 15:44], and that has already happened to us as he reveals that "we are raised with Christ" because Christ was raised, and we are seated with Christ in Heavenly places [now] because Christ is. [SEE Romans 6:4; Eph. 2:6 and Col. 3:1]
Eternal Judgment – This phrase is best translated here, and elsewhere, as "the Judgment of the Age" which is not "Eternal" in terms of duration but "of the Age" in terms of the age which was to come as the New Covenant became established and the Old Covenant faded away, vanished and became totally obsolete.
So, what's in view here is not some sort of ultimate condemnation of "sinners" but about the end of what was and the beginning of something brand new – a wide open direct connection with the Living God that no one can ever separate us from.
As one of my friends said concerning this, "The Eternal Judgment of God has already come and it says that you are totally loved, healed, accepted and forgiven by God!"
The sad thing is, almost everything Jesus told us to re-think has instead been reverse-engineered by today's Christendom to put us right back where we were before he set us free from the Law of Sin and Death.
So, I totally agree with the author of Hebrews in Chapter 6: We really do need to let go of all of that religious nonsense and move forward, towards maturity in Christ so we can embrace the actual presence of a loving God who dwells within us and promises to never leave us or forsake us.
We really do need to stop trying to jump through religious hoops – and trying to force others to do the same – in order to earn or achieve a reality of total Oneness with God that everyone already has access to right now.
Are we ready to do what Hebrews 6 encourages us to do here? Are we ready to move on towards maturity in Christ? Are we willing to let go of the basic teachings of Christ – repentance, baptism, resurrection, judgment – and move forward with Christ who abides within us as we abide in Christ?
It's totally your choice.
**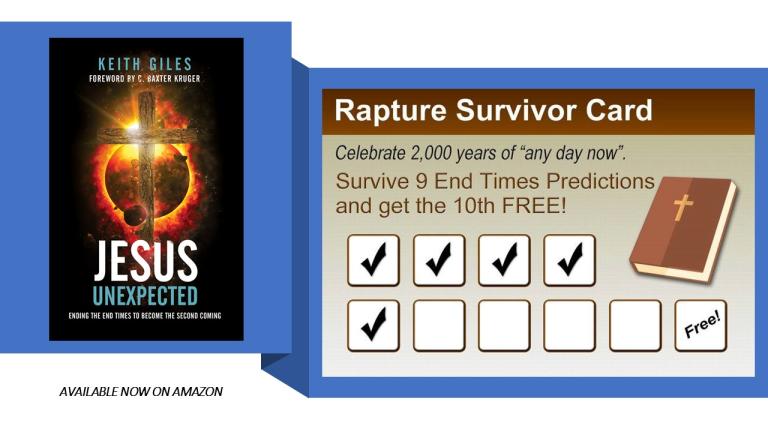 What if Jesus isn't coming back soon? 
Join us starting Monday, September 5th for a 3-week online course on the End Times, the Second Coming and the Rapture based on my book Jesus Unexpected.
**
Keith Giles is the author of the hot new bestseller, SOLA MYSTERIUM: Celebrating the Beautiful Uncertainty of Everything, available now on Amazon. Keith is also the host of Second Cup with Keith [a new solo podcast available now on the Ethos Radio App, for Apple and Android and on Spotify.