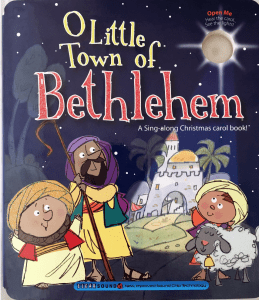 A renewed series of children's board books aims to help families introduce their youngest members to the old Christmas carols. What's new about them? The sound! These first came out in 2010, but this edition features an updated and improved sound chip that sings clearly and cheerfully. SmartKidz has done a great job on this like-new book series.
I received two versions for review. They both boast solid binding, bright colors, clear sound, traditional songs, and new lyrics. O Little Town of Bethlehem features the shepherds in the field, Mary and Joseph, and the manger scene, all with the star of Bethlehem shining brightly above.
The first few pages have non-traditional verses, words that tell the story in simpler terms for youngsters but still fit the rhythm of the song. On the final page, the famous lyrics can be read along with the song, which is heard when the star is pushed. The light beams and the children's chorus rings out, singing clearly.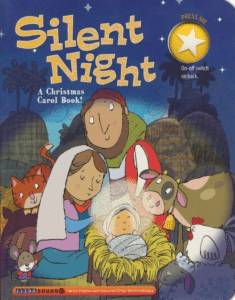 Silent Night tells the story of baby Jesus all snuggled up in his manger, with different visitors coming to see him. In every scene, of course, the star hovers high above. The story is told in different words, to the song's rhythm, until on the final page, the classic lyrics are printed. If you choose to push the star on that page, you (and the kids) can sing along with the children's chorus.
So, babies and toddlers are going to love this, and patient parents will tolerate it. I mean, that button! And the singing! It's perfect for the little people, and the big people might want to find the off button on the back. If I still had toddlers, it would be a favorite in our house. But since my brother is the one with 3 adorable girls, his house will enjoy the singing and button-pushing this Christmas.
So can yours.
*The series also includes Jingle Bells and Joy to the World. Links are affiliate. These books were provided to me by Whitaker House (SmartKidz) for my honest review.