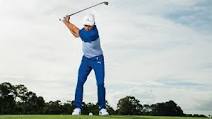 I'm still not fully convinced I was wrong about whether or not Rickie Fowler broke a rule of golf in properly taking his stance during the Honda Classic tournament three weeks ago, which he won. See my post, "Rickie Fowler Should Have Been Penalized Today" and my followup post "I Stand Corrected About 'Building a Stance' in Golf".
I also said in that first post that I met Rickie Fowler, he's a really nice guy, such a crowd favorite on the PGA Tour, and he is a member of the PGA Tour Bible Study which I co-founded fifty-two years ago and led. So, I certainly don't have anything against Rickie Fowler. I'm only talking about the rules of golf.
Right after these two posts, I emailed the USGA, asking them to read these two posts and tell me what is acceptable and not acceptable in removing loose impediments and properly taking a stance on pine needles (not in a bunker). The USGA website says it answers questions within ten business days, but they have not done that in this case.
I had over thirty negative comments to that first post, all saying Rickie did not break the rule about removing loose impediments so that I was wrong. Interestingly, I never said anything in that first post about loose impediments. I only claimed that Rickie did not take his stance properly, claiming he was "building a stance." Therefore, not one of those comments addressed what is and is not "building a stance." Rickie had taken his stance on pine needles and then scraped both feet backwards about 12 inches twice with each foot in an obvious effort to improve his stance by removing pine needles.
Thus, Rickie created a slight depression with each foot in the pine needles in order to achieve more solid footing. I think that was improving his stance, which I called "building a stance." Maybe the rules of golf don't call that building a stance, but it was improving his stance.
Rule 13-2 in the Rules of Golf states, "A player must not improve or allow to be improved:… the area of his intended stance or swing." To me, scraping the area with your feet in taking your stance is improving your stance.
The Rules of Golf booklet doesn't cover every possible situation that may be encountered in playing the game of golf. That is why I mentioned in the second post what we used to call "the black book." The proper term for it nowadays is "Decisions on the Rules of Golf." It is a much larger book than the Rules of Golf booklet. This Decisions handbook is in Q&A form. I think it is based largely on rulings made in the past by the USGA and/or R&A rules officials in golf tournaments.
So, the Rules of Golf obviously intend to include pine needles, though not expressly stated, as "loose impediments" in the Definitions section. And what I am saying about pine needles can surely apply to fallen leaves from trees. However, I'm surprised the Definitions section doesn't even expressly state fallen tree leaves as loose impediments.
The Rules of Golf state that loose impediments may be removed without penalty, assumedly from either the area of the lie of the ball or the area of the intended stance. But it does not say anything about how loose impediments may be removed or not be removed. And although the Rules of Golf state that you cannot "build a stance," they do not say much about what that is or is not. That is why, when it comes to ruling on many situations that can be encountered in playing the game of golf, appeal must often be made to the Decisions handbook. However, even then there is sometimes not enough information therein upon which to rule on some situations. I have posted about this on this blog about one such situation I encountered in my pro golf career.
As I see it, sometimes the Decisions handbook addresses bazaar situations without considering usual situations encountered much more often. I'd say that is a weakness that needs correcting. For example, in Decisions rule 13-5, a player moves a golf cart into position in order to stand on it to be able to hit his ball that is lodged several feet up in a tree. Before taking a swing, the player is advised that that would be breaking the rule of golf about "building a stance." The player then removes the golf cart and thus does not take a swing at the

ball from atop the golf cart. We are then asked if that player broke the rule of golf about properly taking a stance.
Folks, I would say that is pretty weird. How many times have seen that happen in golf. I've never seen it happen. Of course the player didn't break the rule. But what about taking a stance on pine needles (or leaves) and then scraping your feet, which I would call "digging in," in an effort to remove pine needles for the purpose of improving your stance. That is something that can happen many times everyday all over the southern U.S. which has golf courses full of pine trees. There is nothing said about it in the rule book or the Decisions handbook.
However, on p. 173 in the Decisions handbook, right after this situation is mentioned about a player positioning a golf cart to stand on and then removing the cart before playing a stroke, which is identified as "rule 13-3/5," it says, "However, if a player builds a stance through alteration of the ground on which he is taking his stance, it is impossible for him to restore the ground to its original state. Accordingly, a player who builds a stance in such manner incurs the penalty prescribed in Rule 13-3, whether or not he attempts to restore the ground to its original state before playing his next stroke."
As I said, I'm not sure whether or not the USGA and R&A mean that building a stance is only adding material to the intended area of the stance, so that removing material from this area with your feet before taking a stroke would not be building a stance. Plus, neither the Rules of Golf nor the Decisions handbook, as I can tell, say anything about how loose impediments can and cannot be removed or the same about what is properly taking a stance through the green. Since rule13-3/5 mentions "restore the ground to its original state," I suspect that scraping feet is changing the original state of the ground.
As I said in the second post, I always thought you could only remove loose impediments by picking them up with your hands. The reason I say this is that I thought the rules of golf require that, in the removal of loose impediments, you are not allowed to otherwise improve your area of play. Thus, I thought that taking your stance and then scraping your feet in order to improve your stance was a violation.
I'm still waiting for the USGA to rule. I've been here before.