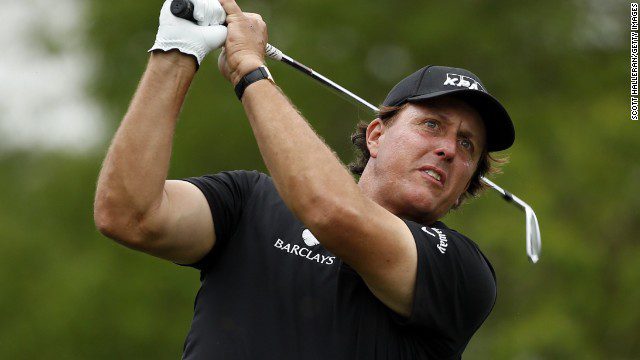 Phil Mickelson–47-year old superstar and crowd favorite–just got back in the winner's circle minutes ago after a 4.5 year absence. He defeated 24-year old Justin Thomas–last's year's PGA Tour Player of the Year–on the first hole of a sudden playoff at the Mexico Championship in Mexico City, a World Golf Championship event on the PGA Tour. In what is quite an illustrious pro golf career, it was Phil's 43rd win on the PGA Tour. This tournament was also the 8th playoff in 18 events on this season's PGA Tour.
Left-hander Mickelson had been knocking at the door for a triumph in recent weeks. In his last three PGA Tour tournaments until today, he finished 5th, 3rd, and 2nd. Now 1st. What consistency! In his post-round, televised interview minutes ago, he said he expects big things from his game the rest of the year. Phil, you've got us convinced. Do it!
Mickelson and Thomas finished the 72-hole regulation play at 16-under par, 268 totals. In Thomas' televised interview, he said he was just fortunate to get into a playoff. Indeed he was. He barely made the 36-hole cut to continue the tournament on the weekend. Then yesterday, on Saturday, he broke Jordan Spieth's course record of 63 shot last year by shooting his own a 62. And today, Thomas shot 64 to get the early clubhouse lead and then wait to see what happened. But it wasn't easy getting there. On the last hole of regulation play, he holed his second shot for an eagle.
The one sudden death hole was the 16th, a 160-yard par-three flanked by water on the left side of the green. Plus, the pin location was tucked back left. Some players had been hitting that first shot over the green. Well, Justin played first and joined them. Of course, that was such a miscue. Mickelson then played a smart shot favoring the center of the green and even with the hole. He then had a 16-foot, breaking, birdie putt.
Thomas' pitch shot was not particularly difficult except for one thing, and it was a big one thing. This Mexico City golf course, Club de Golf Chapultepec, has kikuyu grass. That is "the mother of all evil grasses" that is ever found on a golf course. I blogged about it the other day when the PGA Tour played at Riviera, in metro L.A.
Kikuyu grass is a very hardy, warm-weather, drought-resistant turfgrass with a very stiff blade. It was imported to the U.S. in 1918 from its origin in East Africa to help prevent U.S. soil erosion. You don't see kikuyu grass much in the U.S. except in Southern California. I guess Mexico has its fair share. A lot of American golfers would like to ship kikuyu grass back to Africa! Once it invades a golf course, greenskeepers can't get rid of it. In some ways it's great. The ball sits up well when the grass is freshly mowed. The problem is that if you hit a shot the least little bit fat, the ball takes off as if you chunked it an inch or more fat. The result is that the ball goes nowhere. Of course, kikuyu grass just makes the game harder. I think Ben Hogan loved it since he was such a great ball striker and practically owned Riviera.
So, for Justin Thomas' second shot from over the green on that playoff hole, he had no choice but to land his pitch shot from about 40 feet in the wide fringe just short of the green and let the ball bounce and roll up to the hole. But that's the problem with kikuyu grass–the ball doesn't want to bounce like on normal bent grass. So, Justin's pitch shot checked-up in the fringe too much, leaving him a nine-foot par putt.
Mickelson had an opportunity to win the tournament by making his birdie putt from 16-feet. His ball grazed the edge of the cup, slightly rimmed it, and settled right behind the hole about an inch. The ball missed dropping in the hole by a whisker.
Now, the pressure was on Thomas to hole his nine-foot par putt to extend the playoff another hole. The television announcers were chattering about how much Justin relishes these moments, being such a cool customer under pressure. But I thought made a rather herky-jerky stroke as his ball missed the left side of the cup by about a couple of inches to put Mickelson back with the winners among golf's elite again.